In today's review, you will find 10 of the best glute machines I could find online designed to fit into your home easily and some small enough to fit into a gym bag.
All recommended glute machines in our review are quite affordable and can be easily purchased online.
The following equipment is designed to build bigger and tighter glutes while developing firmer and sexier looking legs. These glute machines for home use will directly target your glute muscles. Thus, activating all muscle fibers in your glutes to stimulate maximum muscle growth effectively.
So if you are looking for something new to help with your glute exercise routine, you have come to the right place.
TABLE OF CONTENTS
Review, Buyer's Guide, and Tips for Success

What is the Best Glute Machine for You?

10 Best Glute Machines for Working out at Home

My Top Pick for Best Glute Machine

Editor's Choice: #1 Best Glute Machine for Home Use

Getting the Most out of Your Butt Machine

Final Thoughts
---
Review, Buyer's Guide, and Tips for Success
This is not just your typical review and buyer's guide. You will find more than just a list of top glute machine recommendations. You will find tips on how to use your home glute machine for the best results possible. Plus, my top picks and why I made them my editor's choice award.
What is the Best Glute Machine for You?
The best glute machine should be able to effectively stimulate your glutes to develop shapelier buttocks and build firmer thighs. You will want a durable and small enough machine to fit into your home or gym bag.
This review includes a list of 10 butt workout machines and devices that offers all of this and will guarantee the glute stimulation necessary to develop your glutes and build firmer thighs.
Our selection includes compact glute machines with weight resistance but also tension band resistance. Some are compact enough to fit in a corner or small enough to fit into your purse.
I would recommend comparing all the glute equipment in this review to find what's best for your specific needs.
10 Best Glute Machines for Working out at Home [Review & Buyer's Guide]
Squeezing a big and bulky smith machine into your home would not be practical and very expensive. Finding the space in your home to fit a hack squat, a leg press, or even a squat rack with all the added weights would also be a task in itself.
That said, here are my top 10 best glute workout machines and devices that will not only get the job done but are also inexpensive and compact.
1. COBA Board Glute Trainer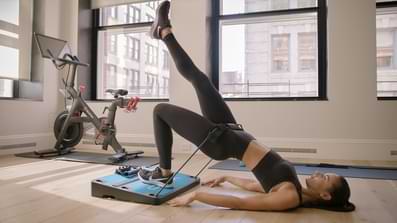 The Coba Board will provide you with all the primary exercises needed to shape your glutes to perfection.
This board can support hundreds of pounds, yet only weighs 12 pounds and will easily store under a bed or couch. This glute trainer uses various resistance bands to customize your level of training intensity.
This video demo says it all…
COBA Glute Trainer 60 sec Overview
8 Primary Glute Exercises:
Deadlifts
Lunges
Glute Bridge
Hip Abduction
Donkey Kick
Hip Thrust
Squats
Kickbacks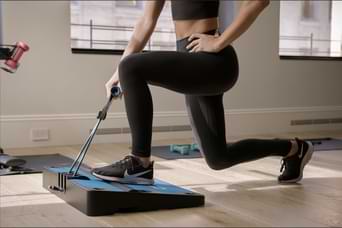 Here's what you get:
Free on-line App (Apple and Google App stores)
Light and Heavy Bands for a wide range of bridge and kickback movements
1x Platform (board)
1x Main Handle
3x Std.Under-Board Bands (20 lbs. resistance)
3x Glute Bridge Bands (30,40, 50 lbs. resistance)
1x Glute Bridge Nylon Strap
3x Std. Kickback Band – Dk. Blue (10, 15, 20 lbs. resistance)
Extra Light and Heavy Bands Package
1x Kickback Nylon Strap
1x Cloth storage bag
User Guide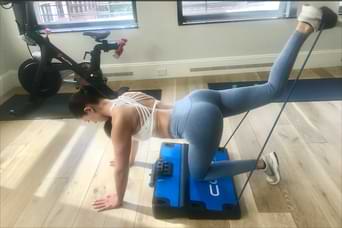 COBA also includes a free downloadable instructional app and workout guides to get you started.
2. Squat Assist Row-N-Ride
Editor's Pick – Runner Up!
Most popular & most sold in this review!
I recently came across this glute machine and decided to add it to our list, seeing how unique this device is and how much it has to offer.
The Squat Assist Row-N-Ride Trainer is the perfect glute workout machine for tightening your glutes and thinning your waistline.
This butt workout machine offers the best of both worlds as it works your glutes and thighs. Still, with the added cardio effect, you are also burning calories and trimming your waist at the same time. You can't beat that!
This butt workout machine and trainer has a lot to offer! Perfect form and super deep squat action for effective glute stimulation, and cardio to trim your waistline and firm your legs – ALL-IN-ONE!
Sunny Health & Fitness No.077 Upright Row-N-Ride Trainer
Foldable: The Squat Assist Row-N-Ride Trainer takes up very little space and can even be folded together and stored out of sight when not in use.
Users suggest not paying extra for assembly assistance since putting this machine together is so easy a 10-year-old could do it in less than 10 minutes.
3 Resistance Levels
Added Resistance: This glute workout machine comes with 3 resistance bands to adjust your workout intensity levels. Each band adds about 22 pounds of resistance which, you can modify by adding or subtracting bands.
And if you want to build even bigger glutes and add more resistance, you can always add more weight using a weighted vest, ranging from 10 lbs to over 150 lbs, or a weighted belt.
Full Range of Motion Settings
The Squat Assist comes with adjustable handlebars and seat, flexible workout ranges of 30, 60, 90 degrees, and self-leveling pedals. But also a digital monitor to track time, calories burned, and total CNT.
With the 30, 60, 90-degree ranges, you can set the full range of motion with the 90-degree setting. However, suppose you would like to hit your glutes more intensely on the lower part of the exercise. In that case, you can restrict your movement to only the lower part of the move by using the 30-degree setting.
Otherwise, you can set the machine to the 60-degree setting to add another 30 degrees to the lower setting and work out your glutes from the lower to mid-position of the exercise. This way, you can target your glutes more precisely and intensify the blood flow to your glutes for increased muscle stimulation.
This home glute machine stands 56" tall with folded up, weighs 24.5lbs, has a maximum weight capacity of 220 pounds, and is 42.5L x 19.5W x 50H in size.
3. Brute Force Adjustable Weight Sandbag
Perhaps not the most obvious choice at first glance, however, the fitness sandbag by Brute Force is the ideal accessory for exercising your glutes. Watch this short video clip to see why…
15 Best Ultimate Sandbag Training Glute Exercises
Many Benefits
For glute training, you need resistance, and that means weight. And unlike having bars and weight plates, sandbags are softer and easier to use, require less space, are easy to store or take on the go, won't damage floors, and are safe around kids.
Many Exercise Options
As the video demonstrates, you can perform tons of exercises with these sandbags that will light your glutes on fire and make them grow. My favorites are any lunges, deadlifts, and of course, squats.
Weight Adjustable
These bags come in the following adjustable weight options:
5 – 25lbs
25 – 75lbs
50 – 125lbs
Personally, I would highly suggest the 25 to 75lbs for most women.
I highly recommend these bags. They are incredibly durable, have many handles for various hand positions, are weight-adjusted to fit your workout, and available in many different colors.
4. Powerline PGM200X Glute Master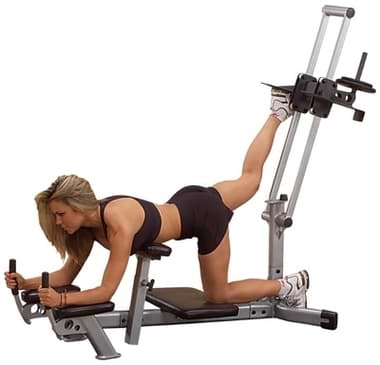 Editor's Choice
#1 Pick for Best Glute Machine for Home Gyms!
Another great find and my personal favorite is the "Powerline PGM200X Glute Master". This design targets and isolates your glutes like no other. It is the ultimate glute machine for strengthening, toning, and building bigger and rounder glute muscles.
The Powerline has a sturdy frame and quality rollers for easy transport. The extra padding makes working out comfortable on your arms, knees, and chest. And the structure is also easily adjustable to fit your body size.
A standard weight horn allows you to add weights to increase resistance (weights are sold separately.) The weight horn is a great feature to have since it does not limit you to a set amount of weights built into the machine itself, as do many other home fitness machines. You can buy the weights as needed and stack them as heavy as you need.
Compare Prices
See my full review below for more information and why I made this my Editor's Choice.
Powerline PGM200X Glute Max (BodySolid.com)
Key Features
Works each leg individually for maximum glute isolation.

Adjustable forearm pads slide forward and backward to accommodate users of any height.

Standard weight horn allows adding weights to increase resistance.

Quality rollers, comfortable pads, and simple adjustments make this machine easy to use and comfortable for any user.

It comes with 1″ standard plate posts. You can buy post adaptors for 2″ plates separately if you already own 2″ plates.
Users have used up to 75-pounds (from reading reviews, I would not suggest using more than over 45 lbs.).
Product Dimensions:

70″ x 26″ x 60″

Weight:

84 pounds.
5. Squat Magic by Allstar Innovations
Yes, I know what you're thinking. How did this little contraption make it to my list? It looks a bit gimmicky, but after further investigation, I decided the Squat Magic by Allstar Innovations can benefit many of you; especially if you have knee or back issues and finally want to add squats back into your workout routine.
The Squat Magic is more of a squat assist device in that it assists your squat both on the way down and back up. Thus, providing far less strain on the knees and back. If done correctly and with proper form and rep volume, this glute machine will fire up your glutes and get them firm and tight in no time.
And when you're ready to increase your workout intensity, there's no better way than by adding dumbbells, or better yet, a weighted vest or adjustable weighted belt.
The Squat Magic comes fully assembled and ready to use out of the box. It comes with 3 adjustable resistance levels and an adjustable seat.
The seat is tilted at a 5-degree angle for perfect technique while exercising and supports a weighted base for extra stability.
The Squat Magic also comes with:
Squat Magic Chart with 15 squat variations
30 Day Challenge Chart
Instructions Booklet
Health & Nutrition Guide
Workout DVD with Hall of Famer Brenda Dygraf
6. The INNSTAR Booty Resistance Cord
The INNSTAR Booty Resistance Cord is an excellent replacement for cable machines and resistance bands. If you love doing kickbacks to build and tone your glutes or work your inner thighs and outer hips, then the INNSTAR is for you.
This system comes in medium, heavy, and extra heavy resistance levels, so nobody is left out. Get the workout intensity you need to build bigger and stronger glutes.
The INNSTAR is door attachable with a simple door anchor but can also be attached to any sturdy object or column in your home or even outdoors.
Here is what you get:
Soft padded ankle straps with steel buckles
1X resistance band made of durable latex and anti-snap sleeves
1X door anchor that easily fits under doors
Comprehensive workout guide
Sporty carrying bag
7. Zeno Glute Bench V.2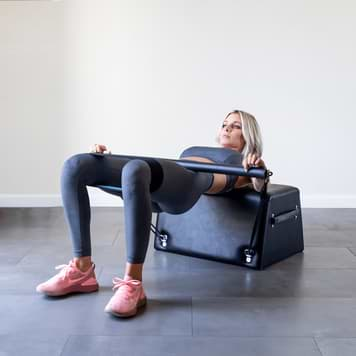 The Glute Bench V.2 is my newest find and combines both padded bench and resistance bands to work out your glutes in ways other workout accessories can not.
Here are some great glute exercises you can perform on this machine:
Besides being the perfect glute machine, you can also use it for a full-body workout by providing you with various additional exercises such as bicep curls, rows, presses, tricep extensions, side laterals, front raises, and more.
The bench itself is heavy-duty and made to last with reinforced stitching, contract grade high resiliency foam, industrial anti-slip glides, contract grade vinyl rated 55,000 double rubs, and an impressive user max capacity of 1000 pounds.
Features
6 bands (2x 50lbs, 2x 20lbs, 2x 10lbs) with carabiners
2 handles with D-rings
1 ankle strap with D-rings
Holds up to 1000 lbs
Storage compartment & bag
Dimensions: 24"L x 18"W x 13"H
Weight: 20 lbs
8. BootyCo Bands – without Hip Belt
If BootyCo is sold out, The Core Fitness Bands is an excellent alternative.
The BootyCo Bands are the authentic booty building workout bands from BootyCo. Built to sculpt, lift, and tone your booty to perfection.
Included in this deal are the band and a booty exercise guide that will help you convert your fat to muscle while giving you perky and round buttocks.
This unique system isolates and targets the glute muscles, While also toning your thighs. You can use these bands at home and easily store them in a bag to take along wherever you go. This band is one-size-fits-all and is exceptionally comfortable without any pinching from a waist strap.
BootyCo Bands includes one band with a 12-month warranty, one exercise guide, A 30-day booty challenge, one quality fabric over-the-shoulder gym bag, and one exercise guide in digital format. Also, not to forget the Booty Nutrition eGuide and online videos. Note that when you buy the original BootyCo band, you are also supporting a business run by women, for women who designed the band and use it themselves.
9.

BootyBands
The BootyBands are perfect for working out your buttocks and thighs. They are great for toning your legs and building stronger and rounder glutes all at once. There are 3 levels of resistance to suit your workout intensity needs and 3 band lengths to fit your body height.
You can use this device with or without shoes. Select your specific foot size for a more tailored fit. A sizing chart is available to select your tailored fit.
What puts BootyBands miles ahead of its competition is the ability to wear them anytime and for just about any activity. Not only are they great for performing targeted glute exercises, but you can also wear them when walking, running, hiking, performing yoga, and swimming. Use your imagination. The possibilities are endless.
10. Gold's Gym Resistance Band Trainer
The Gold's Gym Trainer is a bit more versatile than some of our other machines in that you can use it for more than just your glutes and thighs.
This equipment acts as a great glute machine by replicating the cable pulley machine used for cable kickbacks. You can also use it to work your arms, shoulders, chest, back, and core area.
This home workout machine easily attaches to any door in your home. It makes a great butt workout and total body workout machine all in one.
This unit has adjustable resistance, with 4 resistance bungees, 2 handles with padded foam hand straps and 2 ankle straps. It also has 2 padded door brackets, a workout DVD, and an exercise chart.
My Top Pick for Best Glute Machine
A little about myself before I reveal my #1 Pick…
First, let me start by saying I've been actively working out in gyms and at home for over 25 years. My dear parents bought me my first workout bench, barbell, and weight plates. Which back in the day were made of plastic filled with cement. Probably the best gift a 16-year-old boy could wish for. Needless to say, I was ecstatic. During my two years of college overseas, I had access to a gym on a military base. You absolutely could not keep me out of that place.
After about eight years of working out in public gyms, I was forced to work out at home again due to life events. Besides buying as many dumbbells as I could afford, I also broke down and purchased a Body Solid Total Body Home Gym. I paid over two thousand for that machine, but it had everything on it I needed and provided me with some great workouts.
Unlike most home workout machines, it did not collect dust. I used it for about 4 to 5 workouts per week for 2 years. After which I finally joined a gym again.
My point is this.
I have over 30 years of experience working out with both free weights and weight machines. I have used many types of machines, both home, and commercial gym grade equipment. So when I make my top pick for what I believe to be the best glute machine on our list, you can rest assured it's coming from someone experienced and knowledgeable. And not just someone who's barely stepped foot in a gym.
For a Deep Glute Massage don't miss my review on… The 6 Best Vibrating Foam Rollers.
Editor's Choice: #1 Best Glute Machine for Home Use
Even though I would consider all of the machines and equipment in our list to be quite effective when used with the proper intensity, I believe the following machine to be my top pick:
Powerline Glute Master PGM200X
If you want to experience the greatest pumps a glute machine can offer, then this machine absolutely delivers! My wife will attest to that. Oddly enough, I could not find any other comparable home glute machines for this type of equipment.
This butt workout machine takes up less space than most commercial brands. Still, it would be better located in a dedicated workout room.
Lastly, it is impressive to know that this machine uses real weights. I believe they made a great decision by not using those cheap bands you find on most machines. Don't get me wrong; exercises using workout bands are great for working out your buttocks. I just prefer seeing weights on a machine over bands.
If you can find a corner for this, this is definitely a machine you will be using over and over again. Thus, not just another workout machine collecting dust. Heck! You could even put this in the middle of your living room. I know my wife would. That's why I'm keeping this a secret.
Top Benefits of Body Solid's PGM200X
This butt exercise machine will help you strengthen and tone your glutes by engineering movement that isolates hamstring, gluteal, and quadriceps muscles

.

Fitness enthusiasts of all levels will find it easier to use this machine at home, thanks to its comfortable pads, quality rollers, and simple adjustments.

It works each leg discretely for maximum isolation of gluteus Minimus, Maximus, and Medius.

This device has adjustable forearm pads that slide, which enables it to accommodate users of any height.

Glute Master comes with a limited 10-year warranty on the frame and a one-year warranty on all other parts.

Has standard weight horn that allows one to load more weights to increase resistance. However, weights are sold separately. If you should already own weights, you can purchase weight adaptor sleeves to fit different fittings.
Features of the Powerline Glute Master PGM200X
This butt exercise machine is specifically designed to target and isolate your glutes. Powerline PGM200X will strengthen your hip muscles and tone and build rounder and bigger butt muscles. This machine has comfortable pads, quality rollers, and you can easily adjust it to fit your size.
The weight horn allows you to add weights (sold separately) and increase resistance. An excellent feature to have since it gives you more weight flexibility.
Some of the outstanding features of this butt exercise machine include:
It has adjustable forearm pads that slide forward and backward to accommodate individuals of any height.

It comes with comfortable pads, quality rollers, and simple adjustments, making it easy to use.

This glute exercise machine comes with one standard plate post.

Users have seen it to support up to 75-pounds.

This unit measures 70 by 26 by 60 inches and weighs 84 pounds.

Standard weight horn allows users to load more weight to increase resistance.

Works each leg separately for maximum isolation of glutes.
Pros of the Powerline Glute Master Machine – PGM200X
It allows you to work on each side of your glutes in isolation.

It specifically targets the gluteal muscles thereby allowing for a safe way to add more weight for resistance.

You can adjust the pads and handles to make it an easy fit for everyone.

Also noteworthy, this unit is durable and comes with a lengthy warranty.
What Consumers Say About this Machine
The Powerline Glute Master PGM200X seems to have impressed many users, with many reviewers praising it for its effectiveness, flexibility, and durability.
Furthermore, users enjoyed the spring-assisted pin and very smooth rolling action it provided. Similar to commercial-grade equipment.
Others praised this machine for its effectiveness in tightening gluteal muscles. There are many positive reviews posted by happy customers and we cannot exhaust them all.
Sturdy and Reliable Machine
While Glute Master is not meant for commercial use, it is a sturdy, and reliable butt exercise machine for home use. For the best results, ensure that its pads are correctly adjusted for your body, especially the chest pad. Remember to keep your back in a neutral position while exercising with this equipment. That said, it is a good idea to use the chest pad as a reminder not to arch your back.
The Powerline Glute Master PGM200X is excellent at targeting gluteal muscles. And therefore very effective at building bigger and stronger glutes. Not only was the Glutes Master is designed to mostly target your glutes, but it will also engage your hamstrings. Now in the privacy and comfort of your own home, you can target and strengthen your butt quickly and effectively with the Glute Master.
Getting the Most out of Your Butt Machine
First of all, we must acknowledge that none of these exercise machines are commercial grade machines you will find at your local gym. However, they are high quality and if you use them properly will give you the results you are seeking. These glute machines, or any exercise machine or any machine for that matter, is only as good as its user.
If you do not use the machine properly it will not serve its function. There is more to working out with any exercise machine then just throwing on heavy weights and going through the motions. To get the most out of your machine you must first understand the machine. And then, create a mind to muscle connection.
Why Mind to Muscle Connection is a Must
In order to create this connection, we must start off by using light weights. The objective here is to feel the muscle you are working on. You can achieve this by concentrating on the muscle while you are performing the exercise. While also performing slow and controlled movements with a full range of motion. The whole trick is to activate your glute muscles and get them fired up. Eventually, you should feel the muscle burn and start to develop a pump. This is the result of blood being forced into the muscle.
I would suggest starting off by using maybe 10 to 20 lbs and performing 6 sets of 20 to 30 controlled reps. By controlled, I mean strict form and full motion. If you are still having difficulty feeling the burn I described, try slowing down your movements. It is very important that you not compromise your form due to heavy weights. You can always add weights later as you progress.
In order to keep the intensity level up, keep rest periods between sets at 45 seconds to a minute. If you have the time and energy, don't be afraid to hit your glute machine 3-4 times per week. Everyone's body responds differently. So find what works best for you.
Workout Intensity is Key to Making Progress
Intensity is key and forces your body to respond. Push yourself to the limit on each set. Do as many reps as possible. Do not just stop at 20 or whatever number you may have set for yourself. If you want to see results and guarantee progress you must push yourself and do that extra rep. Always try to execute each set to failure.
Adding tons of weight on your glute machine will be a disservice to you and your machine. You will see better results doing everything I described above in order to generate that burn and that pump. It is all about forcing blood into the muscle and keeping it there for as long as possible.
Closing Remarks
Give yourself at least three months' time to see results. Don't be like the rest and give up because you're not seeing results after a few weeks. It takes time. If it was easy we would all be walking around looking like fitness models.
With that said, be consistent and don't give up. Just remember, workout intensity will guarantee results and persistence will guarantee success. Good luck with your new glute machine.
SUGGESTED READING:
10 Exercises to Build Bigger Glutes
Best Weighted Vest Review – Perfect for Air Squats and Lunges!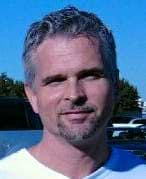 With over 30 years of experience in strength training and fitness, Mark LaRue is the founder of Fitness Mastered, a blog to help educate fitness enthusiasts of all fitness levels, ages, and gender. We write topics that range from weight training tips and exercise routines to home workout machine and fitness related product reviews, to name a few.