So what are BFR Bands anyway? BFR bands, short for blood flow restriction bands, are bands you wrap around your arms or legs that cause blood to escape the muscle slower than it enters the muscle. This, consequently, creates a so-called blood pooling effect resulting in greater muscle pumps.
But more importantly, this technique allows you to build larger muscles without using heavy weights. I will elaborate on this process in more detail later.
This review will cover the best BFR bands IRONBULL Stength and the company BFR Bands ® has to offer. BFR Bands ® is notably one of the most popular brands selling occlusion training bands on the market today, but we have also found IRONBULL to be a good competitor.
TABLE OF CONTENTS
Occlusion Bands Build Muscles Without Lifting Heavy
How Does Occlusion Training Cause Muscle Growth?

Occlusion Training – by Kusha Karvandi

Top 3 Best BFR Bands Reviewed

#1 PRO BFR Bands ® – 2″ Occlusion Bands

#2 PRO-X Edition – Just Pull to Tighten
#3 Quad Wrap Occlusion Training Bands for Legs and Calves

Editor's Choice – Best BFR Band
Pro-X Edition ® – Best BFR Band
Final Thoughts
BFR bands also referred to as occlusion bands, are made of high-quality elastic nylon which ranges in size from 1.5 to 3 inches wide. And lengths are sufficient to wrap around any size arm or leg.
What makes this brand stand out from its competitors is its unique buckle mechanism. You can use the cam buckle to easily tighten and lock the band into position and quickly release the tension when finished.
These bands also include an elastic loop to hold any extra slack in place after tightening. Thus providing you with comfortable and unhindered movements when training arms and legs.
Occlusion Bands Build Muscles Without Lifting Heavy
If you are not familiar with occlusion training and how using BFR bands can help you build bigger muscles without using heavy weights, let me give you a quick rundown before we continue with our product review.
Occlusion training involves restricting venous blood flow from the muscles but not restricting blood flow to the muscles through the arteries while working out a muscle group.
Therefore, by wrapping occlusion bands tightly around the top of the limb being exercised, you are pushing more blood into the targeted muscle than can be pushed back out to the heart.
"It tricks the brain into thinking you are lifting heavy weights when you are not."
Essentially we are creating an environment where you are pumping blood into the muscle faster than it can escape. Thus, they are causing blood to pool in the targeted muscle.
How Does Occlusion Training Cause Muscle Growth?
The pooling of blood using BFR bands in combination with the occlusion Training Method results in muscle growth in the following ways.
Much like lifting heavy weights, forcing high amounts of blood into the muscle tissue results in low oxygen levels. This, in turn, recruits large fast-twitch fibers responsible for muscle growth.
Studies have shown that resistance exercise training with venous occlusion helps reduce myostatin protein concentrations responsible for adding muscle growth.
Much like lifting heavy weights, you are filling the muscles with so much blood it causes cell swelling. As a result, swelling inhibits protein breakdown and stimulates protein synthesis.
Lower levels of oxygen in the muscles from using BFR wraps create greater levels of lactic acid build-up. This can lead to increased protein synthesis.
Studies show that occlusion training can generate increased levels of mTOR and mTORC1, especially in older men. It is said that activating these mTOR proteins can cause muscle cells to increase muscle protein synthesis, which leads to skeletal muscle growth.
"Over 200 studies on BFR training to date… and the efficacy of BFR training."
Occlusion Training – by Kusha Karvandi
The following is a video by Kusha Karvandi, the creator of BFR Bands®. I suggest watching this less than 2-minute video to better understand the functionality of these bands and how occlusion training can benefit you.
Blood Occlusion Training with BFR Bands - by Kusha Karvandi
Top 3

Best BFR Bands Reviewed
The Pro Bands, with its 2-inch wide design and durable elastic fabric, are ideal for effective occlusion exercise. These 25-inch long occlusion bands have a built-in quick-release cam buckle making it easy to strap on and lock into place.
There is also a BFR Bands ® – Rigid Edition if you are looking for added restriction or for leg workouts.
The cam buckle on this edition has a smooth locking surface, not teeth, to prevent fabric tearing.
It also makes releasing the tension after a workout quick and effortless.
Furthermore, any slack after tightening can be wrapped into an added elastic loop holder. So you don't need to worry about excess band getting in the way of your workout.
Each order comes with two Pro Bands.
You may also be interested in the 1″ Wide BFR Bands by IRONBULL STRENGTH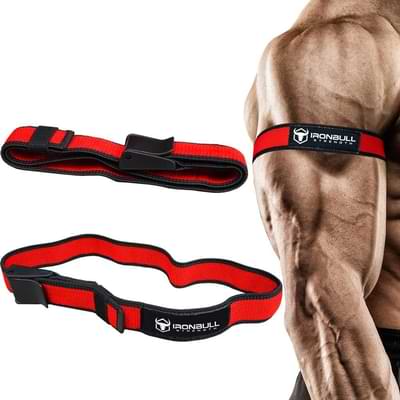 Should a 1-inch BFR band be more your style, then IRONBULL Strength has a band comparable in both quality and design. Some users feel the 1-inch bands better around the arm and thus experience a better occlusion effect than with the wider BFR bands.
Much like the Pro Edition, the Pro-X Edition Bands are also 2 inches wide with an ultra-comfortable and durable elastic material and are 25 inches in length. What sets these apart from the Pro Bands is it's patent-pending easy to fit pinch-free buckle. This makes tightening the buckle effortless while using only one hand.
Another great addition to this model is the numbers printed on the band itself to keep track of pressure settings. This allows for better symmetry and precision adjustments for both arms or legs.
This model as with the Pro BFR Edition bands also includes the loop holder to hold any band slack in place.
The Quad Wrap Occlusion Training Bands are great for use on legs, hamstring, and calf muscles. This extra-long 80-inch and 3-inch wide straps are ultra-thick, durable and comfortable to wear. These elastic bands come with an extra-long velcro style design for one-size-fits-all wrapping.
Note: I have experienced seeing these bands sold out or not available at times. As an alternative, I would recommend the Lifting Labs leg occlusion bands instead.
Numbers are imprinted on the bands for accurate pressure tracking of each leg. To make things easier, quick wrap thumb loops have been added to prevent pressure loss and slipping when applying.
Editor's Choice – Best BFR Band
As you can see I decided to only include four of the occlusion bands made by BFR Bands ® in my review. My intention was to only list those bands that I felt were truly functional as occlusion bands. Durability and efficacy were my top priorities. I do not believe a band less than 2 inches wide to be as effective as a 2 – 3-inch band.
Some of these bands such as the Elite 2.0, which is only a 1.5-inch band, appears to have flaws in the Buckle mechanism. It appears that the teeth in the buckle which clamps down to lock the band in place are causing the fabric to tear. This, however, is not a problem with the larger 2 inches and above bands. These models do not use teeth but rather a smooth locking mechanism in the cam buckle.
The Pro BFR Bands which I personally use, have a smooth locking mechanism in the buckle so tearing is never an issue. I personally enjoy the PRO Bands since they are 2 inches wide and work well for both arms and legs, and do a superior job at occlusion.
None-the-less I have made my editor's choice #1 Pick to be…
Here is why. Given the instant locking mechanism for the buckle, I see the Pro-X Edition bands as being the better option. With the Pro-X Edition, you can just pull to tighten the band and it instantly locks into position without additional intervention.
The numbers imprinted on the band itself is another added bonus. This feature makes it possible for you to keep better track of your tightness levels. This will help you tighten equally on both arms for better symmetry.
Pro-X vs. Pro
For a more in-depth explanation watch the following Pro-X and Pro BFR Bands comparison video.
PRO X and PRO BFR Bands Comparison
Safety Tips
Must watch, BFR Training and Safety Tips (applies to all BFR Training).
PRO X Bands Quick Start Guide
Final Thoughts
For venous occlusion to be successful you must use BFR bands that are durable, functional, and effective. Elasticity must not be too hard or too easily stretchable as this will compromise the venous occlusion effect. I believe the 2-inch model occlusion bands by BFR Bands ® have the right amount of tension in the fabric for effective venous occlusion and creating superior muscle pumps.
I would absolutely recommend any of the above BFR wraps to anyone interested in occlusion training, and consider them to be the best BFR bands on the market today. I personally use these bands myself and can vouch for the quality and effectiveness they offer.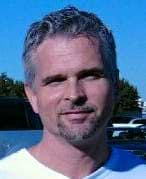 With over 30 years of experience in strength training and fitness, Mark LaRue is the founder of Fitness Mastered, a blog to help educate fitness enthusiasts of all fitness levels, ages, and gender. We write topics that range from weight training tips and exercise routines to home workout machine and fitness related product reviews, to name a few.