Finding the smallest fitness tracker band to fit your arm or hand comfortably can be quite overwhelming once you discover just how many different brands and designs are available in stores and online today.
Fitness trackers have come a long way, and since first being introduced back in 2009 by Fitbit, many versions and designs have evolved into highly technical monitoring devices.
I have found not only the smallest smart bands but even smaller smart rings that will effectively track your heart rate, count your steps, monitor calorie expenditure, measure your quality of sleep, and even GPS tracking enabled.
Here are some of the smallest activity trackers I could find that is extremely slim and lightweight but also designed to comfortably fit all wrists.
If you are willing to take the leap into even newer technology, and something even smaller than a fitness tracker band, then make sure to also check out our fitness tracker ring.
Do Smaller Fitness Tracker Bands Work as well as Others?
From what I've seen, even the smallest fitness tracker bands including the rings work just as good at tracking than any other tracker design.
Fitness tracker watches may have a few more display features due to the bigger sized monitors, but the bands nonetheless still hold up equally as well when it comes to tracking features.
We have found smaller fitness bands to be much more functional and practical to use when exercising. The fitness watches and larger bands can be less practical as they are heavier and bulkier and thus tend to move and slim around more than the smaller bands.
We have tried to give you a wider choice of fitness band designs to provide you more options when searching for a new band. All of the following bands are slim fit and lightweight designs. You will find both fitness bands with and without displays, all are waterproof, and we have even included a fitness tracker ring to our list.
How well do Smart Rings Work Compared to Fitness Tracker Bands?
Fitness tracker rings are actually quite effective at monitoring and reading various activities and uploading that information to your smart device via Bluetooth technology.
Smart rings can monitor your heart rate, count calories burned, register steps and distance, and even keep track of your sleeping patterns.
These rings are very durable and extremely small. Thus, making them the most inconspicuous and smallest fitness tracker on the market.
The fitness ring we have included in this review is the Motiv Ring which is waterproof, is extremely durable, and made from ultra-light titanium.
The only drawback to a ring versus a band is that by not having a display monitor it is only for reading and gathering information and sending it to your phone App.
5 Smallest Fitness Tracker Bands & Rings
The following are some of the slimmest and smallest designed fitness trackers available online. The fitness tracker ring may be the smallest option, but it does not have a display and in some cases may cost slightly more than most fitness bands.
#1 Fitbit Flex 2 Wristband Minimalist Design
Editors Choice #1 Pick
The Fitbit Flex 2 is the smallest fitness tracker band and probably my favorite, measuring in at only .4" in width. This tracker is not only very durable but also tracks all-day activities such as steps, distance, and calories burned.
Waterproof: Furthermore, this fitness tracker is also waterproof and can track your laps while swimming but also automatically recognized many other physical activities such as bike riding, walking, running, and other aerobic workouts.
Tracks sleep patterns: And at the end of the day when it's time to rest, this tracker keeps working as it tracks your sleeping patterns while you sleep and will also wake you with a small vibration.
Interchangeable bracelets, bands, pendants): Another great feature is the ultra-slim removable tracker that is interchangeable and can be fit into accessories such as fashion bracelets, classic bands, or pendants). A great way to take your tracker along at any time of the day and for any occasion. You can find some great Flex 2 accessories here.
Never miss a call: If you're afraid of missing a call or text message while working out or on the go, no worries. The Fitbit Flex 2 will notify you using colored lights and vibrations.
This tracker automatically syncs through Bluetooth to over 200 iPhone, Android and Windows devices.
Introducing Fitbit Flex 2™
Top Features:
Waterproof ultra slim .4" wide band with a removable tracker
Interchangeable accessories (classic bands, bracelets, and pendants)
Auto exercise recognition & move reminder
Counts steps, distance, calories burned and it has auto sleep tracking
Syncs wirelessly to the Fitbit Dashboard
Call and text notifications
USB charger included
Charge time is 2-3 hours & battery life up to 5 days
Includes 2 bands (small & large)
Possible Drawbacks:
---
#2 LETSCOM – Many Features Small Price
Best Bang For Your Buck!
Currently Unavailable – Try the comparable and low price ENGERWALL instead.
LETSCOM is by far our most affordable fitness tracker. But don't let the low price fool you. The LETSCOM is packed with features and even boasts an impressive color LCD monitor.
With a price tag this low you could buy one for everyone in the family. Or if this is your first fitness tracker, the LETSCOM is a great way to test the grounds.
The LETSCOM monitor is .96" wide (the width of the band), is waterproof, and is band replaceable. Bands can be purchased separately with many different colors to choose from.
This band will display time and date, has a built-in alarm clock, monitors your heart rate, a sedentary reminder, and an all-day activity tracker.
Receive alerts from your smartphone such as calls, emails, text messages, and social media messages.
The activity tracker will register running, cycling, hiking, walking, yoga, biking, treadmill, dancing, climbing, tennis, fitness exercise, football, basketball, and badminton.
The all-day activity tracking monitors active minutes, steps, calories burned, distance, and heart rate.
Top Features:
Curved color display .96" wide
Waterproof
Interchangeable/replacement bands available
14 Sports Tracking
Smart notifications
Heart rate & sleep monitoring
Measures steps, distance, calories burned
Connects to phone's GPS
Alarm clock, date & time
Control smartphone camera
Charge time about 1-2 hours on USB charger & battery life 5 to 7 days
Possible Drawbacks:
Really could not find any for the price
#3 Fitbit Alta Slim Design Water Resistant Band
The Fitbit Alta is the next smallest fitness tracker band we found. It measures a mere .61" wide and will fit wrists as small as 5.5". It is also important to note that the width does not increase with wrist size.
Fitbit Alta has so many accessories to choose from. Besides being one of the smallest trackers, it also offers the option to change out the band to match any occasion. Choose your classic design for everyday activities, maybe leather for a casual or sporty dress, or even metal bands for a formal night out.
No need to remove this band when showering, running in the rain, or taking a swim. This water-resistant band will let you continue monitoring your activities without interruption.
The Fitbit Alta model does not show your heart rate. However, if this is something that is important to you, then the Fitbit Alta HR includes the heart rate feature but without being water-resistant.
Top Features:
Waterproof .61" wide band with OLED tap display
Automatic exercise recognition & Reminders to move & stay active
Tracks all-day fitness activities, steps, miles, calories burned
Monitors sleep: awake time, REM, light & deep sleep
Silent alarm (vibrates to wake you up)
Call, text, & calendar notifications
Syncs to computer & mobile devices wirelessly
Includes time display (only displays for 4 seconds to conserve battery)
Access to Fitbit Leaderboard to connect with friends
Interchangeable bands (metal, leather, classic bands to match any occasion)
App tracks history of all functions, make log entries and set new goals
Charge time is 2 hours & battery life is up to 5 days
Possible Drawbacks:
Does not include heart rate monitoring
Display only shows for 4 seconds to conserve battery
---
#4 Garmin Vivosport Color Display GPS & Monitor (Great for Runners & Bikers!)
With the Garmin Vivosport, you may have to sacrifice a little by adding a few fractions of an inch to the width of the band, but the gains are worth it. This fitness tracker not only monitors your heart rate and fitness activities, but also receives notifications such as text messages, social media alerts, and emails.
And if that's not enough, what separates this tracker from the others is that it has a built-in GPS and a color display. The GPS not only tracks and saves your entire route when running or biking, but it also has a Live Tracking function that can automatically send emails of your current location. This is a great safety feature to have when running alone.
Other notable features include weather forecast, find my phone, V02 max, remote control your music on your smartphone, and activity tracker for walking, running, stair stepper, cardio, and strength training.
vívosport: Getting the Most Out of Your Device
Top Features:
.8" wide band with Color Display Monitor
Built-in GPS with Live Tracking
Displays weather forecast
Activity tracker: steps, distance, calories burned, heart rate monitor
Syncs and stores to Garmin Connect mobile App & online fitness community
Move reminders, measures stress levels, and goal setting feature
Tracks walking, running, stair stepper, cardio, strength training
Estimates V02 max
Received notification alerts from your smartphone
Remotely control music on your smartphone
Find my phone feature
Charge time about 1 hour on USB charger & battery life up to 7 days
Possible Drawbacks:
The band is not user-replaceable.
---
#5 Motiv Ring Waterproof with Heart Rate Monitor
The Smallest Fitness Tracker
The Motiv Ring is by far the smallest fitness tracker in this review. Warn on your finger just like any other ring, this tracker will monitor your heart rate, track your steps and distance walked, activities, calories burned, and your sleeping patterns.
The only feature missing that other activity bands offer is a display screen. But no worries. All your data is safely captured and wirelessly transferred to your smart device to view at your convenience.
Besides being the smallest fitness tracker, the Motiv Ring is also waterproof and extremely durable. Wrapped in Titanium this ring is not only super durable and extremely light, but also very comfortable, and stylish to wear.
The company strives to update and integrate new and improved features to its product.
Top Features:
Tracks steps, distance, activities, heart rate, calories burned, and sleeping patterns
Uses Bluetooth to transmit and store data to your Smartphone App
Extremely durable & light Titanium design
Waterproof up to 165 feet
Thinner than 2 nickels and weighs less than 1 penny
Ring records data up to 5 days
Ultra-slim USB charging dock
Battery life: up to 3 days
Charging time: 90 minutes
Works with select Android & iOS, Google Fit & Apple Health
A ring sizing set will be mailed out to make sure you get the correct fit before they ship your ring.
Possible Drawbacks:
Tends to scratch easily (the company is working to improve this issue)
No display
Final Thoughts
Fitness trackers are becoming more and more popular and with it, more designs, features, and sizes are being offered to the consumer every day. With all these options it can become confusing and difficult to decide which fitness tracker is right for you.
In this review, we believe smaller is better. And if you are reading this review then more than likely you would agree. We located the smallest fitness tracker bands we could find online and listed them here because they are, in our eyes, more practical and functional to wear at all times of the day and for all occasions.
Whether exercising or sleeping, a small and lightweight fitness band is far more comfortable and practical than other larger bands and watches. And for those of you eager to take the leap, the even smaller Motiv Ring may be right up your alley.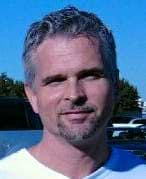 With over 30 years of experience in strength training and fitness, Mark LaRue is the founder of Fitness Mastered, a blog to help educate fitness enthusiasts of all fitness levels, ages, and gender. We write topics that range from weight training tips and exercise routines to home workout machine and fitness related product reviews, to name a few.