In this review, we will compare some of the best posture corrector devices found online which include intelligent posture sensors, posture braces, shirts, and even our newest find being the posture brace combined with a smart posture sensor.
We will not only provide you with a list of the best posture correction devices but also explain what they are and if they truly work. Furthermore, we will explain the different types of posture correctors available and which may be best for your specific needs.
And don't miss our FAQ section with some commonly asked questions located at the end of this review.
TABLE OF CONTENTS
What is a Posture Corrector Device?

Do Posture Devices Really Work?

The Importance of Posture

3 Types of Posture Correction Devices in this Review

The 8 Best Posture Corrector Device Reviews

Smart Posture Sensor & Brace Combo

(New!)

Sensors: Lumo Lift vs Upright Go
Braces
Shirts

What are the Top Benefits of These Devices?

FAQ
What is a Posture Corrector Device?
Posture corrector devices come in different forms such as braces, shirts, and posture corrector sensors. These devices can greatly help improve and correct poor posture from every day habitual movements brought on by prolonged sitting at the office or the computer, and texting or using your smartphones to name a few.
Posture devices can retrain poor posture and fix bad posture habits that are responsible for so many problems related to slouching. Some of these problems include back, neck, and shoulder pain, but can also result in stress-related issues that can affect your energy, self-esteem, and how others may see you.
Do Posture Devices Really Work?
Before I give you a definitive yes or no answer to this question, let's take a closer look at how posture is related to our muscles and connective tissue.
Our body's soft tissue adapts very easily to positions we hold them in over longer periods of time.
For example, a person with rounded shoulders typically has their upper back rounded and their shoulders rolled forward. This is a very common issue and over time the soft tissue will adapt to this position causing the pectoral muscles to shorten and the back muscles to lengthen.
So basically, your body has adapted to this poor posture and in order to fix this, you would have to consciously fight against this tension. Which by the way is possible, but also very difficult.
With that said, if your body can adapt to poor posture, then it can also adapt to good posture. Therefore, we could practice good corrective posture for a longer duration and our body would eventually adapt to that position.
The Verdict is in
So the answer to whether or not a posture corrector brace works…is yes.
Using a posture corrector device that is literally keeping your shoulders pulled back, pushing your chest out and straightening your back over many hours and weeks will eventually cause your body to adapt and fix itself.
Nevertheless, be aware that even though posture correctors do help improve posture, they are addressing symptoms on a systematic level and not addressing the root cause.
Various Causes for Poor Posture
Poor posture can come from various muscular imbalances. This means tightness in some areas or weaknesses in others.
Additionally, multiple factors can cause poor posture, such as emotional stress, or imbalances of the hip or otherwise.
However, it could also just simply be caused by bad habits.
So even if a posture corrector device can help fix your posture in the short term, you may also need to find what other problems may be causing your issues and take the appropriate actions to improve them.
The Importance of Posture
Poor posture is very common in today's society with so many people sitting at their computers for hours on end, slouching over while reading their smartphones, or playing games on their tablets. Poor posture can affect your health, your appearance, and even how you feel.
If not corrected in time, poor posture can result in back pain, shoulder pain, and neck pain that can lead to costly visits to the doctor's office.
Furthermore, bad posture can affect how others look at you, and it can even affect your energy and how you feel about yourself.
By simply correcting your posture and straightening up your back and shoulders you can make a huge difference in the way you feel and look.
If you are suffering from any of these symptoms, it is not too late. Keep reading to find which device to correct posture is right for you.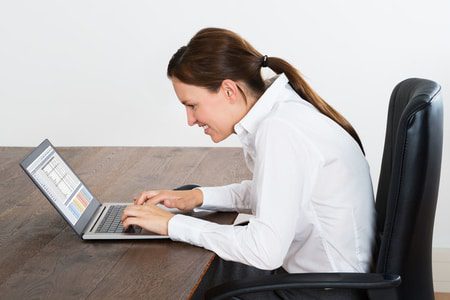 4 Types of Posture Correction Devices in this Review
When we think of posture correction devices the first thing that comes to mind is the posture corrector braces and belts you typically wear around the shoulders and upper body similar to a vest. Or perhaps even the wide belts you can wrap around your waist.
There are however other perhaps less common devices you may not be aware of that you can use to help improve your posture that are far more inconspicuous. So let's take a look at our four options below.
Smart Posture Sensor & Brace All-in-one
I just recently found this new and innovative design referred to as the Smart Back Brace that combines all the benefits of a brace or shirt with the additional smart technology of the posture sensor. Basically, this smart back brace will actively correct your posture but also acts as an electronic posture reminder for when you are slouching.
Additionally, it will do all this while also keeping various stats on your smartphone.
Posture Corrector Sensor – Your Posture Reminder & Coach
Posture sensors also referred to as posture coaches help remind you to correct your posture when you are slouching or starting to slouch. These little patches are the most inconspicuous of all devices.
They are small patches that you can wear on the upper body that generates vibration to remind you of your posture. These posture sensor devices are controlled by an App and can save all your posture statistics on your smartphone.
Two of our most popular posture sensors are the Lumo Lift and the Upright GO.
Posture Correction Brace
Corrector braces help align your spine and straighten your back, as well as assist in pulling back your shoulders. You can wear these posture braces several hours a day over your clothing at home or inconspicuously underneath clothing at the office or on the go.
Correction Shirt
Posture corrector shirts do more of the same however offer more compression and fit around the entire upper body and torso as would a normal T-Shirt. These are more inconspicuous than the braces, however, they are not adjustable so they need to be ordered in the correct size. These shirts are meant to fit snuggly.
8 Best Posture Corrector Devices Reviewed
In this review, you will find some of the best devices to help correct posture available on the market today. We have chosen various types of posture devices in order to give you more choices to better match your specific needs.
You will find our posture sensors that act as posture coaches and remind you of your posture at all times. This is a great alternative to wearing a brace since you can wear it inconspicuously at the office or on the go. No one will ever notice!
Then you will find our more commonly used and more affordable posture braces and shirts used by both men and women of all ages, including teens. These braces can be worn over or under clothing.
So without further ado, let's start with our newly discovered all-in-one Smart Brace!
Best All-in-one Smart Back Brace
#1 Smart Back Brace
(Editor's Choice Award)
Both Brace & Sensor All-in-one!
The Smart Back Brace is a truly innovative posture corrector device and one of a kind in that it combines all the benefits of the back brace and posture sensor all in one device.
What this means!
Both posture braces and shirts are ideal for correcting your posture by actively pulling back on your shoulders. But it will not alert you when your posture is off or you are slouching.
On the other hand, posture sensors will alert you when your posture is off but cannot actively help keep your posture corrected or your shoulders pulled back.
The best of both worlds!
So what makes the Smart Back Brace so unique is that it can do both at the same time!
It will actively correct your posture while also alert you with its smart sensor and send stats to any of your Smart devices such as iPhone or Android.
I invite you to take a quick moment to watch this video for more information.
How to improve your posture in 15 minutes a day - using Smart Back Brace Posture Corrector
---
Best Posture Sensors: Lumo Lift vs Upright GO
Here are two posture sensors that can be worn inconspicuously under clothing. Compare the two and see for yourself which sensor may be a better choice for your specific needs.
#2 Upright GO Vibrating Posture Sensor w/ App
The Upright GO Smart patch is a posture sensor device you stick on your back that buzzes and gives you a small notable zap whenever you slouch. You control the patch with an iPhone or Android Smartphone App. This App lets you turn your device on or off and keeps helpful stats such as time used, and time upright vs time slouched.
Create your own personalized training program to keep track of the goals you set for yourself.
Go from 40% upright, to 80% upright in just under a week. And over 90% in over two weeks.
This tracker has two modes and will even continue to keep track of your posture when the vibration is turned off.
This posture sensor device is the perfect alternative to posture corrector braces for complete discretion.
The ideal place to use this device is when sitting at your desk, at the computer, or when using your phone or tablet. It not only reminds you when you're slouching while seated but will also correct you when standing.
The Upright GO includes the tracking device, a travel case, USB cable, 9 reusable hypoallergenic medical-grade adhesives, and a user manual, and the iOS or Android App is free to download.
#3 Lumo Lift Vibrating Posture Corrector Sensor w/ App
The Lumo Lift is another vibrating posture sensor device similar to the Upright GO but does not require adhesive nor does it stick directly to your skin. Simply place the Lumo Lift posture sensor under your shirt, right below your collarbone, and use the magnetic clasp to secure it in place.
Get gentle vibration reminders for your posture when you slouch sitting and while standing.
The Lumo Lift and App not only keep stats on your posture but also keeps track of your steps taken, distance traveled and calories burned.
This design includes the Lumo Lift Posture Sensor, a silver and a black clasp, and a charging dock. The App can be downloaded for free and is compatible with iOS 11.3 and above, and Android 5.0 and above. The manufacturer recommends downloading the app before making a purchase, to make sure your phone is compatible.
The Lumo Lift may be a bit more expensive than the Upright GO. However, there is no need to purchase any extra sticky tape with this device. Furthermore, it is more conveniently located on the front of your shirt as opposed to your back.
---
Best Posture Braces
#4 The Natural Posture Upper Back Brace
The Natural Posture upper back brace can be adjusted to just the right amount of tension you need for each shoulder. This posture brace is very inexpensive, and is easily and quickly adjustable to fit anyone from size 28″ to 48″.
You also get a bonus "Natural Posture Improvement Guide" E-book for free, which includes:
Tips on how to use a posture corrector brace
Root cause issues
Step-by-step stretches & exercises
These posture braces also ship worldwide.
Watch this demonstration video to see just how effective and easy they are to adjust and wear.
Posture Corrector Back and Clavicle Support for Men and Women
---
#5 Inspiratek Brace with Adjustable Clavicle
The Inspiratek Posture Corrector is made for both men and women of all ages. This posture corrector is made from ultra-soft breathable Neoprene material. And to keep the harness from digging into your arms includes removable underarm pads.
The unique slim back design provides added comfort and uses metal connections and stitching for added durability.
You can easily adjust this ultra-lightweight design with its longer straps that fit anyone from chest sizes 28" to 48".
Safely use this posture corrector at work under clothing or at home over clothing.
Inspiratek has taken posture correction to the next level by adding a high quality stretching band and exercise guide with each order. Use these to help strengthen muscles, increase freedom of movement and flexibility.
---
#6 Only1MILLION Unisex Brace
The Only1MILLION posture brace is designed for both men and women and designed for all-day comfort. Detachable armpit pads provide for comfort all day and keep the straps from digging into your arms and skin.
This posture brace comes with longer Velcro you can easily adjust to fit chest sizes from 28" to 48". Furthermore, the adjustable shoulder straps make it easy to adjust without the help of another person.
You can wear this latex-free adjustable design over clothing. But it is also inconspicuous enough for you to wear to be under a shirt or blouse.
The Only1Million brace is double stitched Neoprene for higher durability. They have soft posture straps with holes to provide added airflow for extra comfort.
Also included is a latex resistance band for strengthening exercises and workout videos that can be easily accessed from your phone.
---
Best Posture Shirts
#7 Alignmed Shirt Zippered for Men
The ALIGNMED Posture Shirt is a full zipper shirt to help make putting on and removing the shirt easier.
This shirt can be used as outerwear or you could wear it inconspicuously under clothing. Thus ideal for correcting, maintaining and preserving proper posture.
All shirts are constructed with tension panels called NeuroBands. These help to activate muscle groups to keep you upright.
This shirt features vented POWERMESH panels and moisture-wicking fabric to keep you dry and cool.
You can not adjust these shirts, however, they do come in sizes from X-Small to 3X-Large. They are made of 83% Polyester and 17% Spandex, is machine washable, and come in black or white.
ALIGNMED also has a no zipper Pullover Posture Shirt if you prefer a zipper-free option. The color options are white, black, and white/gray.
---
#8 Alignmed Shirt Ziper or Pullover for Women
The ALIGNMED Posture Shirt for Women is specifically designed for women and also comes with easy wear zipper you can wear as outerwear or inconspicuously under clothing. ALIGNMED is backed by an esteemed group of physicians and sports scientists who have developed a posture shirt with an anatomic matrix of bands, panels, and seams collectively referred to as NeuroBands.
NeuroBands help to retrain muscles, improve performance, correct posture, and help to reduce pain.
This posture corrector shirt keeps you more comfortable by keeping moisture or sweat away from your skin with its moisture-wicking fabric.
These shirts also feature vented POWERMESH panels to keep you cool and have antimicrobial protection to keep your shirt bacteria and odor-free.
These shirts come in sizes X-Small to XXX-Large and can be machine washed and air-dried. The color options for this design are black and white.
ALIGNMED also has a no zipper Pullover Posture Shirt if you prefer a zipper-free option and the color options are white, black, white/gray, and blue.
What are the Top Benefits of Posture Devices?
Here are some top benefits posture correction devices can provide to help you fix poor posture.
Neck and Shoulder Pain Relief
Posture corrector devices can help align and straighten your back and pull your shoulders back without much conscious effort. Over time your muscles retrain themselves and adapt to the proper position, taking an unwanted strain off of your back and neck and resulting in less pain or total pain relief.
Correct Slouching
Poor posture is a result of slouching and is caused by many everyday activities such as sitting at your desk, looking at your phone, or just bad habits. Posture devices can help fix these problems and the negative effects that result from them.
Breathe Better
Standing upright with your shoulders back expands your chest cavity and creates more room for your lungs to expand. Thus making it easier to breathe.
More Energy
When you stand up straight your whole body feels better. Slouching causes stress on the back and neck, and when your body is under physical stress it also results in decreased energy levels. So standing upright will free that strain and result in higher energy levels.
Improved Self-esteem
Standing upright with shoulders back and head held high creates positive energy about a person. Others see you in a more positive way and you, as a result, feel better about yourself.
FAQ
The following is a list of popular questions asked about posture corrector devices. These questions are provided to help answer some concerns you may have regarding these posture correctors.
Are posture correctors adjustable?
The posture braces in this review are adjustable and can be fitted for chest sizes 28" to 48". The posture corrector shirts are not adjustable but can be ordered in sizes ranging from X-Small to XXX-Large.
How do I clean my posture corrector?
The posture corrector shirts can be machine washed and air-dried. I would recommend hand washing the corrector braces since some may have hard plastic and metal parts.
Do posture correctors really work?
As discussed earlier in this review, posture correctors do help correct your posture as they assist in straightening your back and pulling back your shoulders. Our bodies are highly adaptive and over time will adjust and maintain the position they are in the most. Your back muscles and surrounding tissue will shorten and become stronger, and your pectoral muscles will stretch back out and relieve the tension on your shoulders.

If your body can adapt to poor posture, then it can also adapt back to good posture. It just takes a little time and effort.
Can I wear my brace to bed?
Though this is not necessary and might be somewhat uncomfortable, especially using a brace, you could technically wear a posture corrector to bed. Using a posture corrector during the day is enough to help fix your posture. However, if you must wear one to bed I would think the posture corrector shirts would be significantly more comfortable.
Will these devices help with my neck pain?
Poor posture and bad habits typically will cause slouching and result in neck or back pain. By correcting bad posture you are taking the pull and tension off of your back and neck. Your neck and head are now free to balance and align naturally. Thus resulting in less or no neck pain at all.
What are the best devices to correct rounded shoulders?
This is more about personal preference than anything else. All of the posture correctors are effective at fixing posture but each has its own unique way of doing so.

The posture braces are easy to wear, are adjustable, and correct your posture without much conscious effort.

You can wear the posture corrector shirts just like any other day to day garment. They are much more inconspicuous when you wear them under clothing, but also require little effort consciously.

Last but not least, the posture corrector sensor is the most inconspicuous of all the devices. These sensors do however require more conscious effort than braces or shirts.
But on the other hand, you do have the posture brace and sensor combo. This all-in-one Smart Back Brace device gives you the benefits of both worlds.
Closing Remarks
I hope this article on "The 8 Best Posture Corrector Device Reviews" has helped answer some important questions about how to fix bad posture and what devices can help you fix slouching, correct rounded shoulders, and straighten your posture quickly and effectively.
Hunchback posture is a natural consequence of how we live our lives with everything that drags us forward. This includes sitting in class or at the office, reading our smartphones and working at our computers. These actions cause gravity to pull our heads down, our shoulders to drop forward and our backs to curve and stretch out.
With only a few hours per day, you can fix your posture with devices that have been tested and proven effective such as posture corrective braces, corrector shirts, and corrector training devices that can be monitored on your smartphone.
Whatever your preference may be, taking the first step to owning one of these devices puts you one step closer to a healthy upright posture you will begin to feel immediately and others will soon notice.
Suggested Reading:
Vibrating Foam Rollers for deep tissue massage to loosen up knots and treat soreness.
Thickest 1" Yoga Mats for extra comfort and support.
Disclaimer: In no way is the information and advice in this post or anywhere on Fitnessmastered.com meant to replace the guidance of a medical professional. If in doubt, we suggest that you seek the advice of a physician, chiropractor, or physical therapist.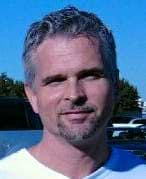 With over 30 years of experience in strength training and fitness, Mark LaRue is the founder of Fitness Mastered, a blog to help educate fitness enthusiasts of all fitness levels, ages, and gender. We write topics that range from weight training tips and exercise routines to home workout machine and fitness related product reviews, to name a few.