Are you looking for a convenient and practical way to improve your grip strength? If so, this review lists our 5 best finger strengtheners and best hand grip strengtheners we could find online.
There are many good reasons you may want to increase your hand grip strength. Many athletes depend on grip strength to compete in group sports such as football or hockey, but also individual events such as CrossFit, gymnastics, resistance training, and especially rock climbing.
TABLE OF CONTENTS
What Is A Finger Strengthener & Hand Grip Strengthener?
Do Finger and Handgrip Strengtheners Really Work?
How to Measure Your Grip Strength with a Dynamometer
Our 5 Best Finger Strengtheners & Hand Grip Strengtheners Found Online
Who Can Benefit From Using Finger and Handgrip Strengtheners?
My Recommendation & #1 Pick
Final Remarks
Furthermore, hand and finger strengtheners may also help for rehabilitation purposes to regain your grip strength after a neck, shoulder, arm or hand injury.
Let's take a look at some of our best grip strengtheners, and while we're at it learn more about how they work and can benefit you the most.
What Is A Finger Strengthener & Hand Grip Strengthener?
Finger and hand grip strengtheners are workout devices that can be used to increase your grip strength and are extremely portable and convenient to use at home or on the go.
These devices come in various designs ranging from spring-loaded full hand grip and individual finger grip for isolating each finger separately to rubber balls and loops, and even rubber devices that stretch your fingers outward as opposed to squeezing inward.
This guide will include the more popular and more effective spring-loaded designs, which also include my favorite adjustable multi-level resistance designs.
Do Finger and Handgrip Strengtheners Really Work?
Let me tell you a quick story and personal experience of my own and how using a hand grip strengthener helped me.
Not too long ago I suffered a neck injury that pinched a nerve causing me to lose most of my strength in one arm and at least 60-70% of my hand gripping strength.
With me being a gym rat, you can imagine how difficult it was getting back in the gym and only having 30% strength in one arm and 100% in the other. It made it nearly impossible to perform any type of upper body exercises using dumbbells, or any free weights for that matter. So I was literally confined to using workout machines only.
About 2 weeks after my injury I still was not feeling any improvement in my grip strength. So I started using a spring-loaded hand grip strengthener (which by the way I already owned, is about 30 years old, and not nearly as advanced as those in our list below; see pic) and immediately started feeling stronger. As a result, I was able to expedite my recovery time and regain most of my grip strength in about 6 weeks.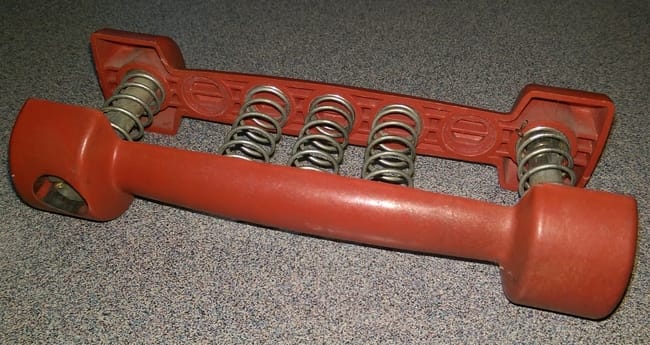 So I would have to say, without a doubt, that these hand grip strengtheners do truly work.
How to Measure Your Grip Strength with a Dynamometer
A great way to follow your progress or measure your grip strength is with a dynamometer.
If you've never heard of a dynamometer, it is a device very similar to a hand grip strengthener that measures your grip strength in pounds or kilograms.
After squeezing the dynamometer, a digital display will show exactly how much pressure your hand grip generates.
The dynamometer is not only very helpful at monitoring or keeping track of your progress, but also helps you compare the strength for both hands. In this way, you can identify how much stronger or weaker one hand is to the other and make the necessary improvements.
Plus, you can compare your hand grip strength to the norm by age and gender.
Now let's take a look at our top 5 picks for best finger and handgrip strengtheners I have found online.
Our 5 Best Finger Strengtheners & Hand Grip Strengtheners Found Online
While there are plenty of weights and workout machines at the gym to train just about every muscle group in your body, there are very little to none that will specifically target and strengthen your hand grip.
Well, that's where our hand grip strengtheners come to the rescue. The following are our top 5 finger and grip strengtheners available online.
#1 GD Iron EXT 90
EDITOR'S CHOICE (Best Hand Grip Strengthener #1 Pick)
The GD Iron EXT 90 is known for its highly durable 5T iron construction built to last. But even more than that, this grip strengthener is also a 6-in-1 adjustable grip that can be adjusted from 55lb up to 198lb of resistance.
Another favorite feature of mine is the option to lengthen the handles with the included grip extensions.
These extensions give you the added benefit of fine-tuning the resistance levels. This is very important and helpful as it assists you when moving up to the next resistance level.
6-in-1 Adjustable Hand Grip Strengthener Resistance Levels
1st Level: 55lb 2nd Level: 84lb
3rd Level: 112lb 4th Level: 141lb
5th Level: 170lb 6th Level: 198lb
By lowering your grip on the handles you can essentially reduce the resistance for that level as needed and gradually work your way up.
Another great feature is that these grips are completely silent with no annoying squeaks so you can use them conspicuously at work without bothering coworkers or anyone nearby.
Key Features:
extremely durable
6-in-1 adjustable resistance
grip extensions to fine-tune resistance
Completely silent no squeaks
---
#2 Prohands Hand & Finger Grip Strengthener
EDITOR'S CHOICE (Best Finger Grip Strengthener)
The Prohands Gripmaster can be used as a full hand grip strengthener but is more ideal for exercising and strengthening each finger individually.
These isolation exercises will not only improve your finger strength but are also helpful at improving your finger dexterity and finger endurance.
This can be especially beneficial for massage therapists, guitar players, mountain climbers, or even everyday tasks such as gardening.
Prohands offers many options, and there are various levels of intensity that are color-coded for easy identification.
Some great advice from previous owners is to start off light and perform more repetitions rather than to start with resistance too high and strain your tendons.
#3 GD Grip Pro-E Adjustable Hand Grip Strengthener (17lb – 79lb)
The GD Grip Pro-E is much lighter than the previous GD model and adjusts from 17lb to 79lb making it an ideal product for all (men, women, teens, and seniors alike).
This hand exerciser is easy to adjust by simply turning the thumbwheel to the desired resistance level.
Simply turn the wheel to the right (S) for stronger tension, and to the left (W) for weaker tension. In this way, you can fine-tune your resistance from between 17lb and 79lb as needed.
This design also includes an easy carrying strap and is outfitted with soft non-slip foam that is comfortable on your hands and to keep your hands from slipping.
---
#4 Heavy Sports Hand Exerciser (3 & 6 Count)
The Heavy Sports grip strengtheners though not adjustable are nonetheless very durable, made from aluminum and alloy steel, and come in 3 and 6 packs.
These hand grips offer more resistance levels than the other grips. However, these grips are not adjustable.
And for those of you looking to build super strong bone-crushing strength, these grips offer up to 350lb of resistance.
Resistance Levels Available:
100lb 150lb 200lb
250lb 300lb 350lb
Grips are knurled to keep your hands from slipping. And each grip has the resistance level etched inside the handle for better identification.
Key Features:
Up to 350lb of resistance
Durable aluminum & alloy steel construction
Non-slip knurled handles
Only one resistance for each grip
I consider these grips to be very affordable, but if you are looking for a better quality grip at a slightly higher price then you may also want to check out the Captain of Crush hand grip strengtheners.
---
#5 FitBeast Grip & Hand Strengthener Kit (5 Pack)
If you cannot decide which strengthener is right for you, this kit by FitBeast includes all possible options at a very affordable price. In this way, you can test all options first before making a bigger purchase.
This package comes with a carrying bag and includes an adjustable hand gripper suitable for both men and women. By simply turning a knob you can adjust the tension from 22lb to 132lb.
The second item included in the package is a finger exerciser that is designed to exercise each finger individually and has a 4lb resistance level for each finger.
And finally, we have a silicone hand strengthener grip ring and ball, and finger stretcher resistance band.
All of these devices are great for increasing your finger and grip strength, but also perfect for rehabilitation purposes.
Who Can Benefit From Using Finger and Handgrip Strengtheners?
The following are a few examples of who might benefit from using a handgrip strengthener.
Athletes & Fitness Enthusiasts
There are many sports and fitness activities that require a strong finger grip and handgrip strength. Some of these would include basketball, baseball, weight training, CrossFit, and especially climbing, pulling, or hanging routines as seen in gymnastics.
Rehab & Medical Conditions
Hand grip strengtheners can benefit those recovering from a back, neck, arm, or hand injury. But also help with circulation in the hands and arms, arthritis, carpal tunnel, and neuropathy.
Functional Activities
A strong healthy grip can be very helpful in everyday activities around the house or on the job. Whether in the garden digging holes or lifting heavy rocks, or on the job lifting heavy objects, a strong grip can be very useful and make your life easier.
Musicians & Artists
Some musical instruments such as string instruments, brass instruments, drums, and even pianos may require some additional finger strength or endurance training.
My Recommendation & #1 Pick
My Editor's Choice and #1 Pick is the GD Iron EXT 90. It is by far one of the best hand grip strengtheners I came across while doing my research. If you are looking to build brute strength in your hands and even build out your forearm a bit then this device is a perfect choice.
This hand grip is top of the line when it comes to quality and durability. This all iron construction is built to last and is a 6-in-1 adjustable hand grip with tension levels ranging from 55lb to 198lb. This provides an adequate range for just about everyone and saves you from having to buy multiple grips for various tension levels.
Besides being completely silent and squeak-free, one of my favorite features is the hand grip extensions. These extensions are not offered by any other company that I could find. The advantages of having extensions are that you can use them to fit bigger hands, but most importantly it gives you that added option to fine-tune the resistance level.
Using the extensions and moving your hand grip lower on the handles makes it possible to reduce the resistance. This is very helpful when the tension level being used is still a bit too hard. Thus, making it easier to transition to the next level as you progress in strength.
Summary of Strong Points
Extremely durable 5T iron construction
Tension adjustable 55lb to 198lb
Handle extensions for fine-tuning & wider grip
Completely silent – squeak free
Final Remarks
Hopefully, this article has helped you find the best finger strengtheners and hand grip strengtheners for your specific needs.
As we have learned, these hand exercisers can help benefit many different people in many ways.
Whether you have lost your strength over time or due to an injury, or need to increase your current hand or finger strength, the finger and handgrip strengtheners are proven to be effective devices that will get the job done.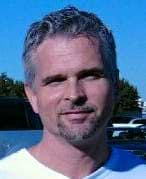 With over 30 years of experience in strength training and fitness, Mark LaRue is the founder of Fitness Mastered, a blog to help educate fitness enthusiasts of all fitness levels, ages, and gender. We write topics that range from weight training tips and exercise routines to home workout machine and fitness related product reviews, to name a few.