Today, let's examine the differences and compare the advantages of the soft kettlebell vs hardstyle kettlebells in order to get a better understanding of how each can benefit you the most.
Kettlebell training offers a different approach to weight training that can be more fun than traditional slower methods. For anyone new to kettlebell training, it's one of the best types of exercise to increase your heart rate for a sound cardio workout. It offers several advantages including dynamic fast lifts which can be more fun than the slow controlled weight training. Kettlebells are easy to grip and they help build cardio endurance, agility, balance, and strength.
Once you've mastered a few of the basic moves and start reaping the fitness benefits you'll inevitably begin to look for the best techniques and types of kettlebells. While it's a matter of personal choice, there are differences in the two kettlebell styles, the equipment and the outcomes in your fitness training.
While there are soft style and hardstyle exercise routines for kettlebell workouts there are also soft and hardstyle types of kettlebells. The best choice depends on your preferences and individual needs along with other factors.
TABLE OF CONTENTS
What are Soft Kettlebells?
Soft Kettlebell vs Hardstyle Kettlebell
Advantages of Softstyle Kettlebells
Advantages of Hardstyle Kettlebells
6 Soft Kettlebell Styles I Have Reviewed
My Favorite #1 Pick: The Bionic Body Soft Kettlebell
When is a Soft Kettlebell Better to Use Than a Hardstyle?
Final Thoughts
What are Soft Kettlebells?
Soft kettlebells are constructed with a soft outer covering that helps to protect the user from injury during a workout. Most are filled with some type of filler such as sand or water. They're made in a range of different weights, and models. Each manufacturer offers their version of the soft kettlebell, but the best will feature high quality and durable materials that resist wear and tear under heavy use.
When shopping around, it's wise to make sure that this kettlebell style is made with strong and durable materials and reinforced stitching. Also, choose a model that features a large handle that is comfortable to hold and offers a good grip to reduce the chance of injury from equipment failure.
Soft Kettlebell vs Hardstyle Kettlebell
We've learned what Soft kettlebells are, but how do they stack up to hardstyle kettlebells? Hardstyle kettlebells are made of cast iron or steel materials, in most cases. They are sometimes made of hard plastic or covered in rubberized material. You'll notice the difference between the two when you compare them side by side.
You can buy hardstyle kettlebells with adjustable weights, but most traditional kettlebells are one solid weight.
Thus making them difficult to carry if you plan on lugging your hardstyle kettlebell to the gym and back. These are only a few of the considerations to be aware of when choosing between the two.
We will look at more later.
There are pros and cons to any type of exercise equipment. When deciding which type is best for you, it's a good idea to weigh the benefits against the drawbacks.
Lifestyle is also something to think about. Where you live and the type of flooring you have in your home will matters.
Advantages of Softstyle Kettlebells
Softstyle kettlebells have a few advantages over the hardstyle type. The advantages include:
-Safer to use
Hardstyle Kettlebells are more dangerous when you're swinging them around because they have no padding. If you make an impact on a part of your body, you're likely to get a nasty bruise or worse. Softstyle is padded and less likely to cause injury. They're also safer if you have children in the house thanks to the padding.
-Quiet on floors
The padding on softstyle kettlebells muffles the sound when the bells are placed on the floor. The hardstyle is louder and may disturb people in other rooms of the house.
If you live in an apartment or duplex with neighbors nearby, the sound is less likely to be heard by the people next door.
-Will not damage floors or carpet
There is always the risk of damaging wood or tile floors with hardstyle kettlebells. The hard materials could cause breakage of tile floors or scratches, grooves or dents if dropped on wood floors. The soft exterior provides several benefits over kettlebells without this protection.
-Will not rust
Soft kettlebells are made of materials that are resistant to rust and corrosion. Most come with waterproof liners on the inside of the bag. This prevents the fillers from leaking.
Hardstyle Kettlebells made of cast iron may rust when exposed to moisture such as sweat or humidity.
-More portable and convenient
Softstyle kettlebells may be emptied of their contents for more convenient carrying and storage.
-Better adjustability
You can fill the soft-style kettlebells with the desired amount of sand or water to achieve a range of weights. This means that just one soft style kettlebell can take the place of a dozen Hardstyle types. It takes up less room in your home and it's less expensive to have a range of weights at your disposal.
Advantages of Hardstyle Kettlebells
-Heavier weight options
The better hardstyle kettlebells are made from one solid piece of metal. They provide heavier weight options than Softstyle. After you've been working out with kettlebells for a while, you'll be ready for a heavier weight. In fact, it will be necessary to continue to present a challenge for building endurance and strength.
-Less bulky
Hardstyle Kettlebells come in a variety of shapes and sizes. In general, most are less bulky than the sand or water-filled versions.
-More stable
Hardstyle Kettlebells are one solid piece of metal. This means that they are stable. Softstyle bells are filled with materials that have a tendency to move and shift. The weight is not always evenly distributed and this can throw you off when you're working out, creating an imbalance and potential injuries such as a pulled muscle, tendon or other damage to soft tissue from the strain.
6 Soft Kettlebell Styles I Have Reviewed
There are a few different types of soft kettlebells available. These include sand-filled and water-filled. We pulled a few examples to show you the differences from one brand to another.
Sand-filled Soft Kettlebells
JMJ Products version of the sand-filled soft kettlebell has a handle that is like a suitcase, complete with grips and a soft covering. This kettlebell is completely adjustable because the bag can be filled with either wet or dry sand, pebbles, rocks, dirt, chains, buckshot or other materials.
You can fill the bag with the desired weight up to 35 pounds to customize your workout, and the inside of the bag is lined to keep the outside free of dust or leakage from the materials inside.
---
Meister's Soft Kettlebell is similar in construction with a slightly different shape. Although it doesn't advertise that you can adjust the weight, you will need to buy the sand for filling, sold separately. It comes empty, so you can add the desired amount of sand.
Water-filled Soft Kettlebells
BUYNTUK's water-filled kettlebell is made of PVC material for durability. The weight is adjustable from 1 to 12 pounds, depending on how much water you put inside. It can be emptied after each use.
MySportsWorld's water-filled Kettlebell is also adjustable with the amount of water that you fill the container with.
Universal Fillers for Soft Kettlebells
You could also choose the third option and buy universal fillers for use in your soft kettlebell. You may fill these bags with the desired weight of water, sand or other materials to use inside your soft kettlebell.
My Favorite #1 Pick: The Bionic Body Soft Kettlebell
The best soft kettlebell available online!
Out of all the soft kettle bells I have reviewed The Bionic Body soft kettlebell is by far my favorite. It not only looks tough but has a solid construction made of both soft PVC shell covering and a durable metal grip handle.
If you enjoy working out barefoot or in your socks, or just enjoy the thought of dropping your weight on the floor with little noise and without damaging your floor or carpet, then this is the perfect soft padded kettlebell for you.
These kettlebells do not require sand or pellets to be added as filler. They come pre-filled and ready to use straight out of the box.
When is a Soft Kettlebell Better to Use Than a Hardstyle?
-Use in apartment or home
The soft kettlebell is usually a better choice when you live in an apartment with neighbors or in a home with other people. The reason for this is because of the noise that the hardstyle cause when they come in contact with the floor. If a Hardstyle kettlebell slips out of your hand during an exercise, it is more likely to cause damage to ceilings, windows, walls or floors.
-Fewer injuries and safer to use around kids
The padding that covers the soft kettlebell adds a safety feature that lessens the damage of an impact. If a child picks up the kettlebell and drops it on their feet, there will be at least some protection thanks to the padding.
-Much more portable and easier to store
Soft kettlebells may be emptied of the filler which makes them more portable and lighter for carrying to the gym and back. This feature also saves space in storage when the equipment is not in use.
-More functional and versatile
You can use just one soft-style kettlebell to cover a range of weights that would require more cast-iron or steel kettlebells. If you use an adjustable softstyle, then you will be able to adjust the weight by the amount of filler that you use.
Final Thoughts
The debate over soft-style kettlebells vs hardstyle is ongoing, but it's not really a matter of one being any better than the other. They're just very different and it's really more a matter of which fits better into your lifestyle.
In most aspects, soft kettlebells are safer, quieter, and more convenient than hardstyle. You trade the stability of solid construction and heavier weight of the hardstyle, which is why some prefer to stick with this type, while others are in favor of the versatility of soft kettlebells.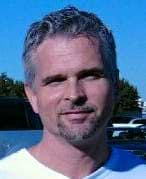 With over 30 years of experience in strength training and fitness, Mark LaRue is the founder of Fitness Mastered, a blog to help educate fitness enthusiasts of all fitness levels, ages, and gender. We write topics that range from weight training tips and exercise routines to home workout machine and fitness related product reviews, to name a few.