Some of the best yoga headstand bench designs I have found offer not only quality craftsmanship and comfort but also options that add that something extra to make each bench unique in functionality.
This guide will help you learn more about the different types of yoga headstand benches available to you and compare the benefits of each.
You will find yoga headstand benches with thick shoulder support cushions, some made of natural wood and others made of lighter metal. Some of these benches are foldable for easy storage, and others even have added resistance bands that provide for additional exercise options.
TABLE OF CONTENTS
Why Use a Yoga Headstand Bench vs A Regular Headstand?
Benefits Of Using A Yoga Headstand Bench
What To Consider Before Buying A Yoga Headstand Bench
Why Use a Yoga Headstand Bench vs A Regular Headstand?
Probably the most important reason for using a headstand bench vs a regular headstand is how much safer the inversion bench is to use. It is not nearly as hard to perform a headstand and puts no pressure at all on your neck or spine.
The beginner may not have the core strength or balance to perform a traditional yoga headstand correctly. This could lead to improper form and loss of balance that could result in neck or back injuries.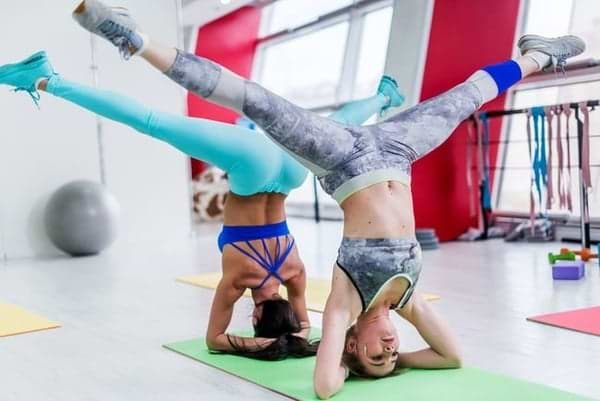 By using a yoga headstand bench, however, has a comfortable foam cushion to support your shoulders while taking all the strain off your neck and vertebrae. This lets your neck stretch naturally and can help relieve tension and headaches.
There are many more benefits to be had from using the yoga inversion bench, many of which will be listed later in this article.
Unassisted headstands are the number one cause of injuries in yoga. So protect yourself by using a yoga headstand bench instead of doing regular headstands.
Our 4 Best Yoga Headstand Benches And Unique Features
Here are my top 4 picks for best yoga headstand benches I could find online.
#1 Bodylift Evolution Health USA (The Original)
Best Yoga Headstand Bench Made Of Steel
The original Bodylift headstand bench as seen on the "Martha Stewart Show" and "The Doctors" show (see video below), has been time tested for over 40 years by a company trusted by yoga professionals and used in yoga studios across the globe for many years.
The Bodylift is a tried and tested design with a proven safety record.
If you're looking for quality construction and durability, you can't go wrong with the Bodylift inversion bench. Made with oval-shaped steel legs stronger than any wood product, the Bodylift will support a maximum weight capacity of 250lbs.
The shoulder support cushion is made of vegan leather (easy to clean) and provides extra padding for extra comfort. This design also includes an extra seat insert, which when turned around also reveals detailed user instructions.
Evolution Health USA stands by its products and offers a 10-year assurance on material and Craftsmanship.
The Doctor's TV show featuring the BodyLift Yoga Headstand bench
This inversion chair measures 14"H x 18"L x 20"W, weighs 11lbs., and is easily assembled in less than 2 minutes so you can easily take it on the go.
Top Feature:
Durable oval-shaped metal legs
Extra padded vegan leather cushion
Extra seat insert
Maximum weight capacity 250lbs
10 yr guarantee on material & Craftsmanship
250lbs max weight capacity
---
#2 FeetUp Inversion Chair
Best Wooden Headstand Bench
Another headstand bench trusted around the world is the FeetUp inversion chair designed in Germany and manufactured under the highest quality standards in Europe.
This feetup trainer is made of a wooden frame strong enough to hold 250lbs. The wooden legs are fitted with extra non-slip rubber knobs for safety, and the cushion is made of faux leather.
This headstand comes in various wood shades and cushion colors such as white, red, black, to name a few.
If the environment is important to you, FeetUp claims that through their program and donations at least one new tree is planted for every FeetUp inversion chair sold.
This feetup trainer measures 15.8"H x 25.2"L x 15.8"W, weighs 10lbs., and takes approximately 5 minutes to assemble.
The only drawback I can see for this headstand bench is it not having an extra seat cushion. If this is important to you, then may I suggest checking out the MaxKare wooden headstand bench.
Top Features:
Certified wood frame
Faux-leather cushion
Asanas Poster with over 100 exercises and relaxation poses.
Practitioner's Manual
First Inversion Guide
250lbs max weight capacity
---
#3 Doufit Foldable Headstand Bench with Resistance Bands
Best Yoga Headstand Bench That Is Foldable
What makes the Doufit Headstand bench stand out from the rest is that it is foldable and includes bonus resistance bands.
Being that this inversion bench is foldable, you can easily store it out of the way when not in use.
Another great feature and added bonus are the resistance bands that offer additional functionality to this yoga headstand bench. Besides headstands, you can add other exercises to your routine to work out your shoulders, biceps, and triceps to name a few.
When folded, this yoga bench measures a mere 6-inches in height. Thus making in super convenient to store away under a bed or behind furniture.
The Doufit foldable headstand bench measures 14.5"H x 29"L x 18"W (6"H when folded), weighs 16.5lbs. and takes approximately 6 minutes to assemble.
Top Features:
Metal frame
Foldable bench
Bonus resistance bands
Instruction Manual
Customer Support Available
250lbs max weight capacity
---
#4 Estink Inversion Chair & Multi-Function Bench
Best Multi-Function Yoga Headstand Bench With Back Support
The Estink bench is truly one-of-a-kind, and though it may require more floor space than your traditional yoga headstand bench, it does offer far more advantages and benefits.
Probably the first thing that stands out is the high back support. This is a great feature to have, especially for beginners. This can provide extra support and safety for balancing or resting your legs and back when performing a headstand.
Additionally, this multi-functional bench can be used for various other exercises such as sit-ups or crunches, and various upper body exercises you would normally perform on your traditional exercise bench. 
The Estink multi-function headstand bench measures 42"H x 49.5"L x 20"W, and weighs approx. 28lbs.
Top Features:
Multi-function fitness & yoga headstand bench
Foldable Metal frame
Thick cushioned PU leather
Includes rings to attach resistance bands
330lbs max weight capacity
Benefits Of Using A Yoga Headstand Bench
Though you may already be familiar with the many benefits of using a yoga handstand bench, here is a quick reminder at a glance:
Improves blood circulation
Can help reduce varicose veins
improves digestion
Helps strengthen & tone the abdominals and legs
improves metabolism for weight loss
May help increases the production of sex hormones
Stimulates the nervous system
May help improve posture
Can relieve anxiety and stress
May help strengthen the lungs
Increases blood flow to the brain
May help with insomnia, fatigue, and memory loss
Can relieve fluid buildup in the legs and feet
Decongest internal organs: kidneys, liver, intestines, stomach and reproductive organs by reversing the gravity pull
Can help relieve headaches, sinusitis
What To Consider Before Buying A Yoga Headstand Bench
If you are considering buying an inversion bench, here are a few pointers that may be helpful before making your purchase.
Make sure bodyweight does not exceed the maximum weight capacity
Verify in the product description that it is the "original" and not a knock-off
If space is an issue, check the dimensions (maybe consider a foldable yoga bench)
Make sure your bench includes a seat insert if that is what you need.
Always double-check features and color options
Verify shipping information and return policies
Double-checking any of the above considerations can save you time, money, and aggravation in the long run.
We not only want you to find the best yoga headstand bench for your personal needs but also ensure that your buying experience is the best it can be.
Good luck and be safe.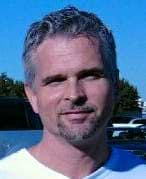 With over 30 years of experience in strength training and fitness, Mark LaRue is the founder of Fitness Mastered, a blog to help educate fitness enthusiasts of all fitness levels, ages, and gender. We write topics that range from weight training tips and exercise routines to home workout machine and fitness related product reviews, to name a few.