Today we will compare some of the best weighted belts for running, walking and cardio exercise available on the market today. It is our mission to provide you with quality belts you can rely on to make your workout experience a success.
In this review, you will find our top choices and the key features for each brand and how they differ from one another in functionality, weight options, and fit.
If you are looking to add a new weighted waist belt to your exercise routine, whether it be for walking, running, jogging, or even swimming, then I invite you to take a look at our various brands and decide for yourself which is the perfect fit for you.
Weighted Belt vs Weightlifting Belt vs Dip Belt
First and foremost we need to clarify that these belts are not to be confused with weightlifting belts or dip belts for that matter.
Weightlifting belts are designed for lifting weights and are primarily used to give you that extra support and stability needed for your lower back when lifting heavy weights.
Dip belts on the other hand are designed for adding more weight, usually weight plates through a chain, to increase resistance when performing dips, or other exercises.
With that said, if you'r looking for weightlifting belts click here, or here for dip belts.
Otherwise, keep reading if you're looking for the best weighted belts for running, walking, swim aerobics, scuba diving, and many other cardio exercises.
At the end of this article you will also find the many benefits weighted waist belts have to offer.
Our 5 Best Weighted Belts for Running, Walking, and Cardio Exercise
#1 VersaFit Belt by Power Systems (Adjustable Weight)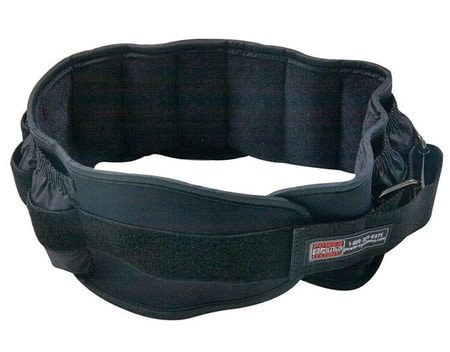 Editor's Choice for best weighted waist belt!
First on our list is the VersaFit weight adjustable belt by Power Systems.
Flexible Weights: What I appreciate about the VersaFit Belt is that it is adjustable and comes in two weight options. The first being 10lbs and adjustable from 1 to 10lbs in 1lb increments. And the second option being 20lbs and adjustable from 2 to 20lbs in 2lb increments.
Quick Adjustments: This belt is designed for external pockets that let you easily and quickly add and remove weights without taking off the belt. And for added comfort, each weight comes as a sand-filled bag that snuggly fits into each weight pocket.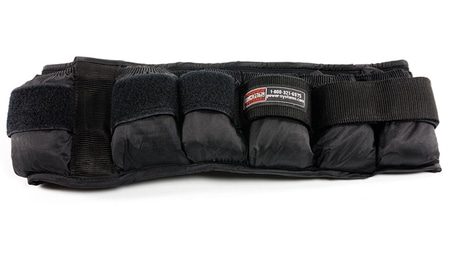 Waist Sizes: The VersaFit belt is made of durable nylon fabric and velcro closures that ensure a secure fit for waist sizes 30" to 46".
Key Features
Durable black nylon with velcro closures
Belt Options: 10 lb (10×1 lb weights); 20lb (10x2lb weights)
Weight type: soft sand bags
Waist Sizes: 30" to 46"
---
#2 W8FIT Adjustable Weighted Belt for Women
Best Slim & Form Fitting Belt!
The W8FIT weighted belt is great for men but even more so for women. This belt is not as bulky as the prior belt and can be worn over a shirt, but also easily hidden under clothing or even a warm jacket.
Slim design: This slim and form-fitting design is available in 4 weight sizes (4, 6, 8, and 10lbs), and is weight adjustable in 0.5lb increments. Weights are distributed evenly around the entire belt for a better fit and a more comfortable workout experience.
This belt is machine washable, 4" wide, made of soft Neoprene with an easy-adjust velcro strap and secure D-ring for the perfect fit.
W8FIT has a waist size for all body types ranging from a mere 22" up to 48".
Key Features
Width: 4"
Material: Comfortable form-fitting Neoprene with velcro strap & D-ring
Weight: 10lbs adjustable in 0.5lb increments
---
#3 All Pro Power Stride
The All Pro Power Stride is a 10 lb adjustable weighted waist belt with solid iron 0.25lb weight increments.
This belt is a one size fits all and comes with a padded lumbar cushion and padding for extra comfortable workout sessions.
For a safe nighttime or early morning walk, a fluorescent strip on the belt will provide for added safety.
Key Features
One size fits all (approx. 28" to 44")
Max Weight: 10lbs
Adjustable in ¼-lb increments
Fluorescent safety strip
Extra padding for comfort
---
#4 MIR Weighted Waist Belt
If you're looking for a heavy-duty belt, the MiR packs a lot of punch with its 10 to 36lbs of adjustable weights.
This belt is adjustable in 3lb increments, giving you all the weight variations you need to take on just about any type of workout.
I have found that this belt can be extremely hard to find at times. So if you can't find this belt available anywhere, you may want to try the comparable VersaFit weighted belt.
Key Features:
Max Weight: 36 lbs
Weight Adjustable: 10 to 36 lbs in 3 lb increments
Belt Width: 5"
Not recommended for waist sizes under 30″
---
#5 All Pro Aquatic Exercise Belt, Water Walker
Unlike our previous weighted belts, the All Pro Aquatic Water Walker is designed for many types of water exercises and pool aerobics.
You can however still use this belt for out of water exercises such as walking or hiking just the same.
Key Features
One size fits all
Max Weight: 10lbs Adjustable 28x 5 ¾-oz weights
Weight type: vinyl coated waterproof iron weights
Waist sizes; approx. 29" to 42"
---
Top Benefits Of Using a Weighted Waist Belt
If you're not sure whether these belts are right for you, then here are some top benefits that may help you decide.
Speed, Endurance, & Strength: Weighted belts are ideal for improving your speed, agility, and strength for everyday activities but even more so for athletic and sports-related activities. Here is a list of examples:
CrossFit
Football, Basketball, Soccer
Weight training
Aerobics
High School athletics
Training studios
Military, Police and Fire Department workout routines
Cardio & Weight Loss: You can turn any movement into a calorie-burning workout. The extra weight provides additional resistance which increases your heart rate. This is not only great for strengthening your heart but also helps burn more calories.
You can wear them anywhere, such as while doing chores around the house, running errands, or while performing various exercises. Here is a list of exercises you could use them for:
Walking
Jogging
Hiking
Pull-ups
Dips
Core training
CrossFit
Plyometrics
Aerobic exercises
Water Aerobics
Sports training
And many other fitness & sports-related activities
Performance & Physical Therapy: Increase your jump playing basketball by wearing a weighted belt during practice. Or if you're recovering from a sports injury, they are also great for rehabilitation and gaining back your strength.
Freedom of Movement: Unlike the weighted vest, these belts provide for complete upper-body freedom of movement for exercises such as walking, running, aerobics, CrossFit, plyometrics, and various other exercises.
Which Weighted Belt Is Right For Me?
Summing Things Up
Wearing a weighted waist belt for running, walking, hiking, and many other fitness-related activities is like carrying extra weight without the burden of holding it or limiting your upper body movements.
Weight adjustability gives you more flexibility to control how much weight you need for any given exercise. Lighter weights are ideal for walking, running, hiking, and rehab work. While on the other hand, heavier weights are great for increasing strength and performance in various fitness-related activities.
Finding the best weighted belt for your individual needs can be difficult. But hopefully, with the help of this review and comparison guide, we have made that task less time-consuming.
I truly hope you have found what you were looking for and wish you much success in all your fitness endeavors.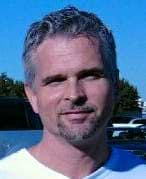 With over 30 years of experience in strength training and fitness, Mark LaRue is the founder of Fitness Mastered, a blog to help educate fitness enthusiasts of all fitness levels, ages, and gender. We write topics that range from weight training tips and exercise routines to home workout machine and fitness related product reviews, to name a few.