In today's review, you will find ten of the best wall mounted dip station bars that will fold away flat against any wall. These dip bars are ideal space savers and great alternatives to your traditional dip station stand.
You can quickly unfold the dip bars when ready to use and conveniently fold them away again when finished.
Make sure to compare all the different types of dip bars available in this review so you can ultimately find the right one for your home setup.
2 Types of Wall Mount Dip Stations You Will Find
In this review, you will find two types of wall-mountable dip stations.
Fold Away Dip Station: These dip stations permanently mount to the wall but can be folded flat against the wall in seconds. The ability to fold them helps free up workout and walking space in your room when not in use.
Multifunctional Wall Mounted Dip Station: These are unique dip stations in that you can use them for dip exercises and pull-ups, leg raises, and a multitude of other exercises.
What also makes these different is that even though they are wall-mounted, they will not fold away. However, to free up space, you can remove it from the wall altogether in just a matter of seconds.
I have included a video of the OneTwoFit multifunctional dip station below so you can see exactly how it works.
So without further ado, let's get started.
Our Top 5 Best Wall Mounted Dip Station Bars that are Foldable
1. Fringe Sport Foldable Dip Station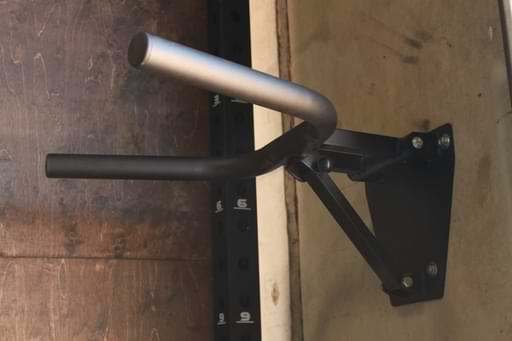 Best Choice All Around!
There are three features I especially appreciate with the Fringe Sport wall-mount dip station.
Variable Width Bars: The first is the tapered dip bars, making it possible to perform dips with a narrow grip or wide grip.
Fat Grip Bars: Secondly, the wide 2" bars are a significant benefit. They are much more comfortable on your hands and palms and provide a very comfortable and secure grip. The only drawback for some is that the handles are not padded – but a pair of workout gloves can fix that.
Fold Up or Down: The third notable feature is that the bars can be folded either up or down against the wall – giving you more flexibility to save workout space.
I see nothing but great reviews on their site. So you may want to give them a look.
Fast Free Shipping in the US.
Product Features
14-gauge steel
Grip width: 2 inch
Product weight: approx. 25 lbs
Max. weight capacity: 600 lbs
Wall mount plate: 11" x 11"
25" at widest point & 15" at the narrow end
Extends 23" out from the wall
Folded extends 4"
Includes assembly instructions on their website
2. OneTwoFit Multifunctional Wall Mount Dips Station
Best multi-function wall mounted dip station.
The OneTwoFit wall-mounted dip station does not fold away, but you can instantly remove it from the wall and store it out of the way nonetheless. Otherwise, you could also just hang it up higher in the pull-up position to get it more out of the way.
Considering all the workout options, this dip station offers, I believe it is well worth the extra effort. And therefore, I have decided to add it to my list.
Check out this short video to see what exactly you are getting and the many workout possibilities it offers besides dips, leg raises, and pull-ups.
Wall Mounted Pull Up Bar with Dip Station OT126 | ONETWOFIT
Product Features
Multifunctional: dips, pull-ups, leg raises, and more.
Heavy steel construction
Tear-resistant, high-density back & arm cushions
Rubberized grips
Grip width: 1 ½ inch
Dip bar width: approx. 24"
Product weight: approx. 20 lbs
Max. weight capacity: 440 lbs
38" at widest point
Extends 19" out from the wall
3. Valor Fitness DP-2
The Valor Fitness DP-2 folding wall mount dip station though heavy-duty is still compact enough to fit in any home gym without sacrificing valuable space.
This dip bar folds downward to free up space when not in use. It has thick matte black textured bars for a more comfortable and enhanced grip that will last for many years.
I like the tapered bar handles that start at 25" wide and end at 17". This functionality provides you with various grip positions to target your muscles differently each time.
Product Features
Measures 23" x 25"
The mounting bracket measures 11" x 11
1x safety pin to lock the bars in place
Grip handles measure 1.75" in diameter
Bar width wide end is 25" & narrow end is 17"
Max. weight capacity: 350 lbs
Includes wall mounting hardware
4. TDS Wall Mount Folding Dip Station
The TDS wall mount folding dip station is very sturdy, and the handles will fold upward to preserve space when not in use.
The TDS dip station is built to last and will support up to 500 pounds. The 6" long handles are 1.25" wide with rubber grips providing a secure and comfortable grip.
Product Features
Grip width: 1 ¼ inch in diameter
6" long handles
Extends 17.5" out from the wall when not folded
Max. weight capacity: 500 lbs
23" centerline width on handles
Mount on 16" centerline studs
⅜" x 3" lag bolts & washers included
5. Barbarian Line Wall-Mount Fold-away Dip Bars
Like the Fringe Sport foldable dip bar, the Barbarian Line bar is also designed with tapered handles. So you can position your grip from a wide 28" down to a smaller 18" apart.
This dip station folds down when not in use and is strong enough to support a load of up to 770 lbs (with proper mounting, of course).
I have found this fold away dip station difficult to find online. Due to the Barbarian Line using the metric system for measurements, I would assume they are more popular outside the US. Although, if you're lucky, you can sometimes find them available on Amazon.
Product Features
Fold-away dip bar (folds down)
V-shape knurled handles
Grip width: 1.75"
Maximum load capacity: 770 lbs
Fixings not included
Wall fixings not included
What To Look For When Buying a Foldable Wall-mounted Dip Station
Here are some great tips I thought I'd share with you to make your first-time purchase smooth and without incident. There's nothing worse than ordering a product you have to return. I've been there and done that – many times.
Wall Mounting Options
Before making your final purchase, always be sure that your model is compatible with your wall mounting setup. In other words, find exactly where you will be mounting your new dip station and whether or not it will fit securely for your wall type.
Bar Width
There are two reasons you may want to check the bar width. One is to ensure the bar is wide enough for your size. And the second is if you are looking for a bar with variable width options, you will want to look at the v-shaped or tapered dip bars.
Grip Thickness
For one, I prefer at least a 1.75" to 2" grip to feel comfortable performing dips. Personally, I have a more secure grip with the 2" and less discomfort on my palms – especially when adding weights with a dip belt.
Weight Capacity
If you weigh 200 lbs or more and plan on using additional weights with a dip belt, I would suggest you look at the maximum weight capacity for the product you are interested in buying.
Fold Away Dip Station Wall Mounting Tips
First and foremost, always read the included safety tips and instruction manual before installing your new dip station. The manufacturer should always include mounting brackets with your purchase.
Never mount your dip station directly to drywall – even if you're screwing the mounting brackets into studs behind the drywall. A far better option is to secure lumber or plywood backing on the wall by screwing it into the studs behind the drywall.
Then use the mounting hardware included with your dip bar and screw it directly to the wood. The fold-away dip stations may need at least 1.25" to 2" thick plywood for a secure mount.
Fringe Sport even suggests the following tips for mounting:
First anchor two 2×6" or 2×8" spanning across 2-3 studs with lag bolts.
Then attach your dip bar mounting bracket to the spanning.
This type of mounting provides a more secure hold and prevents damage to drywalls.
In some cases, it might be better to attach your mounting brackets or fold-away dip station to the wood before securing it to the wall.
Alternatives to Wall-Mounted Dip Stations
If a wall-mounted dip station is not for you, here are some alternatives that may interest you:
More Wall-mounted & Space Saving Exercise Equipment
Looking for more wall-mountable and space-saving exercise equipment? Then you may also be interested in reading the following reviews: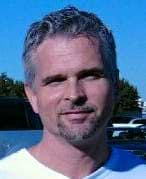 With over 30 years of experience in strength training and fitness, Mark LaRue is the founder of Fitness Mastered, a blog to help educate fitness enthusiasts of all fitness levels, ages, and gender. We write topics that range from weight training tips and exercise routines to home workout machine and fitness related product reviews, to name a few.