The best running belt for iPhone users is one that will easily store your phone and other important belongings such as keys and ID, but will also protect your iPhone from getting damaged or wet. Your iPhone is an investment, and a top priority is ensuring that your device is well-protected from damage or accidental loss while you're out walking or running.
When it comes to finding the best running belt for your iPhone, there are a few considerations and questions to ask yourself before making a decision on which one to buy. If this is your first purchase, or if you're in the market for a new running belt, we've covered all the bases to help you determine the best option so you end up with the best possible product.
We've put together a complete review of the top five running belts on the market today, along with a buyer's guide to help you find the best option that meets your needs and suits your personal preferences.
Top Reasons To Own a Running Belt for your iPhone
There are a lot of good reasons to own a running belt for your iPhone. We've highlighted just a few of them for your consideration. Here are the top three.
Handsfree running
Runners may not realize the impact that each step can have on an iPhone. Your phone can take a pounding when you're out on your run, and if you're holding the device, it's a lot easier to accidentally drop it on the hard ground. If you're on a trail, the likelihood of losing your phone in a brushy area, or in water, or even over a cliff is higher if it's not secured to your body. There may also be times when you will need both hands free, and having a running belt adds to the convenience.
911 access in case of an emergency
A running belt keeps your iPhone safe and close to your body for easy access to make an emergency call. When you're out running, you never know what you might come across. You may witness an accident, or even experience one yourself. If you feel unsafe at any time, you will have fast access to make an emergency call that could save your life or the life of somebody you come across who needs help right away.
Extra pockets to store keys, identification, or money
Some running belts come with extra features that give you secure storage space for personal items. If you drive to a running area and leave your car parked, you'll need a place to keep your keys safe and handy. It's also a good idea to keep identification on your person, and you may even want to bring some money along. If any of these features sound appealing, you're already determining what you want and need in a running belt, and this will help you find the best option.
Best Running Belt for iPhone – Top 5 Picks!
Now that you're starting to form an opinion about the most useful features in a running belt, we have gathered information about the five top running belts for your iPhone.
Our review process includes a description for each product, along with some other very important information that you'll need. Each running belt is highly recommended by users who have bought and used them, then given their honest opinions on quality, durability, and performance.
You'll find a variety of brands and models to give you a range of choices. We've chosen the top of the line and point out the key features of each. As you browse through the selections, keep your personal needs in mind and compare each to decide which option will best meet your expectations for the perfect running belt for your iPhone.
1. Tune Belt Running Belt for iPhone w/ Clear View
Editor's Choice #1 Pick
The Tune Belt is our #1 pick for best running belt for iPhone users. This is a versatile running belt made to fit a variety of large phones. It comes with several convenience features to make running with an iPhone a hands-free and more enjoyable experience.
Accommodation for large smartphones in a case
The Tune Belt Running Belt is designed to fit large smartphones that are kept in a case. Whether your phone is enclosed in Lifeproof, Commuter, OtterBox Defender, or other case brands it will easily fit into the Tune Belt. This belt has been tested and found to fit iPhone X, Xs, Xs Max, Xr, iPhone 6, 6s, 7, 8 Plus, Galaxy brands Note 9, 8, S9, S8, Plus, LG models G5, G6, Google Pixel XL, and Pixel 2XL.
Stability and Comfort
The Tune belt is constructed with soft cushioning that makes it comfortable when worn around the waist. Running or workouts at the gym are more comfortable with the waistband made of 100% neoprene material that stretches for a snug fit for security, but enough stretchiness for added comfort. Your phone stays put without slipping or bouncing even under intense workouts.
Convenience features
The Tune Belt is designed with a front side opening with an elastic strap that allows extra phone protection while giving you convenient access to your iPhone. Openings for the lightning connector and headphones are strategically placed for ease of connection and use.
The touchscreen control is easily accessed through the window cover so you can use your phone while it's in the belt. An extra pocket is built into the back of the waist belt for discreet storage of credit cards, cash, ID and other personal items.
Moisture protection/water-resistant design.
Whether you're working up a sweat while running or working out at the gym, the Tune Belt is designed to protect the contents from moisture. There are no openings directly on the skin. The materials used wick moisture away for extra protection from perspiration and the elements in case it rains while you're running.
Authentic quality
Tune Belt is a brand with more than 30 years of experience serving customers. This belt is made to hold up under frequent use, thanks to high-quality, premium-grade materials of a durable nature. The belt is made with heavy-duty clips to keep the phone secure. The belt is easy to clean by hand washing, and it comes with a full year's warranty against product defects.
2. Sports2people Running Pouch
Best Running Belt for iPhone with the most storage options
The Sports2People Running Pouch offers the convenience of handsfree running with confidence in all weather. Durability and water resistance with reinforcements make this comfortable running belt long-lasting and high performing. It holds your phone securely in place so you can focus on other activities.
Handsfree security
Enjoy running more with a running belt that holds your phone securely in place. The fit is firm and secure so your phone won't jiggle or move around when you're running or working out at the gym.
Durable construction
The YKK zipper is water-resistant to protect iPhones and other personal contents from damage due to sweat or rain. The YKK buckle is also strong with a reinforced inner layer, but it's made of lightweight materials for durability and comfort. The belt comes with a 2-year warranty against defects in materials or workmanship.
Enhanced security
The zipper has been improved for resilience and flexibility, and so has a high-quality clip that holds the phone safely in place. The zipper is extra secure. Premium materials prevent the belt from moving, bouncing, jiggling or chafing, so your phone screen is protected from scratching.
Water-resistant
The water-resistant design of this belt keeps the contents dry and safe from exposure to moisture from rain showers or perspiration.
Personal storage
Two zippered pockets have been built into this belt. One is large and will fit your phone. Another is smaller and made for storing keys, money, a credit card, ID, money, or even a small canister of pepper spray. These pockets are made of stretchy fabric that holds items in place but expands for a custom fit. They also come with zippers for extra security.
Additional features
This belt fits waist sizes between 27.5 inches through 40.5 inches and is adjustable for a snug fit. The buckle features a plug insertion for a tight lock and easy access. The belt is also made with 2 reflective darts to alert motorists when you're running in dark conditions, and a special earphone hole is made for earphone use
3. UFashion3C Running Belt w/ Easy-Touch Clear View Window
Best Running Belt for iPhone Users on a Budget!
The UFashion 3C Running Belt is a universal running pouch that is made to fit most phones and cases. It offers a clear view with easy access to touch screen phones while running or working out at the gym.
Universal fit
The size is universal which fits most smartphones and their cases. Tested for use with phones between 5.3 inches to 6.3 inches with Otter Box Commuter Cases or smaller, and 4.7 to 5.2-inch phones with most case types.
Clear view window
You have a clear view of your touch screen through the transparent PVC window with access to the phone screen without removing it from the pouch. It also works with Touch ID Fingerprints and iPhones with a New Home Button.
Dual storage pockets
A built-in front pocket is for holding your phone, and there's a rear pocket for storing ID, credit cards, money, keys, a small wallet, and other personal items.
Safety feature
The strap is reflective to alert motorists when you're running at night. Reflective trim is placed around the phone window and the zipper is enhanced with reflective treatment for extra safety in low light conditions.
Lightning earphone hole
The lightning earphone hole lets you use headphones with ease for answering calls or listening to tunes while running. Elastic straps help achieve a customized fit. The waist pack is made of neoprene material which is sweat proof and resistant to water to protect contents from perspiration and light rain or misty conditions.
Water-resistant adjustable waist pack
The waist pack is adjustable to fit waist sizes from 25.5 inches through 39.3 inches for a snug yet comfortable fit
4. Running Belt Max for iPhone
Best running belt for iPhone users who require more storage space.
The Running Belt Max for iPhone gives you a comfortable and secure way to enjoy handsfree activities with full access to the features of your phone.
Adjustable fit
The Running Belt Max is fully adjustable to fit waist size between 27 to 48 inches. This pack is made from soft and comfortable Lycra material for lightweight and extreme comfort.
Secure storage
Designed to fit snugly and maintain a tight fit even when running or gym workouts. The belt has a built-in water holder for use with a standard-sized bottle of water that clips onto the belt or can be left off.
-Extra-large pockets for maximum storage space. The main zippered pocket is 7.5″ x 4.33″ with space for any large-sized smartphone. Two smaller pouches measuring 4″ x 3.5″ are built-in for ample space for medications, gel packs, kings/keyring, and other personal items. This is the largest amount of extra storage space in a belt fanny pack for men or women.
Versatile running-belt
This is one of the most versatile running belts for iPhone on the market today. It is fully adjustable and it has removable features. It's highly resistant to water, lightweight, comfortable and has more storage space than most.
Extremely durable for long life
This running belt is made of premium materials and it comes with a lifetime guarantee. It the best fails at any time, you have the option of exchanging it for a new one or getting a refund. There is also a rubberized earphone hole so you can listen to your favorite tunes.
5. E Tronic Edge Extra Wide Spandex fits all phones 4 to 7-inches
Best running belt for iPhone users who require versatility.
The E Tronic Edge is among the most versatile running belts ever made. Enjoy handsfree walking or other activities with the knowledge that your phone is safe and within a finger's touch at any moment.
Customizable fit for owner and phones
This running belt is fully adjustable for waist sizes between 22″ to 46″ or a snug yet comfortable fit. It holds all plus-sized smartphones s well as secure holding for smaller phones without jiggling or movement. The fit is secure due to the flexible neoprene fabric with just enough stretchability without holding the phone too loosely. This belt fits all phone sizes.
Extra storage for personal items
A clip and pocket offer an excellent key security system for holding your keys and eliminating the sound of jingling while you run.
Comfort design
The neoprene fabric is both comfortable and flexible for secure snugness without being too tight. The material is light in weight but it is also tough and durable.
What To Look For In A Running Belt
Comfortable & Lightweight
The type of material determines the weight and overall comfort. Lycra and neoprene are the best choices for reducing weight. These are both flexible materials that will fit snugly to the body while being stretchy enough to allow natural body movement.
Sweat & water-resistant
This is an important feature in any running belt. It must be water-resistant to protect your phone and other personal items from damage due to sweating or humid conditions. And if you enjoy running in the rain, a water-resistant or waterproof belt is a must.
High-quality reliable zipper and buckle
The quality of the zipper and buckle determines the reliability of the running belt. Inferior materials can cause loss or damage to your phone and other personal items. Choose a running belt that is crafted with high-quality buckles and zippers.
Durable fabric
The best running belts are made of durable materials that are not only light in weight but are also tough and durable. Neoprene is the most common, but other fabrics are also highly rated for their durability, including Lycra. While there are strong materials out there, the fabric must stay in place while also offering flexibility.
Adjustable length
Only choose a running belt that can be adjusted to fit your body snugly without being too tight. A tight-fitting belt will prevent the phone from bouncing up and down when you're running.
Extra pocket
Consider which items you want to carry along on your run. Find a belt that will have built-in pockets or clip-on storage to store keys, credit card, money, pepper spray, or other items
Reflectors for running at night
If you ever run at night, or in areas where the lighting is low, then it's essential to have some type of reflectors on your running belt to let motorists know that you're there. This is an important safety measure. Some belts even come with reflectors on the zippers and in other places.
Final Thoughts
We've reviewed 5 of the best running belts for iPhone users available on the market today. Each one comes with different features to give you a range of choices. We all have unique needs and different preferences, and this is why running belts come in so many different designs.
The best running belt for iPhone users is one that most closely meets your needs, fits your phone and waist, and has the storage and safety features you need. Each belt is highly rated, durable, comfortable to wear, versatile with many storage options, and perfect to keep your phone safe while jogging, walking or running.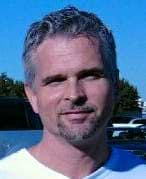 With over 30 years of experience in strength training and fitness, Mark LaRue is the founder of Fitness Mastered, a blog to help educate fitness enthusiasts of all fitness levels, ages, and gender. We write topics that range from weight training tips and exercise routines to home workout machine and fitness related product reviews, to name a few.