Resistance band bars have become the new craze and rightfully so with all the benefits they offer. These resistance band attachable bars are extremely versatile and can be used for many different exercises for a full-body workout.
These bars are also extremely portable and lightweight, and thus are very easy to use on the go or at home. Get a full-body workout when you're ready without leaving your home or hotel room and easily store it away under a sofa or bed when done.
In this review, you will find some of the best resistance band bars and bar gyms I could find and compare features for each. I have also picked a few of my favorites based on quality, functionality, ratings, and customer experience. But I'll let you decide which bar gym is best for your requirements.
Our Best Resistance Bars at a Glance:
Here is a quick list of the resistance band bars I have chosen for this review.
INNSTAR Portable Gym 3.0

Bodylastics Collapsible Curl Bar

Bionic Body Workout Bar

Multi-Myo 2-Strap Resistance Band Bar

Tikaton Resistance Bar Portable Home Gym

Gorilla Bow Portable Home Gym
What are Resistance Band Bars?
Resistance band bars are basically bars you can attach resistance bands to in order to perform various exercises without having to use weights or exercise equipment.
There are various types of bars and resistance band attachments to choose from, and the options available on the market only keep growing. Some bars are straight, some bow-shaped, and others resembling curl bars with various angled grips.
Depending on the model, resistance bands can be adjusted to fit your workout intensity level for any specific exercise type you choose.
What Are the Different Types of Bars Available?
Straight Bars: The most commonly used resistance band bar is the straight bar. The attachments for the bar are typical on each end, but some models have an extra connection in the center, and shorter bars only one attachment in the center.
Curl Bars: Curl bars typically have multiple grips at various width positions and angles. This can take a lot of strain off the wrists when performing certain exercises, but also help with targeting muscles from different angles.
Bow Bars: The bow resistance band bars are similar to the straight bars except that the ends are curled in much like a bow. The resistance bands for this design may be shorter when compared to the other bars, however the functionality is basically the same.
Our 6 Best Resistance Band Bars & Key Features
The following list compares various types of bars such as straight bars, curl bars, and bow-shaped resistance bars. Compare each bar and all its features to find which bar best suites all your personal workout requirements.
#1 INNSTAR Portable Gym 3.0
Best Resistance Band Bar Overall with Deluxe Accessories.
The INNSTAR Portable Gym 3.0 has everything you need for a full-body workout straight out of the box. Besides just the bar itself, INNSTAR has included the resistance bands for various fitness levels and many other deluxe accessories.
4 Resistance Levels to Choose From
Camo Red – female use
1x 80lbs bench press band
4x 10lbs resistance bands
Camo Blue – male beginner
1x 105lbs bench press band
4x 16lbs resistance bands
Camo Green – adv. male use
1x 150lbs bench press band
4x 24lbs resistance bands
Camo Brown – bodybuilder
1x 200lbs bench press band
4x 30lbs resistance bands
Deluxe Accessories
In addition to the resistance band bar, you will also find the following accessories:
Bench press device
Resistance bands
Cushioned rubber handles
Door anchors
Ankle straps
Feet bands
What you get
Detachable bar 1x
Bench press device 1x
Resistance bands 4x
Cushioned rubber handles 2x
Door anchors 2x
Ankle straps 2x
Feet bands 2x
Travel carry bag 1x
Professional workout manual 1x
Bar length: 38 inches
Weight: approx. 6 pounds
Max Weight Capacity: 750 pounds
---
#2 Bodylastics Collapsible Curl Bar
Strongest resistance band curl bar.
Rather than just a straight bar, Bodylastics has designed a collapsible resistance band curl bar that offers a variety of grip angles for more exercise variations.
For even more exercise options, you can attach your resistance bands to the sides of the curl bar or just the middle.
This is no ordinary metal tube bar. With this bar, you can work out with confidence as it is made of steel pipe and tested to handle up to 750 pounds of resistance.
Non-slip rubber grips make this bar easy to handle and work out with, but with its unique design, it can also be collapsed while always keeping both halves connected. This is a great feature to have for easy storage and travel but also prevents you from losing the other half.
Bands with carabiners are not included (if you don't already have resistance bands with carabiners, try the RubbaBands Set which also includes some extras such as handles and a door attachment – great for replicating lat cable pulley exercises).
What you get
1 collapsible curl bar (both ends always attached)
bands & carabiners not included
Product Dimensions: 43.5 inches in length
Weight: approx. 6 pounds
Max Weight Capacity: 750 pounds
---
#3 Bionic Body Bar with Resistance Band Attachments
Founder of Bionic Body, Kim Lyons, known as one of the original trainers on the hit series "The Biggest Loser", has come up with the perfect total body workout using just a bar and resistance bands.
The Bionic Body resistance band bar is by far our most affordable offer in this series. It is a sturdy two-piece bar that is made of high-quality steel and can be quickly disassembled for easy portability.
This bar measures 38" long and comes with foam padding for extra comfort and a non-slip grip.
Each end of the bar has a ball bearing swivel so the bar can move freely and the attached resistance bands can rotate without getting tangled up.
This bar will fit any resistance bands with clips, so you can use bands you may already own or purchase the original Bionic Body resistance tubes available from 20 lbs to 60 lbs which are stackable by the way. Meaning, you can add 100 or more pounds of resistance to your bar.
If bands are sold out, I would recommend the resistance tubes by GoFit or get a complete set of bands with additional attachments from RubbaBands.
Bionic Body Exercise Bar| BBEB-20
What you get
1 two-piece bar (can be easily disassembled)
2 carabiners
bands sold separately
Product Dimensions: 38 x 1.5 x 1.5 inches
Weight: 3 pounds
Max Weight Capacity: 100lbs (however users have used up to 200lbs with this bar)
---
#4 Multi-Myo 40″ 2-Strap Bar
The Multi-Myo 40″ 2-Strap Resistance Band Bar by Anazao Fitness Gear (also available in a 3-strap bar or a short bar) has a maximum weight capacity of 150 pounds and uses 360-degree smooth rotating travel bushings on both nylon straps.
This bar requires resistance bands with carabiners to attach to the nylon straps (not included). However, not to worry, RubbaBands has a good set with carabiners and extra attachments totaling 100 pounds of resistance.
What you get
1x bar (steel with rubber grips)
Bands & carabiners not included
Max weight capacity: 150 lbs
Product Dimensions: 40 x 2 x 2 inches
Weight: 2.2 pounds
---
#5 Tikaton Resistance Bar Portable Home Gym
Similar to the X3 but far less expensive is the Tikaton resistance band bar. It is extremely lightweight, measures about 20" and even though a maximum resistance is not given for this bar, users have successfully used bands with over 150lbs of resistance.
This bar comes with one 40lb resistance band. However, you can find additional resistance bands in various resistance levels to fit this bar from RubbaBand's Heavy Band Series.
Again, if you were interested in the X3, this is a great alternative at only a fraction of the price.
What you get
1x bar (steel with rubber grips)
40lb resistance band included
Max weight capacity: not given
Bar length: 21.6 inches
Weight: 2.8 pounds
---
#6 Gorilla Bow Portable Resistance Band Bar
The Gorilla Bow is a very reputable and durable bar made of aircraft aluminum that can hold up to 4 bands at a time. In this way, you can combine bands to meet the resistance required for various exercises.
Gorilla Bow resistance band bars come in 3 separate models with different sizes, bands, and colors to name a few. The main difference to note with the Travel Bow is not only the 350 lbs weight capacity but also the ability to collapse the bar into 3 pieces for easy transport.
| | | | |
| --- | --- | --- | --- |
| | Lite Bow | Original Bow | Travel Bow |
| Bar wt. | 3 lbs | 6 lbs | 6 lbs |
| Bar leng. | 48" | 56" | 56" – 3 pc. |
| Dia. | 1" | 1.75" | 1.75" |
| Wt Cap. | 120 lbs | 300 lbs | 350 lbs |
| Tot. bands | 3 | 4 | 4 |
| Tot. band wt. | 60 lbs | 110 lbs | 110 lbs |
| Colors | Blk, Grn, Pink | Blk, Gen | Blk, Grn |
The default set of bands come in 10, 20, & 30 pounds for the Lite Bow, and 10, 20, 30, & 50 pound bands for the Original & Travel Bow. Should the default set of bands not offer enough resistance levels, you can always purchase an extra set of bands from Gorilla Fitness.
Full Body Workout on the Beach with Gorilla Bow
What you get
1x bar (aircraft aluminum)
resistance bands included
Max weight capacity: 120, 300, or 350 pounds
Bar length: 48" or 56"
Weight: 3 or 6 pounds
Where Can I Find Bar Resistance Bands
As you may have already noticed, some of the resistance band bars in this review do not come with resistance bands. Unless you already own resistance bands with clips (most require clip ends to attach to the bars), you will need to find suitable bands to fit your bar.
Here are a few brands I trust and that offer a wide variety of tension to fit anyone's workout routine and intensity level.
With that said, do remember that resistance bands can be stacked. This means that with some bars you can attach more than one resistance tube to the same carabiner to increase the pounds of resistance for any specific exercise.
I have found that in some cases it may be more cost-effective to purchase whole sets which include not only the bands but also the additional attachments such as handles, ankle straps, or even door anchors. Which by the way can add even more exercise opportunities to your workout routine. So definitely something to consider.
GoFit (individual resistance tubes)
RubbaBands (complete set with additional attachments)
What Not To Do With Your Resistance Band Bar
I always recommend reading the user manuals and safety guidelines for any product before use. But just in case you did not receive any or would just like to know what no to do with your bar in advance, here are some helpful tips.
DO NOT exceed the maximum recommended capacity in pounds.
DO NOT use your bar with cable machines.
DO NOT use it as a lat bar or pull-up bar.
DO NOT use these bars with anything other than resistance bands.
DO NOT attach any other hardware or attachments to any part of your bar.
What Exercises Can I Perform Using Resistance Band Bars?
Resistance band bars are designed to mimic cable pulley machines and the exercises they offer in addition to any workouts performed with a weighted barbell or curl bar.
With that said, you can get a full-body workout at home or on the go without all the necessary machines, barbells, and weights you would normally use at the gym.
Here are only a few of the exercises you can perform with these bars with attachable resistance bands:
* Bicep curls
* Tricep extensions
* Triceps pushdowns
* Shoulder presses
* Front raises
* Presses
* Squats
* Deadlifts
* Lunges
* Push-Ups
Wrapping Things Up
Resistance band bars are designed to mimic exercises you would typically need a cable machine or barbell and weights to perform. These bars with attachable resistance bands are very lightweight and extremely portable devices that can provide you with exercise routines that would otherwise be unavailable without a gym.
With the various types of bars in this review and all the different features, each bar has to offer, finding a bar that meets your specific needs should be a piece of cake.
Also, check out my review on door attachable resistance bands, which by the way you can also use with your bar.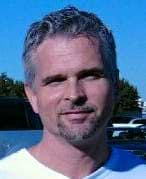 With over 30 years of experience in strength training and fitness, Mark LaRue is the founder of Fitness Mastered, a blog to help educate fitness enthusiasts of all fitness levels, ages, and gender. We write topics that range from weight training tips and exercise routines to home workout machine and fitness related product reviews, to name a few.