Today's review and buyer's guide will feature 12 of the best pulldown attachments you can use on cable machines at the gym or at home.
I have compared the most popular and most effective lat pulldown accessories and compiled a list of the top attachments based on quality, functionality, and user experience.
Cable machine accessories come in many different forms and variations, and each has its own unique benefits and functionality.
With that said, you will find a variety of attachments with features designed to target just about every muscle group possible. Some of these would include short and long bars, straight and curl bars, ropes, handles, straps, and more.
So without further ado, let's take a look at what we've found.
Table of Contents
Different Types of Cable Machine Accessories & Helpful Tips

Best Cable Attachments at a Glance

Our 12 Best Lat Pulldown Attachments Comparison Guide

Important Features to Look for in a Cable Machine Attachment

My Recommendations for Best Cable Attachments

Closing Remarks
Different Types of Cable Machine Accessories & Helpful Tips
I have decided to categorize the different types of cable attachments in this review to make navigating this site somewhat easier and to quickly locate any specific item you may be interested in.
You will also notice that I have added a few comments and suggestions that may help give you a better understanding of each product.
Bar Attachments
Cable bar attachments are by far the most popular and most used cable machine accessories at any gym. And whether you are looking for a bar to use at the gym or at home, there are plenty of bars to choose from.
I have included various types of bars from straight bars and curl bars to v-shaped and triangle bars. I always recommend bars with knurled or rubber grips. In my experience, the extra rubber padding provides for a far better grip when not wearing gloves, and the knurled grip when you are wearing gloves.
Rope Attachments
The rope is my second best last pulldown attachment and with good reason. Ropes are very flexible and versatile attachments and can be used for so many different muscle groups. Ropes give you the opportunity to position your hands in so many different ways, even while actively performing a set; something a bar can not do.
However, not all ropes are created equal. I have found the best ropes to be the longer ones. They give extra flexibility and range of motion. I would also suggest avoiding all ropes that are over-treated and glazed, as they can be quite slippery and hard to grip. And always chose the rubber ends over the tied ends for a better grip.
Handles & Foot Straps
I believe that the rubberized handles with straps and O-ring or D-ring connections are a far better option over the heavy and bulky metal handles. They are much more flexible, better to grip, just as durable as metal handles, and so much more convenient to transport.
And should you own resistance bands or decide to purchase some in the future, they are also light enough to use with them as well.
Complete Cable Attachment Sets
Sometimes you can get a better bargain by purchasing a complete set of cable attachments. This will usually include the most popular and most used bars, plus rope and handles.
Unfortunately, not all sets will include everything you're looking for. So whatever is missing you can always buy separately.
So with that said I will let this be a surprise and let you take a look for yourself.
Best Lat Pulldown Attachments at a Glance
Bars
Lat Pulldown Bars: 48"
EZ Curl Bar: 32"
Lat Pulldown Bar & Side Handles 24"
Rotating Straight Bar: 18" & 20"
V Shape Triceps Press Down Bar
Double D Lat Triangle Bars

Ropes
Triceps Press Down Ropes
Single Grip Rope
Our 12 Best Lat Pulldown Attachments Comparison Guide
#1 Lat Pulldown Bars
Body-Solid
Power Systems
Aluminum – lightweight
* Ideal for a home setup
* Knurled grips
* Swivel rotation
* Length: 48"Weight: 3.2 lbs
Solid steel with brushed nickel finish
* Rubber grips
* Swivel rotation
* Length: 48"
* Weight: approx. 12 lbs
#2 Power Systems EZ Curl Bar Attachment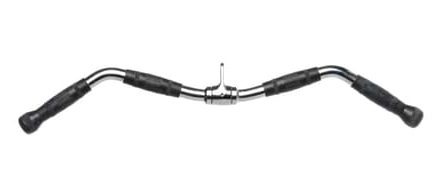 This 32" EZ curl bar with rotating swivel by Power Systems, made of high-quality steel and brushed nickel finish, is designed for all cable machines.
A great addition to your cable machine, this bar is ideal for wide and narrow lat pulldowns, as well as bicep curls and triceps pushdowns.
Key Features:
Durable steel bar with sleek brushed nickel finish.
Ergonomic textured rubber hand-grips
Approx. 32" long
Rotating swivel
Weight: 8 lbs
---
#3 Power Systems Lat Pulldown Attachment with Handles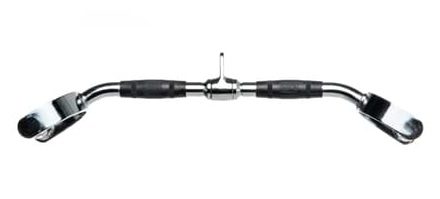 Another top lat pulldown attachment to add to your collection is the lat pulldown bar with handles by Power Systems.
This bar adds another dimension to lat rows. The added end grips give you a different angle and a more natural grip for wide rows, but also includes padded grips for narrow grip rows or pulldowns.
This bar fits all cable machines, and comes with a rotating swivel for fluid motion.
Features
Solid steel with brushed nickel finish
Knurled handles & rubber grips
Rotating swivel
Weight: approx. 9 lbs
24" in length
---
#4 Straight Bars for Cable Machines
Yes4All
Fitness Maniac
Knurled Handles
* 18" Straight Bar
* Steel with polished chrome finish.
* Revolving swivel shackle
* Dimensions: 18 x 1 x 1 inches
* Wt: 5.05 pounds
Rubber Handles
* 20" Straight Bar
* Steel high polished chrome finish
* Revolving hanger shackle
* Dimensions: 20 x 1 x 1 inches
* Wt: 4.8 pounds
#5 V Shape Triceps Press Down Bar
Fitness Maniac
Power Systems
Knurled Grips
* Durable steel bar
* Thickened knurled grips
* Weight: 4.3 lbs
Rubber Grips
* Steel bar with sleek chrome finish
* Ergonomic & textured rubber grips
* Weight: 4.7 lbs
#6 Double D Lat Triangle Bar
A2ZCARE
CAP Barbell
Knurled Grips
* Solid steel with high, polished chrome finish.
* 360-degree swivel.
* Dimensions: 7.5"L x 7.5W" x 6H"
* Weight: 5.8 lbs
Rubber Grips
* Solid steel and protective chrome finish.
* Dimensions: 7.1"L x 6.3"W x 5.12"H
* Weighs: 4.4-pounds

#7 Cable Machine Rope Attachments
CAP Barbell
Harbinger
* Heavy-duty 1.5" rope
* 27" in length
* Secure rubber ends for grip enhancement
* Heavy-duty coated nylon 1.25" rope
* Available in 26" & 36" (for extra range of motion)
* Rubber ends
#8 Overlord Fitness Single Grip Rope Attachment
The single grip rope is ideal for unilateral exercises to target your triceps and biceps.
Some of my favorite exercises to perform with these ropes are overhead tricep extensions, tricep pushdowns, and hammer curls for biceps.
These ropes are made with heavy-duty twisted nylon and measure 15" in length.
#9 Cable Machine Handles (Single & Double)
Allbingo
Power Systems
Single handles, come in pairs
* Super-strong nylon webbing
* Soft yet durable foam padding
* Wide solid ABS core handles
* 2 durable carabiners
* 6"L x 5.9"W
Double handles
* Super-strong nylon webbing
* Long heavy nylon straps
* Durable plastic with padded neoprene grips
* 14"L x 5.5W

#10 Ankle & Glute Kickback Straps
Dmoose Fitness
IPR Fitness Pro
* Extra padding for total comfort
* Adjustable velcro one size fits all
* Lightweight Breathable Neoprene
* Double-stitched nylon
* Stainless steel D-rings
* Sold as single or pair
* Many color options
* Ideal for glute kickbacks
* Sold as pair
* Durable nylon with steel D-ring
* Extra front Velcro strap for a secure fit
* Women's & Men's sizes
* Various color options
* Made in the USA
These glute kickback and ankle straps are also ideal to use with door attachable resistance bands.
#10 Abdominal Crunch Strap
Best cable machine attachment for abdominal muscles!
These ab crunch straps by Power Systems when attached to a cable machine are ideal for performing crunches from multiple angles and positions. If you're looking for a good burn, these will do the trick.
What I especially like about these straps is the extra padding which makes these heavy-duty nylon straps super comfortable on your back and shoulders. And the handles are specifically designed to keep your hands close to the chest which helps your form but also makes performing crunches extremely effective and comfortable on your hands and arms.
I would highly recommend these ab crunch straps over your ordinary double handle straps any day.
These were obviously designed with functionality and comfort in mind.
Features
Heavy nylon shoulder straps
Extra padding for extra comfort
D-ring for cable machine attachment
Designed for functionality and proper form
---
Complete Lat Pulldown Attachment Sets
Sometimes it's more cost-effective to buy a complete set than to buy each attachment individually.
With that said, Power Guidance & A2ZCare have some great deals with all of the best lat pulldown attachments for your cable machine.
#11 Power Guidance Padded Lat Bar Attachment Set
Best lat pulldown attachent set with padded rubber grips!
Power Guidance offers a complete set of pulldown attachments that will fit any cable machine.
Their cable attachment bars all have non-slip padded grips and include the following:
Double D Lat Triangle Bar
V Shape Triceps Press Down Bar
Rotating Straight Bar
Rope attachment
---
#12 A2ZCare Knurled Bars & Rope Attachments
A2ZCare is offering a complete set of various knurled bars and a rope attachment.
This set also includes the Double D lat triangle bar, rotating straight bar, v shape tricep pressdown bar, and attachment rope.
Important Features to Look for in a Cable Machine Attachment
Here is a list of key features we thought were important and should be available for each of our cable attachments. Though not a necessity, each of these features provide added functionality, versatility, ease of use, and better handling. All of which can only help contribute to a better and more productive workout.
Knurled or rubber grip handles on bars
Revolving swivel shackle on bars for free unrestricted movement
Durable steel with rust-free polished chrome finish
Rubber stoppers on rope ends for a more secure grip
My Recommendations for Best Cable Attachments
I can tell you with certainty that all of the products in this review have been carefully chosen based on quality, functionality, and customer experience. But I have also been using a few of these products myself for many years and therefore would highly recommend them to anyone.
With that said, I can highly recommend any of the lat pulldown attachments with rubber grips by Power Systems. Our public gym has been using these for over 3 years, and the same bars have never been replaced and still look great.
Knurled or Rubber Grips?
If you're undecided about whether you should buy a bar attachment with rubber grips or with knurled grips, then maybe I can help.
If you prefer working out with weight gloves, or you need a bar with a smaller grip to fit your hand size, then I would recommend the bar attachments with knurled grips.
However, if you typically do not wear gloves then I would definitely suggest the rubber grips. They will offer a more comfortable grip, and keep your hands from slipping if your hands get sweaty.
Steel or Aluminum?
Rather than write 4 to 5 lengthy paragraphs explaining why one might be better than the other, I have decided to list the differences with some pros and cons for each.
Steel
Pros
Cons
Recommendations
* Durable
* Reliable
* Affordable
* Used in most gyms
* Heavy
* Less portable
* May rust in garage settings

Choose a bar with protective chrome finish to prevent rust.


Aluminum
Pros
Cons
Recommendations
* Lightweight
* Durable
* Rust-free
* Portable; easy to transport

* May feel awkward
* Too bouncy on cable



I added an aluminum pulldown bar as it takes away less from your weight stack where total weight may already be limited on home gym machines.
If you are interested in aluminum cable attachment bars, Fitness Factory has a few more bars you can check out.
All in all, if you're not lugging your cable attachment bars around from place to place, then I would recommend going with the chrome-finished steel bars.
On the other hand, aluminum bars are much lighter and easier to carry around. And if you only have 100 or 150 pounds on your home gym cable machine, the extra counterweight of the steel bars will take away from your weight stack.
Closing Remarks
We have listed 12 of the best lat pulldown attachments we could find to fit just about any cable machine at home or at the gym. I have chosen a variety of attachments and options for each, such as knurled grips, padded grips (both of which are non-slip), and steel as well as aluminum bars where available.
Cable machines are an excellent way to exercise just about any muscle group with the right attachments. So if you have a home gym or your local gym is missing a cable attachment you desperately need, then we've got you covered.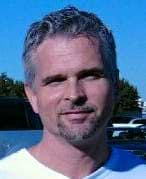 With over 30 years of experience in strength training and fitness, Mark LaRue is the founder of Fitness Mastered, a blog to help educate fitness enthusiasts of all fitness levels, ages, and gender. We write topics that range from weight training tips and exercise routines to home workout machine and fitness related product reviews, to name a few.