Kettlebell wrist guards, also known as kettlebell wrist protectors, are the perfect addition to your workout gear if you want to protect your wrists and forearms from scrapes and bruises when using kettlebells.
Kettlebell exercises have become very popular for resistance training to build muscle, strength, and agility. However, many exercise routines using kettlebells, especially overhead exercises, can be hard on the wrists and forearms.
That's where the kettlebell wrist protectors come to the rescue.
If you're looking for an effective way to protect your wrists, then this review and buyer's guide will help you find some of the best kettlebell wrist guards found online.
Kettlebell Wrist Guard vs Wrist Support Wraps
For the novice, wrist support wraps can easily be mistaken for kettlebell wrist guards. That said, in this review, you will only find kettlebell wrist guards.
Both can look very similar in appearance. But when it comes to functionality, they can be quite different.
So if you decide to do some research on your own, here are some tips so you don't make the mistake of buying the wrong product.
The first and most obvious thing to look for is the product name and description. The product will almost always have the terms "kettlebell wrist guards" in the name or description.
Secondly, the kettlebell wrist protector's sole purpose is to guard or protect your wrists. Whereas the wrist wrap's main purpose is to support your wrists.
With that said, these guards will usually have extra padding or soft fabric to protect your wrists or arms from being bruised or scratched.
The wrist support wraps are basically just a stretchable fabric used to tightly wrap around your wrists to add extra wrist support. Though not all, most wrist wraps use thumb loops to hold these wraps in place.
So in order to save yourself some time and aggravation, make sure to check on these features before making your purchase decision.
Kettlebell Forearm Guard vs Wristband
Just like wrist support wraps, wristbands can also be easily mistaken for kettlebell wrist guards if you are not careful. Both look very similar in appearance, but a closer look will reveal some very important differences.
Here are some common differences between the two, so you don't make the mistake of choosing the wrong product.
| Kettlebell Wrist Guard | Wristband |
| --- | --- |
| Thicker fabric - protects wrists | Fabric not as thick - absorbs sweat |
| Include extra padding or hard inserts | No extra padding or inserts |
| Longer sleeves (approx. 4-6") | Mostly shorter sleeves (approx. 2-4") |
6 Best Kettlebell Wrist Guards Reviewed
Performing kettlebell exercises such as kettlebell snatches and cleans can be extremely brutal on your wrists and forearms. Scrapes, bruises, and in some cases even small fractures can result from rigorous kettlebell training.

Here are my top 5 kettlebell wrist protectors found online that I have personally reviewed and found acceptable choices to help make your kettlebell workouts safer and more enjoyable.
#1 CFF Kettlebell Wrist Guards
These custom designed wrist guards come in two eye-catching color combinations and are very popular among female kettlebell lifters.
The CFF Fit kettlebell wrist guards are sweat absorbent and come with a hard injected plastic plate inside a soft sweat absorbent cotton shell. This provides the protection you need while also preventing wrist and arm discomfort from the protective plate.
Features and Specs
comfortable soft cotton
sweat-absorbent
hard injected plastic plate
2 colors: bright pink & black with pink logo
sells as pair
machine washable
Features and Specs
comfortable soft cotton
sweat-absorbent
hard injected plastic plate
2 colors: bright pink & black with pink logo
sells as pair
machine washable
Customer Feedback
Women are very pleased with the pink color and design, but also appreciate the hard plastic plate and enjoy how the cotton feels comfortable on your wrist. The plastic piece really dampens the shock of the kettlebell during workout sessions.
---
#2 KneeBees Kettlebell Forearm Protector
These lengthy 6″ long kettlebell guards will adequately cover and protect not only your wrists but also a good portion of your lower arms.
The KneeBees do not have a hard insert, yet offer plenty of protection and impact absorption with its double-layered breathable and sweat-absorbent cotton latex blend.
Some users appreciate not having the hard molded plastic inserts, as they can provide more flexibility and added comfort.
KneeBees offers a huge combination of colors:
dark gray
dark purple
green & yellow stripes
pink & purple
rainbow
red, white, blue
Features and Specs
double-layered comfortable soft cotton blend
sweat-absorbent
no hard plastic inserts
6 color options
sells as pair
machine washable
Customer Feedback
Customers love the many color options, but also believe they are a great alternative to kettlebell wrist guards with hard inserts. They offer enough protection, feel comfortable, and fit snuggly on your arm.
---
#3 Quest Athletics Kettlebell Wrist Protector
No more bruised wrists or forearms with the Quest Athletics. The strong plastic inserts will adequately absorb impacts and protect against abrasions from any kettlebell workout.
The Quest Athletics' plastic inserts to a good job of distributing the weight pressure across a wider area of the arm thus preventing wrist or arm pain.
Features and Specs
comfortable soft cotton blend
sweat-absorbent
hard plastic inserts
sells as pair
machine washable
---
#4 Treadlife Fitness Kettlebell Forearm Guard
The Treadlife Fitness is a 4″ long wrist guard that easily slips over your hand and fits comfortably over your wrist.
This guard does not have a hard plastic insert yet takes a good bit out of the kettlebell when it rests on your arm.
One major factor to look out for when purchasing this kettlebell wrist guard is that it is sold as 1 and not a pair. Some individuals may only require one wrist protector, in which case this is not a problem. For most, however, two guards seem to be standard. So if you fall in that group, be sure to order 2 guards.
Features and Specs
4″ long guard
soft cotton blend
no hard molded insert
1 size fits all
sells as 1 (not a pair)
There are no complaints about the quality or effectiveness of this wrist guard. Be aware that there is only 1 included kettlebell arm protector. So be sure to order the number of guards you need if this guard is your preference.
---
#5 Vulcan Kettlebell Wrist Protector
This wrist guard is 4″ in length, is constructed of terry cloth providing a sweat absorbing barrier, and has hard plastic inserts sewn inside the wristband. Thus, provides ample protection from the impacts of rigorous kettlebell training.
Overall a good quality product.
If the Vulcan is something you're interested in, I would suggest looking at other retailers at this time.
Features and Specs
4″ long wrist guard
terry cloth with plastic insert
sweat-absorbing material
one size fits all
sells as 1
Product Recommendation
If you're having trouble deciding which kettlebell wrist guard is right for you, here are some quick suggestions that may help you out.
Wrist Guards With Hard Plastic Insert
If your main focus is to have a hard plastic insert to protect your wrist and forearms from getting hit or beat up by heavy kettlebells, I would suggest any of the following.
Kettlebell Wrist Protectors With Soft Fabric Padding
If you are more concerned about comfort and wanting to avoid scratching and scraping and do not necessarily lift super heavy kettlebells, the wrist guards without plastic inserts can offer more flexibility while still offering adequate protection. These are also safer to wash and even put in a dryer (always follow the manufacturer's recommendations).
What To Look For Before Making Your Purchase
Before making a purchase, I would strongly recommend that you always double-check that you have made the right decision on the product you have chosen or are interested in buying.
There is nothing worse than making a purchase only to wait a week for your product and discover you made a mistake.
Here is a quick checklist you can use to make sure you have covered all bases before you make your final decision to buy.
Your Product Checklist:
Did you choose the right size? Some kettlebell arm guards may not fit large wrists or over large hands.
Did you want a guard with or without hard plastic inserts?
Double-check if the product is sold as one or a pair. I can tell you now that the Vulcan and the Treadlife Fitness wrist guards sell as one (not a pair).
Are you looking for a 4″ or 6″ long wrist guard?
Make sure you chose the correct color?
Should your wrist guard be machine washable?
Should it be sweat absorbent?
And lastly, double-check the price and check for specials or coupons.
Benefits Of Using Kettlebell Wrist Guards
If you're not exactly sure whether or not you really need a pair of kettlebell wrist protectors and need more reasons before you invest in them, here is a quick list that may help.
will prevent painful pressure from the weight against your wrists or arms
stops scratching or scraping of the kettlebell against your skin
can stop your skin from being pinched by the kettlebell
will prevent bruising from intense kettlebell workouts
can prevent fractures from heavy-duty kettlebell training routines
they can double as wrist guards and sweatbands
Final Words
I'm a firm believer that anything you can do to improve your health or make your workout routines better and more effective is always worth the investment.
With that said, kettlebell wrist guards do exactly that. They help make your workout more comfortable (not easier), so you can concentrate more on your workout routine and less on the pain and discomfort kettlebells can put on your wrists and arms.
Resolving these issues and even possibly preventing other more serious injuries will keep you happier and motivated to keep coming back for more. On the other hand, if you're not enjoying yourself due to pain and discomfort, you will more than likely quit.
And that is the last thing you want to do.
So do whatever it takes to keep yourself moving and staying fit.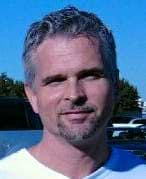 With over 30 years of experience in strength training and fitness, Mark LaRue is the founder of Fitness Mastered, a blog to help educate fitness enthusiasts of all fitness levels, ages, and gender. We write topics that range from weight training tips and exercise routines to home workout machine and fitness related product reviews, to name a few.