Unlike your typical tube resistance bands, heavy resistance bands offer a far greater challenge when it comes to strength training and muscle building.
In this review you will find 6 of the best heavy-duty resistance bands, also referred to as power bands or high-intensity bands, I could find online.
Make sure to compare each and every brand to see who has the right features and tension levels for your specific needs and for the right price.
After this review, I have also included some additional information on the many benefits of using heavy bands and the many exercises they can offer you. Also, find some extra accessories you can use to add a whole new dimension to your power band workout.
With that said, let me first show you the great accessories I discovered while doing some research for another article. This will give you a better idea of just how versatile these power bands can be.
Don't miss our highly recommended power band accessories at the end of this review.
---
---
Our 6 Best Heavy Resistance Bands for Bodybuilding & Performance
The following bands are designed with heavy resistance in order to increase brute strength and build stronger and bigger muscles. Compare our top choices and see for yourself which heavy bands are right for you.
1. Clench Fitness Heavy Resistance Bands Kit II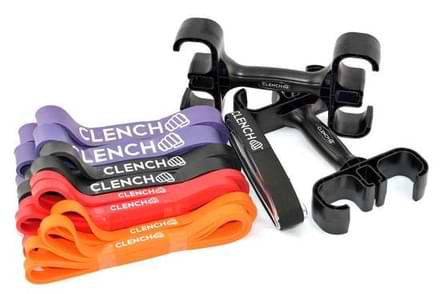 The most bang for your buck!
When it comes to versatility and extras Clench Fitness has everyone beat! The Clench Fitness Kit II gives you an amazing amount of exercise options that others can't touch.
8 Bands & Anchor
Clench provides you with a total of 8 resistance bands (450+ lbs), and also a band anchor that can attach to not only doors but will also attach to trees, posts, playground equipment, squat racks, and more.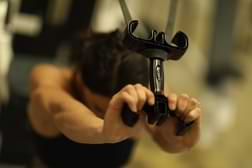 2 Heavy Duty Handles
But it doesn't stop there! What I like most of all is their unique heavy-duty handles which easily attach to your heavy bands, literally adding hundreds of exercise options in an instant. Bands are stackable.
It's probably best you watch the video below to see just how versatile this power band kit really is.
Resistance Band Kits from Clench Fitness
FREE Shipping on orders over $25
Key Features
8 Premium 41" Highest Quality Latex Power Bands (450+ lbs)

2x Orange Bands (5-15 lbs)
2x Red Bands (15-35 lbs)
2x Black Bands (35-75 lbs)
2x Purple Bands (75-100 lbs)

Heavy Duty 28" Anchor Strap & integrated Door Anchor (rated to 500 lbs)
2x Extremely durable polymer band handles with 3 unique attachment points
Free access to 50+ workouts and How-to videos
---
2. Power Systems Strength Bands
Best range of power bands – from 2 lb to 200 lb.
Even though Power Systems bands do not come as a set, they do offer 7 different resistance levels you can pick and choose from to create your own individual set. I do like this option. In this way, you get to pick out only those bands you truly need and avoid wasting money on bands you don't need.
Power Systems offers the heaviest resistance band in this review. The 200 lb band is 4" wide and is ideal for powerlifting, strength training, and bodybuilding. While on the other hand, we have the 2-6 lb band which is ideal for stretching, warm-up, and light cardio exercise.
Each loop band is 41" long and is made from seamless latex rubber design to last and resist breakage. The width and weight of the bands differ with tension.
Power Systems heavy-duty strength bands are available in 7 tension levels:
Extra Light: 2-6 lbs (Orange, ¼" W)
Light: 5-25 lbs (Red, ½" W)
Medium: 10-35 lbs (Black, 1" W)
Heavy: 30-50 lbs (Purple, 1 ⅛" W)
Extra Heavy: 65-85 lbs (Green, 1 ¾" W)
Ultra Heavy: 80-100 lbs (Blue, 2 ½" W)
Super Heavy: up to 200 lbs (Black, 4" W)
Features
7 Strength Bands sold separately (pick your favorites)
41" long
Extra Light 2-6 lb to Super Heavy 200 lb bands
Material: Durable Seamless Latex Rubber
---
3. Undersun Heavy Resistance Bands for Bodybuilding
Best heavy bands with digital muscle-building workout program.
Undersun is the only brand that offers a formula for building muscles. They offer a digital muscle-building workout program called the TA2 Build. This is a 90-day program which is a 1-year subscription and included in this offer.
This set has 5 heavy-duty resistance bands from X-Light to X-Heavy. Fortunately, I was able to find the levels of resistance in pounds in one of James Grage's videos. These bands are not color-coded, but the different band sizes are enough to keep them apart.
X-Light: 5 – 15 lb
Light: 20 – 35 lb
Medium: 30 – 50 lb
Heavy: 40 – 80 lb
X-Heavy: 50 – 120 lb
I do appreciate that Undersun includes a door anchor. In this way, you can safely attach your band to a door for added exercise variations and workout routines.
Features
5 Power Bands
Material: 100% Natural Latex
Durable seamless design
Door Anchor
TA2 Build (Digital Bodybuilding workout)
Carry Bag
---
4. ZACRO Heavy Duty Bands Set
100% Natural Latex and includes a Door Anchor.
Another favorite of mine is the heavy bands set by ZACRO Bands. Not only are these very affordable as a set but you can also pick and choose bands individually and include a door anchor for a more tailored workout.
Here are the 6 band strengths offered:
Purple: 15 to 25 lb
Cyan: 20 to 35 lb
Yellow: 30 to 50 lb
Orange: 40 to 80 lb
Red: 50 to 125 lb
Green: 60 to 170 lb
ZACRO bands are skin-friendly, 100% natural latex, elastic, and odorless.
Features
6 Power Bands & 6 Color Coded Resistance Levels (485 lbs total)
1x Door Anchor
Measurements: Various lengths and thickness
Material: 100% Natural Latex
---
5. XFit Power Resistance Band Set by ProsourceFit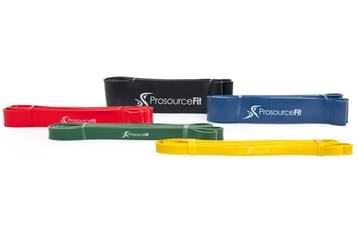 Best heavy-duty resistance band set on a budget – Plus free shipping.
Great to use as pull-up assist bands to get stronger and bigger muscles, XFit has a power resistance band for all fitness levels.
ProsourceFit offers a set of 5 heavy bands at a very affordable price. Here is a list of their color-coded bands and resistance levels:
Black: 60 lb – 150 lb
Blue: 50 lb – 120 lb
Red: 40 lb – 80 lb
Green: 30 lb – 50 lb
Yellow: 10 lb – 35 lb
If you're simply looking for a quality set of heavy-duty resistance bands without any extras and at a great price (plus free shipping), then the XFit power bands are a great choice.
Features
5 Power Bands & 5 Color Coded Resistance Levels
Measurements: 41" L & 3/16" Thick
Material: Latex
Great price & free shipping
---
6. Serious Steel Heavy Duty Resistance Band Set
Serious Steel has a wide range of tension levels starting as low as 2 lbs and progressing up to 150 pounds of resistance. The lighter tensions are great for light stretching and warm-up or rehab exercises. While the medium to heavy bands are ideal for both cardio, strength training, and bodybuilding exercise routines.
In addition to this heavy-duty resistance band set, Serious Steel also offers other sets with fewer bands and different tension levels so you can pick the best combination to meet your specific workout needs.
Serious Steel Fitness offers a set of 6 power resistance bands. Here is a list of their color-coded bands and their tension levels:
Black: 60 lb – 150 lb
Green: 50 lb – 120 lb
Blue: 25 lb – 80 lb
Red: 10 lb – 50 lb
Purple: 5 lb – 35 lb
Orange: 2 lb – 15 lb
Features
6 Power Bands & 6 Color-Coded Tension Levels
Measurements: 41" L & 3/16" Thick
Material: 100% Natural Latex
over 99.9% free of soluble proteins (latex allergens)
The Perfect Accessory for Your Power Bands
Heavy resistance bands are great to use on their own by simply attaching them to a post or door, or just anchoring them under your feet, hands, or around your back.
But what if I told you that by adding a few accessories you could add even more exercise variations to your workout routine? Here are a few accessories that I highly recommend using together with loop-style heavy bands:
My newest find, the Clench Fitness heavy band handles are specifically designed to quickly attach to any power band. These handles will add a whole new dimension to your power band workout by providing you with a grip similar to using handles on a cable pulley machine.
This door anchor by BOSS can be used under a door, over, or on the sides of most doors.
Attach this bar to your power bands to perform squats, biceps curls, triceps extensions, and more.
Heavy Band Resistance vs Free Weights
There are various differences and similarities when comparing heavy bands to free weights when it comes to resistance training. Both have their advantages and disadvantages. However, looking at the chart below, it appears that heavy-duty resistance bands may have a few more advantages.
Is that to say that power bands are better than free weights? Absolutely not. It only means that heavy bands might be a better choice for your particular workout routines and fitness goals.
| | | |
| --- | --- | --- |
| | Heavy Resistance Bands | Free Weights |
| Build Muscle & Strength | yes | yes |
| Tone & Lose Weight | yes | yes |
| Progressive Resistance | yes | yes |
| Horizontal Resistance | yes | no |
| Linear Variable Resistance | yes | no |
| Constant Tension | yes | no |
Top Benefits of Using Heavy Bands for Resistance Training
Low Impact on Joints
High-intensity bands are very low impact and with the constant tension almost force the user to use even and steady movements throughout the full range of each exercise. This makes these bands ideal for rehab, mobility, power, and performance exercises.
Variable Resistance
Each power band has variable levels of resistance. Resistance increases as bands are stretched. Resistance can be controlled by how far down you are gripping the band, or how far apart your feet are when anchoring the band.
Push Up Assistant
Now anyone can do pull-ups. Even If you can't perform one single pull-up, these power bands will have you doing multiple pull-ups instantly. Just start with the heaviest resistance band and work your way up.
Constant Resistance
Constant resistance keeps the muscles working throughout the entire range of motion for each exercise. It also helps develop stabilizers while increasing strength and decreasing muscular imbalances.
Portable & Compact
When compared to weights, loop-style heavy bands are very lightweight and compact. That said, this makes them ideal to carry around in a bag when on the go, or store away in a drawer at home when not in use.
What Can Loop Style Heavy Bands Do For You?
In addition to the previously mentioned benefits these bands have to offer, let's take a look at what these bands can do for you as an athlete, bodybuilder, or anybody who wants to improve their health in various ways.
Ideal for full-body workouts
Increase your speed, agility, and flexibility
Help improve posture issues with functional exercises
Increase strength and build muscle
Assist with pull-ups
Burn fat with light resistance & high rep cardio routines
Use for stretching and warming up
Add to a squat machine or power rack for added resistance such as:

Banded squat and press
Banded bench
Banded rack pull
Banded deadlift
High Resistance Training
Larger bands with tension levels between 50 lbs and 150 lbs are ideal for obtaining maximum resistance when used together with leg presses, squats, deadlifts, and even shoulder shrugs to name a few. Simply by adding these bands to a barbell while connected to a bench or squat rack, you can safely increase the intensity of your workout without adding extra weights to the bar.
Cardio Training
The best heavy resistance bands to use for cardio training and stretching are bands with resistance levels below 50 pounds. Since heavy bands have linear variable resistance, it is easy to tweak the tension levels by a few pounds for any band by simply gripping the band higher or lower, or widening your grip or foot support.
With that said, find a good quality set of heavy bands, make the purchase, and see for yourself how these bands can help you reach your personal fitness goals. And if you missed it earlier, make sure to also check out the heavy band accessories I have listed above. They are awesome add-ons to help make your exercise routines even more productive when using power bands.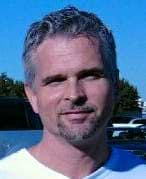 With over 30 years of experience in strength training and fitness, Mark LaRue is the founder of Fitness Mastered, a blog to help educate fitness enthusiasts of all fitness levels, ages, and gender. We write topics that range from weight training tips and exercise routines to home workout machine and fitness related product reviews, to name a few.