Foldable yoga mats, when compared to your traditional yoga mats, are much more compact and convenient to store in a suitcase or gym bag for on the go. And when not in use, you can also easily fold them together making them ideal to store in small places such as a drawer or cabinet.
In this review, I will compare 5 of the best foldable yoga mats I could find that all have one or more key features that set them apart from each other. This will give you a more versatile collection of mats to choose from when considering one that is right for your specific requirements.
Not all mats are created equal, so pay close attention to all the key features for each yoga mat, including size, weight, and other unique specifications.
5 Best Folding Yoga Mats Compared
| | | | |
| --- | --- | --- | --- |
| Product | Size | Wt | Unique Features |
| Jade Voyager | 68"L x 24"W1.5mm Thick | 1.5 lbs | Ultralight, Eco-friendly, made in the USA, Jade plants 1 tree for every sale! |
| YOGO | 72″L x 29″W x 2mm (1/16") Thick | 3.2 lbs | Best foldable yoga mat for tall people, carrying strap, spray clean |
| Gaiam | 68″L x 24″W x 2mm (1/16") Thick | 2 lb | Unique colors and patterns |
| Natural Fitness ROAM | 72"L x 24"W 4mm (1/8") Thick | 2.3 lbs | Thickest folding yoga mat, includes carry bag |
| Yoyi | 72″L x 26″W x 1/16" Thick | | Offers both a carry bag & caring straps, various colors and patterns |
What You Should Know Before Buying a Foldable Yoga Mat
The reason these yoga mats are foldable is because they are much thinner than your traditional yoga mats. So please understand that if these mats were thicker, they would not be foldable.
The reason I am addressing this is because I have read a few complaints about these mats being too thin. Unfortunately that is the sacrifice you make for a much lighter and more portable yoga mat.
Therefore, if you require a thicker yoga mat to better cushion your elbow and knees, you will need to look for your traditional roll-up design.
The biggest benefit you will get from these foldable yoga mats is how compact and lightweight they are for travel. I would suggest using them on a soft surface such as carpet or even outdoors on the sand or on the grass.
These mats can be hand cleaned, so dirt should not be a problem.
5 Best Foldable Yoga Mats Reviewed
#1 Jade Voyager Yoga Mat
Most compact & lightweight: Jade plants a tree for every mat sold!
The Voyager by Jade Yoga is truly one of the most compact and lightweight mats you will find in this review. Weighing only 1.5 pounds this mat will fold up to the size of a yoga block, so it will easily fit into any gym bag, suitcase, or backpack.
This mat is eco-friendly, contains no PVC, EVA, or other synthetic rubber and are made in the United States in compliance with all US environmental, labor, and consumer protection laws.
Jade plants a tree for every mat sold!
*Trees Planted as of this writing: 2,093,660
Choose from 4 different colors: Purple, Midnight Blue, Olive, and Fire Engine Red
Features & Specifications
Weight: 1.5 pounds
Thickness: 1/16"
Unfolded size: 24"W x 68"L
Various colors
Plants a Tree for every mat sold!
---
#2 YOGO – Extra Long & Wide for Tall People!
Best foldable yoga mat for tall people – with carry straps!
The Yogo foldable yoga mat is not only extra long but also much wider than our other yoga mats, making it especially attractive for taller or larger individuals.
Another great feature I like is how it folds up super compact and secures with carrying straps for easy transport to the gym or to the beach. Or use the straps to hang and wash, then leave hanging to dry.
*YOGO plants 1 food-producing tree in Africa for every mat sold!
Yogo - The Best Folding Yoga Mat
Features & Specifications
Weight: 3.2 pounds
Thickness: 1.75 mm
Unfolded size: 72"L x 29"W
When folded: 14" 2" x 5"
Eco-friendly rubber
1 Food-producing tree planted per mat in Africa
---
#3 Gaiam Folding Yoga Mat
Unique colors & designs.
The Gaiam foldable yoga mat is 2mm thick, measures 68"L x 24"W, weighs 2 pounds, and folds to a mere 10" x 12" square making it ideal for yoga on the go.
Fold it flat to easily fit into your gym bag to and from the fitness studio, or into your luggage when traveling.
The mat's sticky texture keeps you in place for a worry-free and safe workout routine at home, on the beach, or at the park.
Features & Specifications
Unfolded size: 68"L x 24"W
Thickness: 2mm
Yoga Mat folding Dimensions: 10" x 12" square
Weight: 2 pounds
Material: PVC
Sticky texture keeps you in place
6P Free: Free of DEHP, DBP, BBP, DINP, DIDP, and DNOP phthalates.
Many colorful designs
Hand washable
---
#4 Natural Fitness ROAM
Our thickest folding yoga mat with a carry bag!
The Natural Fitness ROAM is the thickest foldable yoga mat I could find. It can be folded into a 1-foot square to easily fit into its very own customized carry bag.
The bag is made of recycled PET (beverage bottles) and the mat of eco-friendly Polymer Environmental Resin (PER) that contains no harmful phthalates or heavy metals that could irritate the skin.
It is also 6 feet long but not quite as wide as the YOGO folding mat.
Features & Specifications
Unfolded size: 72"L x 24"W
Folded: approx. 1-foot square by 2.5"H
Thickness: 4mm (1/8 ")
Weight: 2.3 pounds
Material: PER
Non-slip traction
Carry Bag
---
#5 Yoyi Folding Yoga Mat
Offers both a carry bag & carrying straps!
The Yoyi mat can be folded up and stored in an easy to carry bag or rolled up and thrown over your shoulder with the included carrying straps.
This mat is anti-slip and machine washable. The material on the top side is made of suede but will not slip when wet, and the back of non-toxic natural rubber.
Features & Specifications
Unfolded size: 72"L x 26"W
Folded: 13.78" x 8.66"
Thickness: 2mm (1/16 ")
Weight: 2.5 pounds
Material: natural rubber & suede
Non-slip traction
Machine washable
Carry Bag (14.96" x 10.63") & carry strap
Yoga Mat Care
Because folding yoga mats are much more compact and portable than your traditional roll-up yoga mats, they are more likely to be taken outdoors to the park or the beach.
With that said, it is inevitable that these mats will be exposed to the elements and become dirty from being used on the ground or sand.
But not to worry, because with the proper care and some basic knowledge about cleaning you can keep your foldable yoga mat looking like new and ready to use for many years to come.
Here are a few helpful tips to prolong the life of your new yoga mat. I still recommend following the manufacturer's instructions for your specific mat, since not all mats are the same.
Spot clean your yoga mat with a damp cloth
Some mats can even be hung and sprayed with water
If necessary wash with a mild detergent
Let your mat dry hanging or lying flat
Never store your mat in a bag or elsewhere before it is completely dry
Do not leave your mat outdoors
Keep your mat out of the sun for longer periods of time to prevent it from becoming brittle or unusable over time
Store your mat in a dry place
Final Thoughts
Foldable yoga mats are not meant to replace your traditional ¼", ½", or even your extra-thick 1" yoga mats you may already be using at home or at your fitness studio. But they are the best option when it comes to traveling or using your mat outdoors.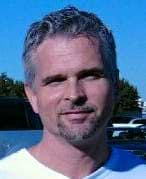 With over 30 years of experience in strength training and fitness, Mark LaRue is the founder of Fitness Mastered, a blog to help educate fitness enthusiasts of all fitness levels, ages, and gender. We write topics that range from weight training tips and exercise routines to home workout machine and fitness related product reviews, to name a few.