If you've made it to this page, I can assume you're looking for a good recommendation for the best foldable air walker exercise machine to purchase for your home. Or, maybe you're wanting to learn more about these cardio machines and if it is the right machine for you.
Either way, we've got your covered. Therefore, I have taken 6 of my favorite air walkers and compared them by features, dependability, functionality, and user experience to name a few.
You will find most of these air walker exercise machines to be extremely portable in that you can easily fold or collapse them together for easy transport or storage.
Additionally, you will learn how they compare to an elliptical machine, which muscles they engage, and the many benefits they have to offer, how to use them, some safety tips, and more.
My top 2 choices and most highly rated brands are the Slimstrider X, and the Progear 360. I do however encourage you to compare each air walker machine yourself so you can make your own informed decision on what's best for your personal requirements.
TABLE OF CONTENTS
What is a Foldable Air Walker Exercise Machine?
What We Looked for in a Foldable Air Walker
Our 6 Best Foldable Air Walker Exercise Machines
Quick Safety Tips to Follow Before Using Your Air Walker
Air Walker vs Elliptical Exercise Machine
Benefits of Using an Air Walker Trainer
Summing Things Up
Here is a quick overview of the best foldable air walker exercise machines we could find for this review:
Before we continue our review, let's first take a closer look at what exactly a foldable air walker really is.
What is a Foldable Air Walker Exercise Machine?
What do we mean by foldable air walker? By foldable air walkers, we mean that the machine can be easily collapsed or folded together to conveniently transport from one location to the next or stored away when not in use.
What is an Air Walker Machine? An air walker also referred to as an air glider or air strider, is a cardio machine that incorporates upper body, core muscles, and legs all at the same time. However, unlike a treadmill or stepper machine, the walker machine uses gliding foot motions that have zero impact on your knees.
These air striders are typically light in weight and inexpensive compared to most other cardio machines such as the elliptical machines or treadmills.
Before moving on to our 6 best foldable air walkers, take a look at the following video to see one in action. If you are not familiar with the functionality of the machine, this will help.
What We Looked for in a Foldable Air Walker
In order to make the cut in this review, all foldable air walker machines had to meet the following criteria:
Sturdy and solid construction
Foldable
Portable (preferably with transport wheels)
functionality
Good customer experience
Ratings and feedback
So without further ado, here are our top 6 foldable air walkers.
Our 6 Best Foldable Air Walker Exercise Machines
Here is my list of top air walker machines based on quality, foldability, portability, functionality, customer feedback, ratings, and ease of use among other things.
#1 Brenda Dygraf X Slimstrider 360
Best air walker exercise machine for quality & functionality.
The Slimstrider X by Brenda Dygraf is a very popular air walker and workout videos for this machine can be found all over YouTube.
My favorite feature on this air walker is the silent free-motion ball and joint bars that provide for 360-degree foot pedal action and countless exercise variations.
Brenda shows just how effective this machine can be for not only cardio but also at working out muscles in the upper and lower body as well as core muscles and even targeting specific muscle groups such as glutes.
Brenda DyGraf's SlimStrider360 - The fitness solution that's easy on joints!
Key Features
4 function LCD Monitor
360-degree foot motion pedals
Silent free-motion ball and joint design
Max. weight capacity 300 lbs
Foldable air walker for easy storage
Transport wheels
1 workout DVD included
1 protective mat included
---
#2 PROGEAR Dual Action 360 Air Strider
Editor's Choice and best bang for your buck!
I had mentioned earlier how with some striders you can move your feet to the side in addition to just back and forth. Well this is one of them.
Actually, this air walker gives you a 180 degree range of motion on both sides so you can move your pedals in all directions. Something you won't see on an elliptical machine. This in itself opens up a whole new range of exercise possibilities to workout your legs and glutes.
The LCD offers an easy to read panel that shows distance, time, speed, heart rate, and calories burned.
Here is a great video demonstrating the unique features the Progear air walker has to offer.
3409 - PROGEAR Dual Action 360 Multi Direction 36" Stride Air Walker LS with Heart Pulse Sensors
Key Features
LCD monitor
Dual-action workout arm
Full-motion arm exerciser
15" Non-slip foot pedals
180-degree range of motion
36" stride length
Adjustable rear floor stabilizer
Folds to half its size
Transport wheels
Sturdy 2.75" tubular steel frame
Max. weight capacity 225 lbs
Folded air walker dimensions: 15L x 19W x 61.5H
---
#3 Sunny Health & Fitness SF-E902 Air Walker Trainer
Best air walker on a budget.
The SF-E902 Foldable Air Walker is probably the most affordable machine in this review. Do note however that unlike most typical air gliders such as the Gazelle, this model is not designed for leaning forward or backward, nor does it have the 360-degree range of motion for the foot pedals.
Nonetheless, if these features are inconsequential, then the SF-E902 comes with other great features such as an LCD monitor to keep track of time, count, total distance and calories burned.
This model comes with an adjustable abdominal pad to ensure proper support and placement while exercising.
For the perfect zero impact cardio exercise routine, you will also find non-slip foot pedals with 30" stride length and full-motion arm exercisers.
This glider will hold up to 220 lbs, and will conveniently fold together for easy transport or storage when not in use.
Take a look at the following video and see for yourself what this foldable air walker can do for you.
Sunny Health & Fitness SF-E902 Air Walk Trainer
Key Features
Abdominal pad
Digital monitor
Full-motion arm exerciser
Non-slip foot pedals
Back & forth motion
30" stride length
Max. weight capacity 220 lbs
Folded air walker dimensions: 15L x 19W x 61.5H
---
#4 Gazelle Supreme with Added Resistance
Best air strider with added resistance.
Gazelle offers 3 models of the foldable air walkers, being the Gazelle Edge, Freestyle, and the Gazelle Supreme. If you've read any of my other posts, you know I always choose resistance. Therefore, the Gazelle Supreme is my choice for the best foldable air walker among the Gazelle models.
The Supreme has 2 pistons that add resistance to your workout, but can also be removed if you prefer a lighter workout.
The foot motion on the Gazelle is back and forth, but has the added feature of tilting forwards or backwards. This action will add resistance to your workout and target certain muscles more than others.
For example, when leaning forward you will generate more muscle engagement in your shoulders, chest, triceps, and calves, and core muscles.
However, when tilting your body back you will activate more muscles in your back, biceps, and core muscles.
The Gazelle Supreme folds flat for easy storage and weighs about 57 pounds.
Key Features
Digital monitor
Piston Resistance
Back & forth motion
Tilts backward and forward
Max. weight capacity 300 lbs
Unfolded Dimensions: 44″ L x 31.5″ W x 55″ H
Folded Dimensions: 65″ L x 29.5″ W x 13″ H
3 Workout DVD included
---
#5 Fitness Reality Cloud Walker X1 Foldable Air Walker
Similar to the Slimstrider, the Fitness Reality Cloud Walker X1 also offers 180 degree leg motions. Additionally, it also offers dual action arms for full motion arm exercises and static grip.
This helps provide you with extra intensity for your cardio workouts, and upper body muscle stimulation when you need it.
This foldable air walker can be collapsed to half its size for storage, and comes with transport wheels to relocate when done
Check out the demonstration video below so you can appreciate the many features and functions this air glider has to offer.
2409 - Fitness Reality Cloud Walker X1
Key Features
Digital monitor with large number readouts
Dual Action Arms
180 Degree range of motion leg exercises
Non-slip foot pedals
36" stride length
Floor stabilizers
Transport wheels
Max. weight capacity 225 lbs
Foldable to half the size
Folded air walker dimensions: 17L x 20W x 52H
---
#6 Santuca Foldable Air Walker Trainer
Best walker trainer with basic functionality for beginners.
The santuca foldable air walker offers your basic functions such as forward and backward foot gliding motion and full-motion arm exerciser at a very affordable price.
A great strider for beginners, this model also offers an LCD to keep track of your speed, distance, time, and calories burned.
Also comes with transport wheels and folds easily for storage under a bed or furniture.
Key Features
Full-motion arm exerciser
Non-slip foot pedals
Back & forth motion
Forward & backward tilt
30" stride length
LCD monitor
Max. weight capacity 264 lbs
Transport wheels
Foldable air walker: Yes
Folded dimensions: 12L x 29W x 52H
Quick Safety Tips to Follow Before Using Your Air Walker
It is always a good idea to read all manuals and safety guidelines when purchasing a new air strider. Here are a few important tips to follow before using your air walker.
Closely follow all assembly instructions.
Make sure all parts have been securely attached and screws & bolts tightened.
Be aware of the maximum weight capacity for your strider machine.
Make sure your walker is level on a floor before using.
When stepping on or off the machine, use one foot at a time and make sure to hold on to the frame or static handlebars.
As a beginner, start slow and get the feel of the machine before increasing your intensity.
Never lean too far forward or backward on the machine
Following these safety tips and those included with your air walker will help prevent injury and insure you have a fun and effective workout on your new machine.
Air Walker vs Elliptical Exercise Machine
I tend to see some of these air gliders being advertised as elliptical machines. Personally, I do not see the air walker exercise machine as being the same as an elliptical machine. With that said, let me explain some of the obvious differences below.
Stepping vs Gliding
The first and most obvious difference is the stepping vs gliding motion of the foot pedals. An air walker machine does not require any stepping action, as in pushing your feet down while slightly bending the knees.
This is typical for an elliptical machine, but with the air walker, the pedals do not push down but rather glide evenly forwards and backward. Though you can bend at the knees if you desire, it is not required for each and every foot motion.
So basically, the movement path on the air glider is an arch, while the elliptical machine is an ellipse (similar to the natural movement of walking but without the impact).
Swinging Motion
One thing the elliptical will not allow you to do but most air walkers will, is distribute or swing your bodyweight forward or backward. This is one way to increase the intensity of your workout on the air trainers and increase core muscle activation.
Some air walkers will also let you swing your legs outward, rather than just back and forth. This can provide you with an additional glute and hip workout you won't find on an elliptical. Some striders will even give you a full 360 degree range of motion so you can move your feet in any direction you wish.
Portability & Storage
When it comes to portability and storage options, most air walker machines have the elliptical machine beat hands down.
Though only a few ellipticals are foldable, most are much heavier and larger in size. The air striders on the other hand are much lighter, smaller in size, and can be easily collapsed to a size that will fit in a corner, a closet, or behind and under furniture.
Benefits of Using an Air Walker Trainer
Cardiovascular Health
One of the biggest health benefits of using an air walker is that they offer you an effective cardiovascular workout without leaving your home.
A strong heart and cardiovascular system are proven to reduce heart disease and type 2 diabetes, a boost to your immune system, better blood circulation, increases endurance, helps reduce high blood pressure, and more.
Air Walkers Are Low-Impact
Probably the most important feature of air walkers is that they are low to zero impact cardio machines. With that said, the air walker machine can be seen as one for the few low-impact machines to offer a close to zero stress on your joints and musculoskeletal system.
Weight Loss
As a cardio machine, the air walker can burn a good amount of calories based on the length and intensity of your workout routine.
Air walkers have created quite the following and with it many exercise routines led by fitness instructors across the country. So finding an exercise routine online to fit your specific requirements should be an easy task.
Air Walkers are Foldable & Save Space
Another added benefit is how conveniently these walker machines will fold up. If you live in an apartment or are just low on space, foldable air walkers are lightweight and easily stored away after use. Simply collapse them together and store them behind furniture or in a closet when you're done.
Summing Things Up
Air walker exercise machines are very unique zero impact exercise machines similar to elliptical machines but should not be mistaken for an elliptical machine.
Some of the best foldable air walker machines in this review will offer 360-degree leg motion and dual-action arm exercise handles. These special features will give you a full-body workout and offer far more exercise variations than any other elliptical machine.
Air walkers may appear somewhat awkward at first glance, but after watching some of the demos in the review you will better understand the functionality and see just how effective and fun they can be as both cardio machines and full-body resistance trainers.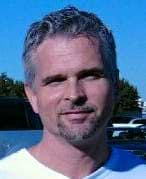 With over 30 years of experience in strength training and fitness, Mark LaRue is the founder of Fitness Mastered, a blog to help educate fitness enthusiasts of all fitness levels, ages, and gender. We write topics that range from weight training tips and exercise routines to home workout machine and fitness related product reviews, to name a few.