In this review and product guide, I have put together some of the best collapsible weight benches I could find on Amazon. This way you don't have to waste your time digging through numerous gym benches to find which are collapsible and which are not.
A collapsible workout bench is by far the easiest and most effective way to fit a gym bench into your home or apartment. If you are serious about lifting weights and working out, then a workout bench is a must-have piece of equipment.
You will find various types of workout benches with different features that make each product special and unique. So I would suggest taking a look at each bench to see which has all the features you are looking for.
Prices will vary depending on structure, functionality, and features, but overall you will find these benches are very affordable.
TABLE OF CONTENTS
What We Mean By Collapsible Weight Bench
Top 8 Collapsible Weight Bench Reviews
How Do I Choose The Best Collapsible Weight Bench?
Folding Weight Bench vs Non-Folding
Flat vs Incline/Decline Gym Bench
Summing Things Up
What We Mean By Collapsible Weight Bench
I have found that when searching for collapsible weight benches, you will find most results will list those that are foldable weight benches. This is misleading and can be very frustrating, to say the least.
You see, a collapsible bench can be both foldable and collapsible. But a foldable workout bench in some cases will only be foldable; as in folding the backrest or seat.
So to clarify, what we mean by collapsible is having the ability to completely collapse the weight bench into a smaller size in order to better fit it into a smaller space for storage purposes after usage; such as under a bed or into a closet.
With that said, all benches in this product review are fully collapsible gym benches.
You'll be surprised to see just how small you can collapse some of these workout benches.
---
Collapsible Workout Benches At A Glance
PRODUCT
DESC
RitFit
Rock Solid
Rock Solid No Wobble
Easy adjustments
Wt. Cap. 510lbs
YouTen
Height Adjustable Flat Bench
Extra Thick Padding
Height Adjustable
Wt. Cap. 800lbs
Fitness Reality
Best Bang For Your Buck!
Wide backrest & seat
Transport Wheels
Wt. Cap. 800lbs
Body-Solid
*Commercial Rated - Heavy Duty
Strongest Adjust. Bench
Safe for Heavy Bench Press
Wt. Cap. 600lbs
Vanswe
Highly Adjustable
Strong & Durable Structure
Wt. Cap. 650lbs
Soges
Most Collapsible
2x Collapsible
Smallest & Light Weight
Wt. Cap. 660lbs
Finer Form
Highest Max Weight
Extra Thick Padding
Height Adjustable
Wt. Cap. 1000lbs

Gymenist
Backrest Support Pillow
Extra Backrest Pillow
Very Inexpensive
Wt. Cap. 550lbs
Our Top 8 Collapsible Weight Bench Reviews
The following is a list of our best collapsible weight benches found on Amazon for you to evaluate.
#1 Fitness Reality Incline & Decline Bench
Best Bang for your Buck!
If you're looking for more than just a flat bench, this decline & incline bench offers 12 different angles from -20 degrees to +80 degrees.
Another strong feature is the maximum weight capacity of 800lbs and a unique triangular support structure to make this bench strong and sturdy.
This upgraded model has a wider backrest and can be quickly folded up for storage with the removal of just one pin.
I highly recommend the Fitness Reality for its top quality and affordability, and thus have made this my best collapsible weight bench and best bang for your buck.
Features & Specifications
total of 12 seat angles (6 backrest adjustments plus 2 front leg adj.)
both decline & incline positions (-20 degrees to +80 degrees)
3 position leg hold-down
upgraded wider backrest on the newest model
good for users up to 6' 4"
unique triangular support structure for added strength
powder-coated steel frame
transport wheels & leg stabilizers
quick 1-pin removal for collapsing
can be stored upright or vertical
maximum weight capacity: 800lbs
bench weight: 35lbs
Dimensions
flat position height: 17.5"
padding: 1.75"
collapsed/folded size: 51"L x 23.5W x 9"H
set up: 59"L x 23.5W x 48.5H
PROS
High weight capacity
Does not wobble
Quick 1-pin collapsible
12 backrest angles
Easy transport wheels
1-year limited warranty
CONS
Total backrest positions confusing (only 6 positions, but with front leg adjustment makes it 12 angle positions).
Customer Feedback
What is mentioned quite often is the structure and strength of this bench. Owners rave about how stable this bench is and how it does not wobble when being used.
---
#2 RitFit

–

Editor's Choice
Rock Solid & Reliable Structure
I have to give the RitFit an A+ rating for structural integrity and easy adjustability.
This bench is very sturdy, making it the perfect choice for heavy and wobble-free workouts.
I enjoy the high backrest and numerous adjustable angles but also appreciate the easy to use pins for making super quick adjustments.
Easily fold to stand against a wall, store in a closet, or slide under your bed.
BEST Buy Weigth Bench / RitFit Adjustable Weight Bench 1.0 / Product Review + Bench Exercises
Features & Specifications
5 back & 4 seat adjustments
flat, incline & decline positions
leg hold-down
good for users up to approx. 6′ 2″
soft PVC dense foam padding
quick-adjust pins
can be stored upright or vertical
poster with 36 bench workouts
maximum weight capacity: 510lbs
bench weight: 33lbs
Dimensions
flat position height: 18"
collapsed/folded size: 33.5"L x 19W x 15"H
set up: 48.8"L x 19W x 18H
PROS
rock-solid structure
quality design
easy adjustments
Budget-friendly for the quality
Customer Feedback
Very sturdy with no wobble or wiggle; easy and quick to adjust and collapse; soft PVC leather cover and comfortable padding.
---
#3 YouTen

–

Runner Up!
Height Adjustable – Ideal for Heavy Bench Press or Step-Ups
The outstanding feature for the YenTen collapsible weight bench is the 5 position adjustable height variations to accommodate your size or specific workout routine.
The easy to use spring-loaded pins can be easily pulled outward to quickly adjust the height of the bench in a matter of seconds.
This is a bench you can trust with heavy bench presses or step-ups.
This fold up weight bench is equipped with no wobble end cups to provide a sturdy workout. And with a maximum weight capacity of 800lbs, you'll never have to worry about structural integrity.
Features & Specifications
Height-adjustable flat bench
thick high-density cushion
quick-adjusting spring pins for collapsing weight bench
quick pull pins to adjust the height
Maximum weight capacity: 800lbs
Bench weight: 27.5lbs
Dimensions
5 height positions (15.3″, 16.1″, 16.7″, 17.5″, 18.5″)
padding: 2.75"
collapsed size: 42.4"L x 15W x 7.8"H
set up: "42.4L x 15W x 18.5H
PROS
5 position height adjustments
sturdy no wobble design
high weight capacity
ideal for heavy bench press
no assembly required
folds flat under a bed
Customer Feedback
Customers rave about how rock solid this bench is and how you can adjust the height to do various exercises such as dips or step-ups to name a few.
---
#4 Body-Solid GFID225
Best Collapsible Weight Bench for Heavy Lifting – Strongest Commercial Rated
The Body-Solid is the strongest collapsible workout bench you will find in this review. With heavy-duty 2×3″ oval steel tubing and commercial rated, you can trust using this gym bench for even your heaviest bench presses.
This bench has 7 adjustable back positions, has transport wheels and folds flat for easy storage.
The weight capacity is 600lbs and will easily compensate for taller individuals up to 6.4″ tall.
Features & Specifications
back pillow for added support & comfort
7 backrest positions (incline & decline)
commercial rated heavy-duty 2×3″ oval steel tubing
transport wheels
maximum weight capacity: 600lbs
bench weight: 53lbs
Be advised that the dimensions on Amazon are not completely accurate. I have added accurate dimensions from Body-Solid's "Product Data Sheet".
Dimensions
flat position height: 18"
padding: 2.5"
folded size: 57"L x 18W x 10"H
set up: 60"L x 18W x 19H
PROS
heavy-duty structure
most reliable & strongest adjustable bench for heavy bench presses
commercial rated
good for tall users
no assembly
CONS
Pricey – but worth it in quality & durability
---
#5 Vanswe
The Vanswe is similar to the RitFit in that it's solid structure and steel frame make it very reliable for heavy bench training.
This bench has plenty of back and seat positions to accommodate any workout and can be quickly and easily adjusted with its auto-lock pins.
It only weighs 35lbs and can be folded down to a fairly small size for easy storage or transport.
Folding Weight Bench 500 lbs Weight Capacity| Vanswe Fitness
Features & Specifications
8 back & 5 seat positions
easy use auto-lock spring pins for quick adjustments
quick 2 min. assembly
maximum weight capacity: 650lbs
bench weight: 35lbs
Dimensions:
flat position height: 18"
padding: 2.2"
collapsed/folded into block: 31"L x 16W x 10"H
set up: 52"L x 16W x 18H
PROS
highly adjustable
very robust, strong frame
reliable for heavy workouts & bench press
---
#6 Soges Workout Bench
Super Light & Most Portable Gym Bench
The Soges model is super compact and lightweight, making it our best collapsible weight bench for easy portability and storage.
This bench will not only fold flat but you can fold it again into a block shape for even better storage possibilities.
Besides being very compact, it is also very light (weighing in at only 20lbs) and offers 3 backrest incline positions for working out.
Features & Specifications
3 seat positions
easy use spring pins for quick folding
comes assembled
maximum weight capacity: 660lbs
bench weight: 20lbs
Dimensions:
flat position height: 17.7"
padding: x.xx"
collapsed/folded into block: 13"L x 13.4W x 23.6"H
set up: 42.2"L x 13W x 37.5H
PROS
extremely compact when collapsed
small, very light bench
easy storage
comes assembled
super easy to move & transport
sturdy
CONS
may not be suitable for tall users
low back
Customer Feedback
The number one talked about feature users enjoy is how compact and light this bench is. It is super easy to move and store away just about anywhere.
---
#7 Finer Form Collapsible Flat Bench
Highest Maximum Weight Capacity
If your main concern is weight capacity, this 15 gauge steel frame bench will support a whopping 1000lbs.
The Finer Form bench comes fully assembled and will fold flat to easily store upright or under a bed.
Features & Specifications
15 gauge powder-coated steel frame
high density 3″ cushion
maximum weight capacity: 1000lbs
bench weight: 27.5lbs
Dimensions
flat position height: 18.5"
padding: 3"
folded size: 46"L x 18.5W x 10"H
set up: 46"L x 18.5W x 18.5H
PROS
strong construction
ideal for heavy bench press
sturdy enough for step-ups
highest weight capacity
thick cushion
folds flat
comes fully assembled
CONS
not height adjustable
no incline adjustments
Customer Feedback
Customer Feedback
Easy to fold flat and store upright or under a bed. Feels very sturdy and the bench cushion is comfortable. Some customers had problems with the bench being uneven. However, customer service was very responsive and willing to offer a replacement.
---
#8 Gymenist
Highly Adjustable Bench with Back Pillow
What's great about the Gymenist foldable weight bench is that you can adjust it to all positions from flat to multiple inclines, and even decline for sit-ups.
A second great feature is a back pillow which can be moved up or down to just the right position to add extra support and comfort to your back.
A great bench for free weight and dumbbell workouts, but not ideal for heavier exercises such as heavy barbell bench press or step-ups.
I would not recommend this bench for weight training purposes as the structural integrity of this bench has proven to be unsafe for heavy loads by multiple customers in reviews.
Features & Specifications
back pillow for added support & comfort
6 backrest & 3 seat positions
adjustable end cups for wobble-free balancing
carry handle
maximum weight capacity: 550lbs
bench weight: 29lbs
Dimensions
flat position height: 18"
collapsed size: 34"L x 17W x 10"H
Set up: 48"L x 17W x 18H
PROS
adjustable for flat, incline & decline
extra back pillow for support & comfort
balance end cups for uneven surfaces
great for tall users
CONS
not ideal for heavy bench presses or dumbbell training
not recommended for step-ups
removable locking pins can be annoying
may wobble when using heavy weights
Customer Feedback
Reviews are mixed with this bench. Customers enjoy the versatility and easy storage of this bench. However, when it comes to using heavy weights on this bench it becomes unstable and may wobble. One user even experienced having the seat snap underneath him while performing seated dumbbell exercises.
How Do I Choose The Best Collapsible Workout Bench?
Here are a few key features to consider before investing in a collapsible weight bench. Decide which features are most important for your particular needs so you can make a better decision when purchasing a new bench.
Maximum Weight Capacity
This is the maximum amount of weight a bench can support. The lowest weight capacity for the collapsible gym benches in this review is 500lbs and the highest is 1000lbs. So, unless you are a powerlifter, any of the benches above 500lbs is suitable for most users.
Portability (Size & Weight)
Depending on the amount of space you have available with your setup, the size of the bench may be an important factor. So make sure to check the dimensions of the bench you are interested in. Check both the setup size and collapsed size for storage.
Additionally, you will want to check how much the bench weighs and if that is something you are comfortable with. Some benches may be too heavy to move around or transport for storage.
Functionality & Adjustability
Make sure your bench has all the incline or decline positions you need to perform the exercises you intend to perform. Some benches even have an adjustable seat that allows them to be positioned into a decline sit-up bench.
Folding Weight Bench vs Non-Folding
I thought we'd take one last look at what makes the collapsible gym bench different from a non-collapsible workout bench. Here are the top differences and what the advantages and disadvantages are for each type of bench.
Storability & Portability
When it comes to portability the folding workout benches are much easier to move about due to their lighter structure. Typically our collapsible weight benches are around 25lbs on average. Where our lightest bench is only 19lbs. Non-folding weight benches are on average 30-40lbs and more and are much harder to maneuver.
Sturdiness
The legs on non-fold up weight benches are mostly welded to the bench structure, which creates a more solid structure. Foldable workout benches, on the other hand, have movable joints and hinges that allow folding and collapsing the bench. This can lead to slight wobbling on cheaper models, but from the reviews I have read on the above models, this has not been a problem.
Weight Capacity
Due to the structural differences mentioned above, the collapsible workout benches may not always support as much weight as the non foldable workout benches. However with our maximum weight capacities ranging from 500lbs up to 1000lbs. So unless you are a powerlifter, this shouldn't be a problem.
My suggestion is if you weigh over 200lbs and are benching over 300lbs you may want to consider a bench with a maximum weight capacity of over 800lbs.
Flat vs Incline/Decline Gym Bench
Though many would choose the adjustable incline/decline bench to the flat bench, the flat bench does have some advantages.
Here are a few reasons why you might prefer a flat bench over an incline/decline bench:
Solid structure
Great for powerlifters (bench press)
Solid bench pad (no space gap between back & seat)
Height adjustable (in most cases)
Sturdy enough for step-up exercises
Usually has a higher maximum weight capacity
Here are some reasons you may prefer an incline/decline bench:
More exercise possibilities with various inclines or decline positions
The bench may be converted to a sit-up bench (in some cases)
Summing Things Up
Collapsible weight benches are ideal for small spaces for home and apartment setups. They can be folded flat and in some cases folded a second time into a cubed form for easy transport or storage.
I hope this review has been helpful and wish you good luck and much success in all your fitness endeavors.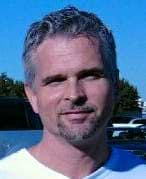 With over 30 years of experience in strength training and fitness, Mark LaRue is the founder of Fitness Mastered, a blog to help educate fitness enthusiasts of all fitness levels, ages, and gender. We write topics that range from weight training tips and exercise routines to home workout machine and fitness related product reviews, to name a few.