Belt squat belts and training belts are a true blessing if you need to take the pressure off your spine due to back issues or get that extra back support you need to lift heavier and prevent injuries or problems down the road.
But how do you know which squat belt is best for you? What size squat belt should you buy for your waist size? What material is best for your particular needs?
I will help answer these questions and list some of the different types of weight lifting belts available on the market today. In this way, you can compare features for each and decide for yourself, which is the best squat belt for your specific training needs.
Choosing the Right Squat Belt by Functionality
Sometimes squat belts are also referred to as weightlifting belts or training belts. However, if you are looking for squat belts specifically designed to perform belt squats or even dips, no worries.
I have included squat belts used for belt squats and training belts for weightlifting and powerlifting exercises that help support your lower back—that way; all bases are covered.
Choose your belt type or keep reading:
Belt Squat Belts >>>
Training Belts >>>
Powerlifting Belts >>>
Used to perform squats by taking the weight load off your spine; also used for dips & pullups.
Used as back support for Crossfit, Olympic style training, bodybuilding, and more.
Used as back support for low rep & 1 max heavy-duty lifting such as squats & deadlifts.
* Ironbull 2in1 Combo
* Dark Iron Squat Belt
* DMoose
* Ironbull 6″ Leather
* Rogue USA Nylon
* Element 26 Self-locking
* Rogue 4″ 1-Prong Leather
* Rogue 3″ 2-Prong Leather
* Ironbull Lever 13mm
Let's take a closer look at each belt type and find some belts I would recommend for each.
My Top 3 Picks for Best Belt Squat Belts
The belt squat belt is specifically designed to perform belt squats and dips. It includes an additional strap or chain you can use to secure weights to add resistance when performing squats or even dip or pull-up exercises.
Due to the high versatility of these belts, they may also be referenced by the following names:
Dip belt
Pull-up belt
Squat belt
Belt squat belt
Sled belt
However, unlike weightlifting belts, this belt is not meant to support your back. It is designed to take the pressure off your spine by putting the weight load below the waist and onto your hips.
These belts are a great alternative to performing barbell squats as it takes the load off your back (especially beneficial if you have back problems). Plus, it makes an excellent belt for also adding resistance to your dip exercises or even pullups.
Check out the video demo below by Ironbull Strength to see what I mean.
Without further ado, here are my top belt squat belts that I highly recommend.
1. Ironbull Strength Squat Belt + Training Belt Combo 2in1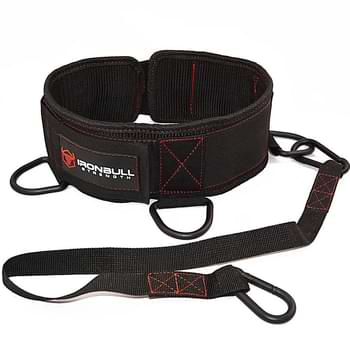 Best Squat Belt & Training Belt for back support 2in1 Combo!
Ironbull Strength makes an excellent quality squat belt for a bargain price.
What differentiates this belt from other belt squat belts is that you can also use it as a training belt for back support. Simply remove the strap and use it as a weight lifting belt.
I like the nylon strap over the typical chain as it is much quieter and easier to transport. Nonetheless, you could at some point change the strap with a different size strap or even a chain. You would simply remove the existing strap from the carabiners and replaced it with a new strap or chain of your preference (chains can be purchases at your local hardware store).
This belt is made from heavy-duty nylon and will safely hold up to 270lbs.
10% OFF – Use Coupon Code=SAVEME10
Check out the following demo to see this belt in action!
Advanced Dip Belt - Iron Bull Strength
Main Features
4" wide premium Nylon belt
Heavy-duty nylon strap
Black steel hooks & carabiners
Holds up to 270lbs
Reinforced stitchings
3 different anchors for maximum versatility
Nylon interior for maximum grip
I chose this belt due to its dual functionality and flexibility.
It is important to note: Should you decide to go with Ironbull Strength and are not happy with the belt size; they display "Free Exchanges & Easy Returns" on their homepage.
2. Dark Iron Fitness Dip & Squat Belt
Best Leather Squat Belt – Fits all sizes!
The Dark Iron Fitness squat belt is made of premium reinforced 100% genuine real leather and will support up to 270 lbs.
It is a one size fits all with a heavy-duty buckle and adjustable straps, ensuring it will never slip or fall off while performing squats, dips, or pullups.
I chose this belt because of the high-quality leather and fair pricing.
Dark Iron Fitness Leather Weight Lifting Dip Belt with Chain for Dips and Pull Ups Reviews
Note: The 40" strap may be too long for some users, and it will not fit into standard 1" plates (no problem with 2" Olympic plates, dumbbells, or kettlebells). You could buy a chain to fit 1" plates if necessary.
Main Features
4" wide premium reinforced 100% genuine real leather
¾" thick padding for extra comfort
40" long heavy-duty nylon strap
Heavy-duty metal buckle & carabiners
Holds up to 270lbs
One size fits all
3. DMoose Fitness Squat Belt with Chain
Best Belt Squat Belt with Chain.
If you prefer a chain over a nylon strap, the DMoose Fitness dip and squat belt is a perfect choice.
The 36" long steel chain attaches to 2 D-rings with carabiners to support up to 225 lbs of weight. This chain will fit all Olympic plates or even your 1" standard weight plates, which is useful if you already own standard plates.
Note: While still enough for most users, this belt has a weight capacity of only 225 lbs compared to the 270 lbs for the previous belts.
Main Features
6" wide neoprene belt tapers to 4" on each side
double stitching
36" long steel chain, D-ring, and carabiners
Fits 1" standard and 2" Olympic weight plate holes
Holds up to 225lbs
One size fits all
Benefits of Using a Squat Belt for Belt Squats
Full benefits of a squat without back compression
Build bigger, stronger legs & glutes
Compact & portable
It can be used at home or gym
No need for a squat machine or barbell
Bypasses weight load on your spine
Help prevent back injuries
Used with weight plates or kettlebells
Also, use on a belt squat machine
Belt Squat Machine – 1000lb Capacity
Here is a "Belt Squat Machine" I found at Titan Fitness that you might use in your home gym: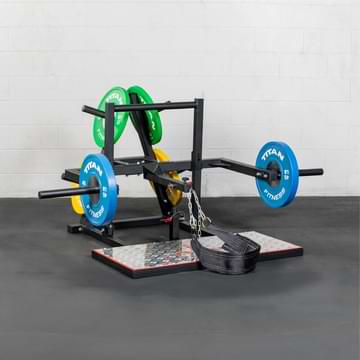 My Top 3 Picks for Best Training Belts
The training belt, designed for lower back support, is wide in the back and narrower in front to allow for more flexibility across your abdominal area. These belts are ideal for all-around weightlifting exercises and offer great back support for CrossFit, Olympic style training, and Bodybuilding.
Some exercises you might perform with these belts include squats, heavy overhead presses or bench presses, and especially deadlifts.
Here are my top picks for best weight training belts.
1. Ironbull Strength 6" Leather Weightlifting Belt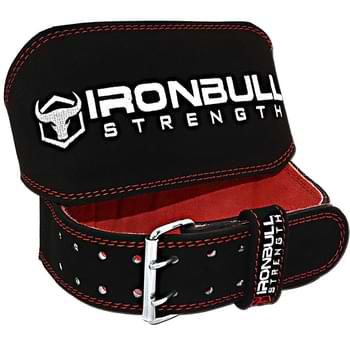 Best leather training belt for long-lasting support.
The leather training belt is much firmer and more reliable, and longer-lasting than your typical nylon belt. This belt provides better support for your lower back when lifting heavy but does not offer the overall flexibility of a nylon belt.
Nevertheless, the Ironbull 6" wide suede leather belt provides you with optimal back coverage and support. Plus, the tapered front offers maximum comfort and flexibility for doing squats, deadlifts, overhead presses, and heavy bench presses.
Main Features
6" wide back tapered to front
Full suede leather board with an extra padded section
Double roller prong – fast & easy to adjust
Sizes: SM – XXL
2. Rogue USA Nylon Training Belt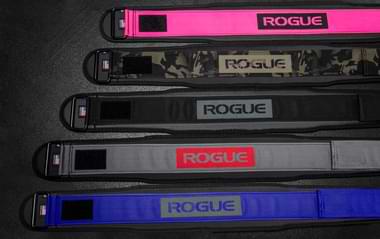 Best nylon training belts for flexibility, support, and comfort.
I chose the Rogue nylon training belt not only for its quality and reputation but also for flexibility and pliability when training.
These are the ideal belts for CrossFit, Olympic style training, and bodybuilding. They will not restrict your movement when training and are much more comfortable around your waist than leather belts.
Note: If you are into heavy-duty lifting such as deadlifts or squats, then a leather belt would be more beneficial as it provides more firmness and support.
Rogue has a LIVE CHAT on their website for any questions you may have. I personally asked about what to do if my waist size is on the cusp of two belt sizes; they recommended sizing down in this case.
Main Features
5" wide nylon belt tapers to 4" with 3" webbing support strap
.25" thick foam frame for extra comfort
Ripstop exterior
Black-out buckle & roller for smoother adjustments
Quick loosen & removal design
Various colors with logo
Sizes: XS – XXXL
3. Element 26 Self-Locking Weight Lifting Belt
Best self-locking Squat Belt.
Another extremely flexible and comfortable belt to use for all your weightlifting needs is the Element 26.
The feature that makes this belt so unique is its self-locking mechanism. This makes it super easy and fast to adjust the tightness between exercises, giving you more time to prepare for your next set.
Just in case you're wondering, this belt is fully approved for use in Olympic lifting and functional fitness competitions.
Element 26 stands by its product and has a 100% lifetime warranty with free replacement.
Main Features
4" wide uniform profile
100% Premium Nylon
Full Metal self-locking buckle
Competition approved
Sizes: XS-XL (23" – 45")
My Top 3 Powerlifting Belts (Prong & Lever Belts)
The powerlifting belt is thick and wide around the entire core area. It provides added support on the lower back and abdominals making it ideal for super heavy weightlifting such as one rep max or low rep squats and deadlifts.
Here are my 4 best powerlifting belts that I highly recommend.
1. Rogue 4" Ohio Lifting Belt (Single Prong)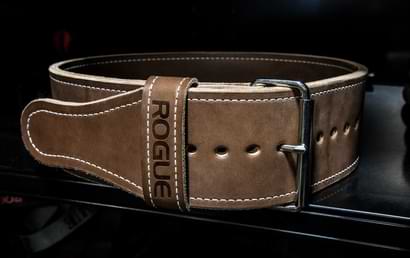 Best 1 prong Powerlifting belt.
The Rogue Ohio single prong lifting belt is perfect for powerlifting but still suitable for your all-around weightlifting needs. I have owned a single prong leather lifting belt for over 30 years and have never had any problems.
This belt is 4" in width from front to back, with a small taper for a better grip when tightening. Moreover, the 10mm thick leather is firm enough for your heavy-duty one-rep max lifting, but still pliable enough (especially after break-in) to use for your other weightlifting needs.
The 4" wide leather across its length ensures your entire core is evenly stabilized for extra power and strength.
I appreciate that Rogue offers overlapping sizes to give you more flexibility when choosing your waist size. And Rogue Fitness also has a LIVE CHAT (which I have personally used) to answer any questions you may have.
Main Features
Single Prong 4" wide Tanned USA leather
10mm thick
Made in the USA
SM-XXL (21" – 45" with overlapping sizes)
2. Rogue 3" Ohio Powerlifting Belt (Double Prong)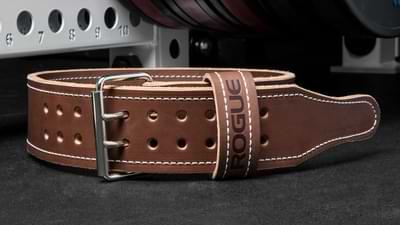 Best 2 prong Powerlifting belt.
The Rogue 3" double prong may be more suitable for most users as it provides more peace of mind, improved flexibility, and a freer range of motion.
The 10mm thick leather will provide optimal support for all your heavy lifting needs, but this 3" wide belt can give you more workout options and benefits a 4" may not offer. Here are some of those benefits:
More flexibility & range of motion
Less likely to dig into your ribs or hips
A better fit for most women and smaller individuals
More comfortable bench press without hindering the arch
Less pinching or friction with deadlifts or Olympic lifts
I like to reiterate that Rogue Fitness has a LIVE CHAT feature on their website to answer any questions you may have.
Main Features
Double Prong 3" wide Tanned USA leather
10mm thick
Made in the USA
SM-XXL (21" – 45" with overlapping sizes)
3. Ironbull 13mm Powerlifting Lever Belt
Best lever squat belt for Powerlifting.
The 13mm Ironbull Powerlifting Lever Belt is designed for maximum support during extra heavy lifting – such as one rep max or low rep lifting.
No other belt will lock as quickly and as tightly as the lever belt.
The lever belt will allow you to tighten up to 3" more than your typical prong belts. This is especially important for protecting your back and increasing entra-abdominal pressure so you can lift heavier.
Main Features
4" wide
13mm thick for extra support
Heavy-Duty Steel Lever
Genuine Sole Leather Core
Suede Lining and Cover & double stitching
Adjustable with 2 screws
Sizes: SM – XXL (25" – 50")
Different Types of Squat Belt Designs to Consider
Belt squat belts and training belts come in various fabrics and with multiple tightening and locking mechanisms. These unique features may be important to you when considering a new workout belt. I have therefore listed some options to be aware of before making your final purchase.
Belt Material
Leather is my preference for powerlifting and training belts. I own one that has lasted me over 30 years and without any problems. If anything, it is better now than it ever was. Though a bit more expensive, leather training belts are very reliable and will last a long time. It does take some time to break them in. But after that, they are truly the most reliable and offer the most support.
Nylon belts, on the other hand, are much more pliable and flexible from the start. Though I do not prefer the nylon over the leather when it comes to heavy weight training or powerlifting, I do recommend them as squat belts for belt squats, light to moderately heavy weightlifting, weighted dips and pullups, CrossFit, and Olympic style training for back support.
Plus nylon belt squat belts are much more comfortable than leather when hanging weights off your hips.
Belt Width
For belt squat belts, width is not much of an issue unless you are lifting super heavy. In which case, I would recommend a width of 4" or more.
As for lower back support, training belts are mostly between 4" and 6" in width on the backside and taper to the front. The taper provides for more flexibility when training.
The powerlifting belts are typically 4" wide but are commonly between 10mm and 13mm thick. These belts maintain the same width (no taper), and the added thickness makes them very firm for complete all-around core support. These belts are mostly used for heavy-duty one rep max lifting.
A 6" wide belt may offer more back support than a 4" belt. However, depending on your body type, a wider belt may not fit as comfortably on shorter or smaller individuals.
Locking Mechanism
Prong Buckle: Prong buckles may be old school but are very reliable, offer a secure hold, and long-lasting. They have limited adjustment positions compared to velcro and come with a single prong or double prong.
A double prong may give you a better sense of security, but my single prong has never failed me in over 30 years of use.
Velcro: Though velcro belts are very inexpensive and offer unlimited adjustments within each size range, it also may wear out and lose their grip strength over time. For this reason, I would suggest prong buckles over velcro for heavy-duty weightlifting – it's worth the extra coin.
Lever: The powerlifting belts with lever can create an extremely tight fit quickly and easily. However, they are not ideal if you need to adjust belt tightness between sets (which is rare).
FAQ for New Lifting Belt Owners & Buyers
How do I properly measure my waist size for squat belts?
With a measuring tape, measure around your waist about 4 inches above your pant line. Pull tight. This is the measurement you should base your selection on. Do not use your pant size.
How thick should a training belt be?
Training belts come in various sizes ranging from 6mm to over 13mm in thickness. The thinner belts are more pliable and thus more comfortable to wear. In contrast, the thicker belts are firmer but less flexible.
A thicker belt is not necessarily better than a thinner one. It is more of a personal preference. I would personally suggest starting with a belt 10mm or less. They are faster to break in and more comfortable to wear.
Are squat belts with a chain better than a nylon strap?
I have not seen any evidence showing that a chain will hold any more weight than a nylon strap when it comes to strength. That said, you can easily fit a chain through the hole of a 1" standard weight plate. However, nylon straps are much less noisy and lighter to transport.
How do I break in my new leather weightlifting belt?
New leather belts tend to be stiff and somewhat uncomfortable until broken in. A great way to break in your new lifting belt is to roll it any chance you get (roll it tightly together and then roll it back and forth on a hard surface and put your weight into it while doing so).
Also, the more you wear your leather belt, the more it will conform to your body over time.
More Recommendations for Choosing the Right Belt
If you're still uncertain which belt is best for your specific needs, here are some scenarios to help make your decision easier.
Pick the scenario that best fits your needs.
---
1. I need a belt for belt squats where I can add weights to the belt and avoid putting stress on my back and spine. Besides belt squats, you can also use them for weighted dips, pull-ups, and sled pulls; or even connect them to a cable pulley machine or belt squat machine.
---
2. I'm looking for a belt to give me lower back support for working out with weights at the gym (for most any lifting exercises, squats, deadlifts, presses, cleans, and more).
---
3. I would like a belt that is more flexible around the waist, provides core support and is still comfortable to wear for CrossFit, Olympic style training, or other high movement workouts.
---
4. I need a belt to give me maximum support for heavy-duty lifting or one-rep powerlifting.
---
5. I'm looking for a belt I can use for both belt squats and lower back support when lifting weights at the gym.
---
You may also enjoy reading: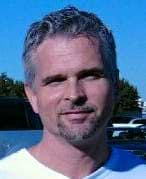 With over 30 years of experience in strength training and fitness, Mark LaRue is the founder of Fitness Mastered, a blog to help educate fitness enthusiasts of all fitness levels, ages, and gender. We write topics that range from weight training tips and exercise routines to home workout machine and fitness related product reviews, to name a few.