Are you looking for the best workout sandbags for the ultimate full-body workout? Fitness sandbags are truly one of the most versatile, portable, and effective pieces of workout equipment you can use at home, on the go, outdoors, or at the gym.
In this review, I will compare some of the best training sandbags found online. I have included a variety of exercise sandbag types from your typical sand filled sandbags to your not so conventional water-filled version.
One of the great benefits of using fitness sandbags is that training with shifting sand can engage more muscles and stabilizers than just your traditional weight machines, and other weight accessories.
What we found:
Super durable sandbag shells, many sizes & colors, both sand and water fillable bags, removable filler bags that can be used as soft sandbag kettlebells, and weight options from 5lbs to 400lbs.
I have literally spent countless hours comparing numerous exercise sandbags, reading hundreds of reviews, researching the quality and effectiveness of each, and have come up with what I believe to be the best workout sandbags I could find.
The following review includes sandbags that have been around long enough to be tried and proven by users in both quality and functionality. So if you're looking to add a good quality fitness sandbag to your workout routine and want the best bang for your buck, then you have come to the right place.
TABLE OF CONTENTS
What is a Workout Sandbag?
Best Fitness Sandbags at a Glance
Top Benefits of Training with Exercise Sandbags
Sandbag FAQ
What is a Workout Sandbag?
Workout sandbags are sand-filled bags that when used for training engage muscles and muscle stabilizers to help build power and strength, increase endurance, explosiveness and brute force, while also increasing overall lean muscle mass and decreasing total body fat.
Thus making the fitness sandbag the ultimate training device when it comes to building total-body and core strength.
Training sandbags come in many different sizes, colors, and weight options starting at 5lbs all the way up to 200lbs. Or even a whopping 400lbs for your hardcore Strongman types.
The Best Workout Sandbag is Adjustable
You can simply adjust the weight amount to meet your fitness level and exercise routine by simply adding or subtracting sand or water to the included filler bags. Which you can then enclose in the sandbag case.
The Best Sandbag Must Be Durable
Exercise sandbags are built extremely durable with heavy-duty nylon fiber and stitching to keep the sandbag from tearing or coming apart during heavy and frequent workout loads.
Most sandbags have up to 6 or 7 workout handles positioned at various places around the bag. This provides the user with numerous grip variations to perform literally hundreds of different exercises and workout routines.
Exercise Sandbags are Very Popular
Fitness Sandbags are very popular in the CrossFit community but are also very commonly used by all branches of the military, professional athletes, Strongman competitors, FBI, Firefighters, and Law Enforcement.
Sandbags are Portable and Versatile
If you're looking for a workout device that is very inexpensive, very portable and provides you with endless hours of exercise options and countless workout routines, then I highly suggest looking into a training sandbag.
Here are only a few of the more popular exercises you can perform using a workout sandbag:
Overhead squats, shoulder toss, rotational deadlift, standing 2 hand curl, half-moon snatch, clean, split jerk, alternating swing shouldering, shoulder press, front squat, good morning back hold, overhead triceps press, bear hug side lunge, bent-over rows, rotational lunge, shoulder squat, and many more.
Best Fitness Sandbags at a Glance
The following is a quick feature comparison of all our sandbags in this review. All training bags come without sand. Play sand and all-purpose sand can be purchased for as little as 5 bucks for a 50lb bag at your local home improvement store. It is interesting to note that the Iron Core Athletics exercise sandbag can also use water as a weighted filler.
Product & Key Features
#1 Brute Force


(Editor's Choice)

Huge selection, 5-125lbs, heavy-duty construction – 100% USA Made
#2 Meister Elite


(Runner Up)

Firm shell no sagging, 2-in-1 sandbag & 3 removable soft sandbag kettlebells
#3 Rep Fitness
4 sizes, durable
#4 Iron Core Athletics XL
15-120lbs, leak-proof sand and Water fillers, best for travel
#5 Synergee Elite
Pro & Elite (10-40lbs, 25-100lbs), inexpensive, mixed reviews
#6 SKLZ
10-40lbs, thick material, popular
#7 Garage Fit
3 sizes (5-30lbs, 25-75lbs, 80-120lbs no handles), durable
#8 FITSHIT
Medium & large, mixed reviews on durability
Our 8 Best Workout Sandbags Reviewed
The following is my list of training bags that I have personally researched and consider to be the best exercise sandbags you can find online. I would recommend these training sandbags to anyone and feel that they are all great quality sandbags for a great price.
It is probably important to note from the start that none of the training sandbags include sand. Including sand would increase shipping costs tremendously, and a 50lb bag of sand can be purchased cheaply at your local home improvement store for as little as 5 bucks.
#1 Brute Force Heavy Duty 5lbs to 125lbs

(3 size options)
Editor's Choice for Best Workout Sandbag – Made in the USA
3 weight options; tons of colors!
Brute Force takes the business of making fitness sandbags very seriously, and it shows. They offer a huge variety when it comes to weight options and sandbag designs and colors.
Brute Force has something for everyone, from beginner to advanced, all the way up to hardcore and heavy-duty workout junkies. They offer from 5lb up to a staggering 125lb training bag.
3 Sizes to choose from:
Mini: up to 25lbs, 1 filler, 8 handles
Athlete: up to 75lbs, 2 fillers, 8 handles
Strongman: up to 125lbs, 3 fillers, 8 handles
These sandbags are made of durable 1000D Military-Spec Cordura, Military Grade Velcro, 5 Panel Seatbelt Webbing, and YKK Zippers.
The Brute Force workout filler bags come with double Velcro and in various sizes depending on the model.
MADE IN THE USA. Brute Force proudly outfits the FBI, Dept. of Homeland Security, every branch of the Military, Division 1 Athletic Programs, and many more. A training sandbag for everyone! From 5lbs to 125lbs. Highly durable and huge selection!
The three models (Mini, Athlete, and Strongman) come with 8 soft-grip handles. All handles are flexible and offer neutral grips, suitcase grips, barbell grips, and end cap grips.
Support American Businesses: 100% USA Made
Key Features
Huge variety and weight classes – 8 handles and no handle models – 1000D Military-Spec Cordura, 5 Panel seatbelt webbing, Military Grade Velcro

Dimensions
Varies according to design – Minimum Weight: 5lbs – Maximum Weight: 125lbs
---
#2 Meister Elite Sandbag (15-50lbs)
Runner Up – 2nd Best Workout Sandbag – doubles as kettlebells.
Meister Elite has gone the extra mile with this unique patent-pending design. This workout sandbag has 3 soft sandbag kettlebells rather than your typical sandbag fillers offered by others. As a result, you have more exercise options since you can also use the sandbag kettlebells individually.
Each sandbag has a semi-rigid handle with soft neoprene grip and can be filled with sand for 10, 15, and 20lbs.
Meister sandbags include portable sand fillers, but you may also purchase additional fillers separately for around 10 bucks.
The total weight capacity with all sandbag fillers and sandbag is 50lbs. The bag alone weighs 5lbs. The possible weight options for this sandbag would be 15, 20, 25, 30, 35, 40, and 50lbs.
…A great 2-in-1 workout sandbag and soft kettlebells! Literally offers you more exercises than any other traditional training sandbag on the market today. And let's not forget – No More Sagging Sandbag!
Unique "No Sagging" Feature
Another unique feature of the Meister sandbag is its ability to maintain its shape without sagging even when using only one or two filler bags. Simply use a towel as a filler, or two towels when replacing two sand fillers, and the Meister sandbag will maintain its shape. This sandbag has a super durable PVC shell with an exclusive inner foam core to help keep its shape while adding more cushioning.
This exercise sandbag offers durable zippers and 8 thick solid core rubber handles, including angled handles for a greater variety of exercises.
To see how to fill up the sandbags and set up a Meister Elite training bag, watch the easy-to-follow tutorial from Meister below.
Meister Elite 50lb Sandbag - Promo Feature
---
Key Features
Multi-Functional 2-in-1 – Workout Sandbag & Soft Kettlebell Workout – very affordable – rigid design – 8 handles – no sagging – more exercise options – filler kettlebell sandbags can be bought separately.
Dimensions
24 x 12 x 12 inches – Minimum Weight: 15lbs – Maximum Weight: 50lbs
---
#3 Rep Fitness Sandbag
The Rep Fitness sandbag is ultra-durable with a 1000D Cordura shell and heavy-duty triple and cross-stitched nylon thread and extra strong YKK zippers.
Each sandbag comes with 6 soft workout handles for comfort and supports a wide variety of workout routines.
The sand filler bags are made with double Velcro to ensure sand stays in the bag and not on your floor.
Various Size Options
Rep Fitness sandbags come in many sizes and weight options for everyone. Whether a beginner or advanced user, Rep Fitness offers 4 different sandbag sizes with various weight ranges:
Small is 5-25lbs and includes 1 small filler bag.
Medium is 25-75lbs, 26" long, and includes 2 large filler bags.
Large is 50-125lbs, 30" long, and includes 3 large filler bags.
XL is 125-200lbs, 34" long, and includes 4 large filler bags.
Customers rave about the quality and durability of this workout bag and how well customer service responds to their questions. Also offers many different sizes, colors, and weight options.
Rep Fitness sandbags have a 1-year warranty to cover normal wear and tear, and if you are not happy with your workout sandbag they will do their best to make you happy.
Key Features
4 sandbag sizes – 6 soft handles – ultra-durable Cordura with nylon stitching – great quality and customer service.
Dimensions
Various sizes – Minimum Weight: 5lbs – Maximum Weight: 200lbs
---
#4 Iron Core Athletics Leak Proof Sand

and Water

Fillers
What makes the Iron Core Athletics workout sandbag stand out from the other designs is the leak-free inner fillers that can be used with sand and water.
This heavy-duty exercise sandbag is the perfect sandbag for on the go road warriors. These leak-free filler tubes can be taken anywhere and easily filled with water from a tub in your hotel room or anywhere there is water available. Which is pretty much everywhere.
Highly Durable Sandbags
These sandbags are constructed with heavy-duty 1000D Canvas material with double stitched seams and have 7 strategically placed rubber handles that offer plenty of exercise options.
This training sandbag offers fillers that can be used with WATER, making this my #1 Pick for TRAVEL and ROAD WARRIORS. Simply fill with water from a faucet, hose, pool, river, or anywhere there is water and you have yourself a 15lb to 120lb fitness sandbag ready to go.
The Iron Core Athletics sandbag comes in 3 sizes and weight options:
XL size measures 32L x 12W inches with a weight capacity of 120lbs. – currently available
Large size measures 27L x 11W with a weight capacity of 8lbs. – currently unavailable
Medium size measures 19L x 7W with a weight capacity of 40lbs. – currently unavailable
NOTE: At the time of this review, Iron Core Athletics ONLY had the XL outer shell workout sandbag. And at this point, it is unclear if they will even continue to sell the outer shells going forward. It does seem apparent that they will continue to sell the Universal Fillers that use Water & Sand, which could also be used with other bags.
Leak-Free Filler Bags (water or sand)
The leak-free Universal fillers come in 3 denominations and are perfect for travelers who do not need to use sand and can easily use water instead. The following fillers can be purchased separately and are very affordable:
Large filler is 80lbs of sand (60lbs water)
Medium filler is 60lbs of sand (45lbs water)
Small filler is 20lbs of sand (15lbs water)
The Iron Core Athletics XL workout sandbag comes with 2 medium 60lb Universal Fillers. Weight options may change, so read offers carefully.
Key Features
Numerous weight sizes – extremely affordable – 7 handles – durable nylon – water & sand fillers.
Dimensions
Various sizes – Minimum Weight: 5lbs – Maximum Weight: 120lbs
---
#5 Synergee Pro Sandbag (10-40lbs) & Synergee Elite Sandbag (25-100lbs)
Synergee has two sandbag weight classes to choose from. For users seeking a lighter option, Synergee offers the Synergee Pro sandbag 10 to 40lb training bag.
And for the heavy-duty and hardcore among us, they offer the 25 to 100lb Synergee Elite Sandbag. It's always nice to have options.
Weight Customizable
The Synergee Pro Sandbag is weight customizable up to 40lbs and includes 3 sand filler bags at 13.5lbs each. On the other hand, the Synergee Elite Sandbag offers up to 100lbs of weight and includes 4 sand filler bags at 25lbs each.
Durable
Synergee's top feature is how ultra-durable its design is, both inside and out. The outer shell is made with strong waterproof nylon Cordura and double reinforced nylon stitching so it can take an extreme beating without ever ripping. And the heavy-duty zipper on the outer shell keeps all weights secure.
Ultra-durable design and very affordable. Reviews are mixed on the true quality of this workout bag. I would only recommend as a cheap starter training sandbag. Synergee does offer a replacement guarantee and also claims to have recently upgraded their material.
But Synergee did not stop there. Synergee's filler bags are made with triple-stitched inner liners to ensure a lock-tight seal and prevent any sand leakage.
This workout sandbag comes with 6 handles places around the outer shell to offer you unlimited workout options and variations to complete the full-body workout you need for best results.
At the time of this research, Synergee was also offering a new replacement guarantee on defective products.
Key Features
2 weight classes – extremely affordable – 6 handles – waterproof nylon – ultra-durable double reinforced nylon stitching.
Dimensions
10.8 x 12.7 x 7.1 inches – Pro Minimum Weight: 10 – Maximum Weight: 40 – Elite Minimum Weight: 25lbs – Maximum Weight: 100lbs
---
#6 SKLZ Super Sandbag – Heavy Duty Exercise Sandbag (10-40lbs)
The SKLZ Super Sandbag is one of the more popular bags we have listed. This exercise sandbag included 4 removable 10lb weight filler bags, so you can adjust your workout intensity from 10 to 40lbs as needed.
The outer shell is made with very thick and durable material, and heavy-duty zipper and Velcro seal.
This design comes with 6 handles. Two handles located on each side of the sandbag, one pair positioned vertically and the other pair horizontally. And the third pair of handles are located at each end of the workout sandbag.
The SKLZ Super Sandbag is probably one of the more popular brands sold. Make sure to check out their videos.
Many users find it difficult to fit all 4 filler bags inside the workout bag to successfully zipper up the sandbag shell. There is however a procedure to follow that will make this a simple task, each and every time. The trick is to place each filler bag into the exercise sandbag with the open end facing towards the middle.
This sandbag has 6 easy to grip workout handles to allow great versatility and flexibility for all your workout routines.
Key Features
Thick material – affordable – 6 handles – popular brand – secure zipper with Velcro reinforcement.
Dimensions
13.1 x 4 x 10 inches – Minimum Weight: 10lbs – Maximum Weight: 40lbs
---
#7 Garage Fit Durable Exercise Sandbags Small, Medium Large
Garage Fit workout sandbag also offers a good variety of weight options and sizes to satisfy most fitness levels. These sandbags come in small (5-30lbs), medium (25-75lbs), and a no handles large (80-120lbs).
This sandbag is built with durability in mind. For instance, the filler bags and outer shell are made from extra-strong waterproof Nylon Cordura (the same material used in Flak Jackets) and reinforced nylon stitching.
Additionally, the weight filler bags have double-sealed inner liners with strong Velcro to prevent even the slightest leakage. Depending on which model, these sandbags come with one 0-30lb or two 27-75lb sandbag fillers.
Built for durability at an affordable price.
This exercise sandbag is fitted with 6 multi-grip handles located all around the shell, and including a center handle for carries.
Tip: It is important to note that overfilling the sandbag fillers will prevent a proper seal and can cause leakage or even tears. This is easy to prevent by simply not overfilling so the bag can be sealed tightly.
Key Features
built for durability – 2 weight classes – affordable– 7 handles and no handle models – extra-strong waterproof nylon Cordura.
Dimensions
varies by design – Minimum Weight: 5lbs – Maximum Weight: 120lbs
---
#8 FITSHIT Medium & Large Workout Sandbags for Training
The FITSHIT is available in two sizes, being medium (25-65lbs) and large (50-105lbs). Each design comes with 3 large inner filler bags with Velcro opening.
FITSHIT prides themselves on the durability of their sandbags. Each FITSHIT workout sandbag is approximately 48" long and made of high-quality construction 1000D Oxford Nylon with reinforced double-stitched seams.
Furthermore, the outer shell has a double stitched zipper to keep filler bags locked inside, and has 7 high-strength black webbing flexible industrial grade handles for endless workout possibilities.
Note: Even though this company is boastful about its sandbag's durability, I have found many mixed reviews on the quality of this bag. My advice to you is to take caution when considering this product. If you are a power user or like to slam around your sandbags, this may not be a good fit. I would definitely advise the medium-sized sandbag over the large.
Key Features
2 weight classes – for the medium size – 7 handles – durable double reinforced nylon stitching.
Dimensions
48 inches long – Minimum Weight: 25 – Maximum Weight: 110 lbs
---
My Top Picks for Best Training Sandbag In This Review
I'd like to thank you for reading our review and using us as your go-to guide for finding some of the best exercise sandbags online. With that said, here are my top 2 choices.
#1 Editor's Choice – Best Training Sandbag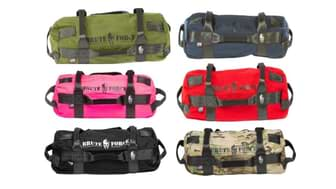 Brute Force
If you'd like to know which workout sandbag is the best quality and most durable bag to own, I would say the Brute Force training sandbag hands down. The quality of these sandbags is superb and is built to take a beating.
As they should!
This "Made in America" product has all the features you would want in a training sandbag. For example, they are heavy-duty, tough, and versatile with so many color options and sizes to choose from, and all the handle variations you will ever need.
#2 Runner Up – Meister Elite Sandbags
My second best workout sandbag is The Meister Elite training sandbag due to its unique features and added exercise possibilities. Unlike other sandbags, this design offers a very rigid structure that causes the shell to keep its structure without sagging. For some, this may be a highly sought after feature.
That said, my next reason for choosing this exercise sandbag was the 3 sand filler bags which doubled as kettlebells. By simply removing the 3 soft kettlebell shaped filler bags, you now have 3 separate ones weighing 10lbs, 15lbs, and 20lbs to perform a whole new workout routine with countless new exercises. The concept of this 2-in-1 exercise device is simply brilliant.
Furthermore, if you are not interested in the design and functionality, you may buy the soft kettlebell weights separately at a very affordable price.
Top Benefits of Training with Exercise Sandbags
Besides being one of the most versatile weights you could own, they also have many benefits.
Increase Power & Stability
In addition to increasing total body strength, exercise sandbags also incorporate muscle stabilizers in a way no other weight machine or free weights can accomplish. Due to the instability of sandbag training, your body is forced to engage entire groups of muscles at the same time. Training sandbags are more about building a strong core and increasing overall brute strength and less about bodybuilding and muscle sculpting.
Adjustability & Flexibility
It is easy to adjust your workout intensity or workout routine by adding or subtracting filler bags in the sandbag shell or by adjusting the amount of sand in the fillers to the weight you desire. The Iron Core Athletics fillers will even take water in place of sand, giving you even more flexibility especially when on the road.
Travel
If you're a road warrior on the go but still need your daily workout, training sandbags weigh only a few pounds and can easily fit in a gym bag or luggage. Sand can be bought on location if needed, and if you are at the beach then sand is plentiful and free.
Don't have any sand? Iron Core Athletics has a very affordable workout sandbag that also uses water. They offer leak-free filler tubes that can be filled with water or sand, making it very convenient if you just want a good workout in your hotel room.
Another great travel companion for on the road are water-filled dumbbells; don't miss our review.
Low Cost
Your typical fitness sandbag starts at roughly 50 bucks and can literally give you hours and hours of workout routines and hundreds of different exercises to increase your power and stability, build upper and lower body strength and explosiveness, core strength, stamina, and overall brute strength. You could literally spend hundreds if not thousands on fitness equipment to create the same results.
Fitness Sandbag FAQ
The following is an FAQ to some of the most common questions asked about workout sandbags. Hopefully, these will help answer some questions or concerns you may have regarding these bags.
How do I stop sand filler bags from leaking sand or bursting?
I have discovered many complaints about filler bags leaking sand even when the manufacturer guarantees no leakage. Many users will immediately blame this on poor-quality fillers, which in most situations is not the case at all. It is actually a problem with not filling the bags properly.
Fortunately, there is an easy fix for this. Your first step is to read the manufacturer's setup guide, which in most cases give pretty accurate instructions on how to properly fill these bags to prevent leakage and eventual tearing at the seams.
In most cases, it is important not to fill the bags too full. This prevents the sand from moving around freely in the filler bags causing extra and unnecessary pressure on the seams and also on the Velcro closures.
This is especially important if your workouts include dropping, slamming, and throwing around your workout sandbag. So just make sure there is enough room for the sand to move around freely inside the filler sandbags and save yourself a lot of trouble.
Do Exercise Sandbags come with Sand?
Exercise Sandbags do not come with sand. There is no special sand or weight filler for these training sandbags and so buying your own filler sand would be much cheaper than buying it from the manufacturer. Could you imagine the shipping costs for a 75lb training sandbag?
It is much easier and way cheaper to purchase a 50lb bag of play sand, or all-purpose sand at your local home improvement store for about 5 bucks.
Why is the zipper so difficult to close on my training sandbag?
Some sandbag designs come with filler bags that fit tightly inside the sandbag shell to reduce the fillers from moving around inside. Unfortunately, when buying a brand new bag, it can be almost impossible to zipper up these bags after packing in the filler bags.
Therefore, the best solution for this is to start off with less sand and use the exercise sandbag a few times. This gives the material a chance to stretch somewhat. Eventually, you will be able to add the proper amount of weight and successfully close the zipper to the sandbag without much struggle.
Can I use other fillers such as gravel or rocks?
You can pretty much fill these bags with whatever you fit into them. If it works for you and the more power to you. I have seen where some will fill them with steel shot. But, and there's always a but, most manufacturers specifically instruct using sand to fill their filler bags. This means, if you use anything other than sand and the filler tears or the seams come apart, you will probably have a problem getting a replacement or refund.
That said, just use common sense. Personally, I would just go with sand. It is very cheap and you can buy a 50lb bag for as little as 5 bucks.
What is 1000D Cordura nylon mean?
Cordura is an extremely durable nylon fabric that is sometimes blended with other fabrics. Cotton or other natural fibers are used making it very resistant to abrasions and tears. That said, Cordura nylon is typically used for military wear and performance gear. But also great for luggage, backpacks, workout sandbags, and anything that requires a durable fabric.
The "D" in 1000D stands for denier and is used to determine a fabric's thickness. So the higher the denier, the thicker and stronger the fabric will be.
Therefore, when you combine both the Cordura nylon with 1000D you get one extremely durable fabric that can take a beating for years to come.
Closing Remarks
I would like to thank you again for reading our review on the Best Workout Sandbags for Training, and allowing us to provide you with all the information we could find on various training sandbags we feel make great choices for your exercise routine.
We sincerely hope you were able to find what you were looking for and wish you all the best in your health and fitness endeavors.
More Suggest Reading: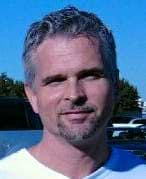 With over 30 years of experience in strength training and fitness, Mark LaRue is the founder of Fitness Mastered, a blog to help educate fitness enthusiasts of all fitness levels, ages, and gender. We write topics that range from weight training tips and exercise routines to home workout machine and fitness related product reviews, to name a few.