This review will compare some of the best water filled dumbbells you can find online that are not only affordable but also very practical and super easy to take along in a small bag just about anywhere.
Dumbbells are one of the most used and most effective and versatile workout devices you will ever find in any gym or home. They take up very little space and can be used anywhere for a full body workout.
Bodybuilders use them to pack on muscle. Athletes use them to build strength. And fitness enthusiasts like you and me use them to stay fit and tone our muscles.
If you're like me, you hate missing a workout. And if you travel a lot for business or planning a vacation, you obviously cannot be lugging around 10 or 20-pound dumbbells.
Well, the solution to this problem, obviously, would be our water filled dumbbells. That said, let's take a closer look at why that is, and what options you have available.
Water Filled Dumbbells vs Conventional Dumbbells
If exercising is important to you and you absolutely can not miss a workout, even when traveling for business or vacation, then water filled dumbbells could be the solution to your problem.
Let's check out the many advantages the water filled dumbbells have over the conventional dumbbells when it comes to portability and travel and see if they may be the right fit or you.
Compact and Portable

Weights

For the busy traveler or vacationer who does not have access to a gym, the water fillable dumbbells are very easy to pack and carry. The dumbbell balls when empty can be flattened and weigh close to nothing and the handles are also very lightweight and take up very little space.
Super Lightweight

for Travel

The water fillable dumbbell balls are made of very light yet durable ABS plastic which weighs close to nothing. The handles and nuts that secure the weights in place are also made of lightweight plastic.
Adjustable

Weights

Some of the models in this review have dumbbells that can hold more than one water filled dumbbell ball on each side of the handle. This gives you the added benefit of adjusting the weight up or down for your particular exercise routine.
Safe for User & Floors
Another great benefit is the soft dumbbell balls. Dropping one of these dumbbells on the floor will not damage wood or tile, nor will it injure your foot should it happen to land there. Therefore very safe to use, even for kids.
Cost-Effective

Weights

With all the benefits you get from a water fillable dumbbell, acquiring one of these dumbbells is well worth the investment. Most of the dumbbells in this review are in the $30 to $40 range for a pair of dumbbells. Essentially, no more than buying a pair of conventional dumbbells.
Our 4 Best Water Filled Dumbbells Reviewed
Overall, the advantages of water filled dumbbells far outway conventional dumbbells when it comes to portability, and thus are far more practical for travel purposes. Here is my top 4 list for best water filled dumbbells and my #1 Editor's Choice and Runner Up.
---
#1 AquaBells Dumbbell Weights (8 – 16 lbs per handle)
The AquaBells are great to take along on a vacation, boat cruise, or business trips. Each dumbbell disc when filled weighs approximately 4lbs. Thus a total of 8 to 16 pounds per handle.
The handles are easy to grip with soft cushioned handles, but the water ball openings are rather small. So give yourself some time for the initial fill up. By that, we mean an average of about 1 to 2 minutes per container. Not a deal breaker in my opinion.
To make things slightly easier, AquaBells does include a water funnel to assist in the filling process. And depending on your water source, you could have one filled in less than 30 seconds. See the video demo below.
Here is what you get:
Pair of water filled dumbbells which includes…
8 dumbbell balls

2 handles

8 nuts

Adjustable up to 16 lbs per handle

No leak guarantee
---
#2 DEIRIS Water Fillable Dumbbell Set (Adjustable 10-20lbs per handle)
Runner Up
The DEIRIS dumbbells come with two handles and 8 water fillable dumbbell balls. Additional handle extension rods give you the option of adjusting the weights by adding an additional 2 weights to each side of the handle and provides ample grip space. What does this mean?
Each ball weighs approximately 5lbs when filled, so you can adjust each handle to be from 10 to 20lbs, for a total of 40lbs maximum for both. Enough weight to make most workout routines a success.
What I appreciate about these dumbbells are the extension rods. No other water fillable dumbbell offers this unique option. Being able to remove or add the extensions makes it much more flexible and user-friendly. You can avoid having the extra bar sticking out on each end when doing exercises by removing the extensions when only using 2 dumbbells. This is especially convenient when doing exercises close to your sides.
The company has tested the durability of the balls by dropping the dumbbells from 1.5 meters (approx. 5 feet) without any damage. DEIRIS also has a no-fuss money-back guarantee if you are not completely satisfied with their product.
Here is what you get:
Pair of water fillable dumbbells which include…
8 dumbbell balls

2 non-slip silicone handles

4 extension rods

8 Nuts

Adjustable from 10 to 20 lbs per handle

Guaranteed not to leak
---
#3 1UP Water Filled Dumbbells (Adjustable 8-16lbs per handle)
Editor's Choice
These hydro weights from 1UP offer a pair of dumbbells that includes 8 fill balls weighing 4lbs each. Each handle can hold up to 4 dumbbell balls, meaning 16lbs max on each handle.
Another feature I especially like about the 1UP is the additional cushioned handle grips. Each handle is fitted with thick, ultra-comfortable non-slip foam grips making it easy to maintain a firm grip throughout your exercise routine.
Here is what you get:
Pair of water-filled hydro weight dumbbells which include…
8 dumbbell balls

2 handles

2 thick non-slip foam grips

Includes water funnel

8 nuts

Adjustable from 8 to 16 lbs per handle

Guaranteed not to leak
---
#4 Oileus Water Filled Dumbbells (12 to 24lbs per handle)
The Oileus dumbbell set comes with all the same features as the previous models. The company claims that each ball can be filled to 7.7lbs of water weight. But after further research, it appears that the maximum weight is closer to 6 lbs per ball.
Oileus does offer a longer handle than most models to provide for more handle space for gripping while exercising. I do however feel that the dumbbell balls are rather bulky, and it does take some patience when filling them up.
Here is what you get:
Pair of water-filled hydro weight dumbbells which includes…
8 dumbbell balls

2 handles

8 nuts

Adjustable up to 24 lbs per handle

Guaranteed not to leak
---
Pros & Cons of Using Water Filled Dumbbells
PROS
Extremely Portable
Lightweight for Travel
Will not damage floors
Safe if dropped on the foot
CONS
Bulkier than regular DB
Takes time for initial fill
Can tear on sharp objects
3 Tips on How to Fill Your Dumbbells Faster
Here are some tips and suggestions to help you fill your dumbbells with water more quickly.
Don't make the water stream from your faucet match the whole size. Opening up the faucet more will generate more pressure and even if some of the water may pour outside the filling hole, it will still fill much faster.
Make sure the dumbbell ball is completely deflated and flat. Do not try to stretch the plastic apart or get air into the ball. This does not help with the filling process. To the contrary. Water will fill the ball faster without any air in the disc.
Here are some cheap yet effective devices you could utilize to dramatically increase how fast you can fill your dumbbells with water. The rubber connector you see below should easily slip over most faucet heads. The water jet nozzle which is screwed to the end of the connector will then fit directly over the dumbbell fill hole. With this method, you could have each dumbbell filled with water in only a matter of seconds.
Final Thoughts & Recommendations
Without question, the number one reason for considering a water filled dumbbell is for its portability. With the balls empty and deflated, and including the handles and nuts you are talking around 1 pound of weight that can be converted to over 40 lbs of weight.
I have found, however, that there is a slight issue with time when it comes to filling the water balls. Due to the small holes, you can only pour at a considerably slower pace. Which when filling more than 4 or even 8 dumbbell balls can take some time. On average, most of you can expect 1 to 2 minutes per ball. But if you follow my tips above, you can actually cut that time considerably.
Looking for another great piece of workout equipment that is compact and great for travel? Check out our all-in-one adjustable kettlebells review.
Let's take a closer look at how filling these dumbbells with water might look like and how to assemble them.
I chose the 1UP Water Filled Dumbbells as my #1 Pick and Editor's Choice for two reasons. My first being the thick non-slip foam grips. Having these will provide you with a firmer and more comfortable grip than without.
My second reason is the included funnel which makes filling the dumbbell balls much easier and thus a bit faster. Trust me, anything that will make filling these less time consuming is a big plus.
Last Look
You may also be interested in reading our comparison article on Soft Kettlebells vs Hardstyle to learn the differences and advantages of both. Soft kettlebells are safe for the whole family, but also safe for your feet and floors.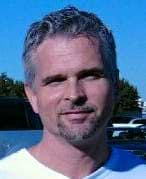 With over 30 years of experience in strength training and fitness, Mark LaRue is the founder of Fitness Mastered, a blog to help educate fitness enthusiasts of all fitness levels, ages, and gender. We write topics that range from weight training tips and exercise routines to home workout machine and fitness related product reviews, to name a few.