In today's review, we will compare 10 of the best vibrating foam rollers you can buy online based on customer reviews and feedback as well as key features. We have done all the research so you can conveniently compare product features quickly and easily all in one place.
First, let's cover some of the reasons you may want to own one of these rollers and if they really work.
TABLE OF CONTENTS
Vibrating Foam Rollers vs Traditional Foam Roller

s
Do Vibration Rollers Really Work?

My #1 Editor's Choice

Award

Use on Any Muscle Group

What is a Vibrating Foam Roller?

3 Top Features to Consider when Shopping for the Best Vibrating Roller

What are the Many Benefits of Vibration Rollers?

How to use these Rollers Correctly & Common Mistakes to Avoid
Vibrating Foam Rollers vs Traditional Foam Rollers
The main function of your traditional foam roller is to help athletes and sports enthusiasts work out muscle and joint aches and pain through self-myofascial release, but also prevent soreness and warm up muscles prior to exercising or sports events.
The vibrating electric foam roller, on the other hand, can do all of this plus more as listed below:
deeper muscle tissue massage & fascia release
faster muscle and joint recovery
less time rolling
Research has shown (1, 2) that vibration rollers can be more effective at expediting your recovery time, and achieving a greater range of motion when compared to using just your traditional foam roller.
The Vibrating Roller is a deep-tissue massage roller that acts as your very own personal massage therapist on the go or at home. At only a fraction of the cost!
Do Vibration Rollers Really Work?
Does A Fit Roll Vibrating Foam Roller Work? A Review
---
This review and buyer's guide will provide you with everything you need to know about these rollers, compare key features for each product, and cover some common mistakes to avoid when using them.
Without further ado, here are my 10 rollers.
Our 10 Best Vibrating Foam Rollers Review
Here are what I consider to be the best vibrating foam rollers for runners, bodybuilders, athletes, or any fitness enthusiast for that matter. Although somewhat more expensive than your traditional foam roller, these rollers are worth the extra cost and deliver on effectiveness and performance.
Customers rave about how much more effective vibration electric foam rollers are compared to your traditional foam rollers.
---
#1 FITINDEX 12″ 5-Speed
Best budget-friendly vibrating foam roller!
When it comes to getting the most bang for your buck, the vibrating foam roller from Gaiam has all the features you could ever want and at a bargain price.
Impressive 5-Speeds
With a grand total of 5 speeds, anyone can adjust this roller to just the right level of intensity necessary. Start with a warmup massage before your workout without the vibrations or turn on the vibrations to activate more blood flow.
For a deep level massage work your way up the 5-speeds with the semi-firm wave-textured surface. Use this roller to stretch, massage and strengthen muscles, ease aches and pains, reduce numbness and tightness, and stimulate circulation.
3 Unique Massage Textures: Experience 3 different massage sensations with the thinner water ripples, wider water ripples, and widest ripples for various types of deep tissue and recover rolling.
Indicator Lights
I absolutely love the easy to read indicator lights that show your current speed level, and the very helpful battery level indicators to help make sure you never run out of power during your workout.
Key Features:
Size: 12" L x 5" D ■ Speed/Intensity Levels: 5 ■ Low-High Intensity ■ Simi-firm ■ 1x Rechargeable 3.7v/2000mAh battery & USB charger (included)
---
#2 TB12 Pliability Foam Roller backed by Tom Brady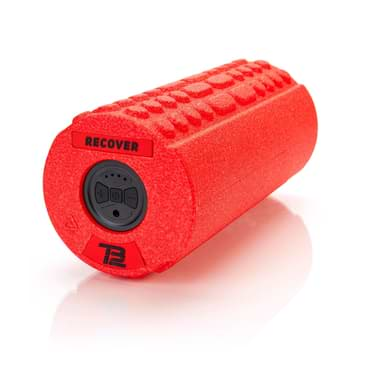 Backed by a name you can trust – Tom Brady!
Maintain flexibility and accelerate recovery with the TB12 vibrating foam roller. Backed by a name you can trust, 6 time Super Bowl champion Tom Brady is the Co-Founder of TB12.
If you haven't heard of the TB12 Method, it is all about recovery and enhancing your pliability pre and post-workout. The FB12 Foam Roller is part of the TB12 Method. Using this roller will help lengthen and soften your muscles, thus improving durable and functional strength.
The TB12 Pliability Foam Roller has a battery life of up to 3 hours and comes with 4 vibration levels with an easy to adjust bi-directional frequency selector.
4 Vibration Levels:
Level 1 – 2,100 RPM
Level 2 – 3,000 RPM
Level 3 – 3,500 RPM
Level 4 – 4,000 RPM
Recover Faster After Your Next Workout
Key Features:
Size: 12"L x 5.9D" ■ Weight: 2.1 lbs. ■ Speed/Intensity Levels: 4 ■ Professional-grade foam ■ 1x Rechargeable battery & charger (included) ■ Battery Life: 3 hrs ■ Charge time: 3.5hrs
---
#3 ProsourceFit ExL
Best Vibrating Foam Roller on a Budget!
When it comes to price nobody beats the ProsourceFit ExL. With free shipping and a price tag only around 50 bucks, it's really hard to find a cheaper deal.
This high-density multi-textured foam roller comes with 3-speed technology for a customized massage that aids in quick recovery and soothing aching muscles.
It's compact design is perfect for traveling and includes a carry handle on one end which also hides the charging port. Simply remove the handle when ready to charge.
Its battery takes approximately 2 hours to fully recharge, and will last up to 2 hours.
Key Features:
Size: 13"L x 6D" ■ Weight: 3.1 lbs. ■ Speed/Intensity Levels: 3 ■ High Intensity EVA Foam ■ 1x Rechargeable Lithium-Ion battery & charger (included) ■ Battery Life: 1-2hrs ■ Charge time: 2hrs
---
#4 Hyperice Vyper 2.0

(Most Powerful Vibrations)
If you're looking for maximum vibration power, then this is the roller for you!
The Hyperice Vyper 2.0 has 3 vibration settings for powerful high-intensity vibrations. Hyperice claims to have the world's most powerful vibrating foam rollers on the market. The Polypropylene outer shell transfers maximum vibration with superior amplitude and G-force even when body weight is applied.
The 3 vibration frequency levels are 45, 68, and 92 HZ, and the G-forces are 6.9, 7.8 and 8.8.
Many users comment on how powerful this vibrating fitness roller is! Some wish there was an extra lower setting than level 1.
The rechargeable lithium-ion battery (included) provides up to 2 hours of usage.
And if you are a frequent traveler, this vibrating roller is considered travel-friendly and is TSA approved as a carry-on.
Key Features:
Size: 11.6" x 5.3" x 5.3" ■ Weight: 3 lbs. ■ Speed/Intensity Levels: 3 ■ High Intensity ■ 1x Rechargeable Lithium-Ion battery (included)
---
#5 Monument Phenom – Best In Ergonomics
(Editor's Choice)
If you're anything like me and enjoy a proper back massage, especially in the lower back region, then I believe the Monument Phenom 3 speed vibrating foam roller by Monument is exactly what you need.
What makes this roller so unique is its ergonomic design which specifically takes your body's anatomy and biomechanics into account.
That said, this is the only vibrating roller that allows you to roll away soreness in your back while also supporting your spine.
Additionally, this design is perfect for rolling out your Achilles tendon – one of the most common problem areas in all sports, your legs, hamstrings, arms, shoulders, glutes, and calves.
The Phenom has 3 vibration frequencies strong enough to penetrate deep into your muscle tissue to release tension, myofascial recovery, loosen stiff and sore muscles, enhance mobility for improved performance, and more.
This product includes:
3-speed vibration roller
Built-in handle for easy transport and handling
ACA rechargeable lithium-ion battery (up to 3 hrs use time)
1x AC charger
Quick use instructions
1-year manufacturer's warranty
Key Product Features:
Size: 13" x 6" x 6" ■ Weight: 3 lbs. ■ Speed/Intensity Levels: 3 ■ Rechargeable ■ Best In Class Ergonomic Design
Read the Editor's Choice full review below.
---
#6 NextRoller
(Runner Up!)
NextRoller, probably one of the most popular rollers has been featured on CBS, NBC, FOX, and trusted by NBA, NFL, and MLB athletes. Customer service for this product is top-notch and they offer a no-questions-asked ONE YEAR WARRANTY.
The NextRoller holds a good charge with a battery life of over 2 hours. Furthermore, the included wall-outlet charging cable makes it easy to get a massage anytime, and anywhere.
Outstanding customer service – based in San Diego, well-established company and known product, good battery life, and no-questions-asked one year warranty.
This roller has 3-speed levels with the vibrational frequencies being 20, 40 and 67 Hz and has a handle on one side for easy portability. An all-around great product for massage therapy, recovery, mobility, flexibility and pain relief.
NextRoller Vibrating Foam Roller: Top Lower Body Rolling Exercises
Key Product Features:
Size: 13" x 6" x 6" ■ Weight: 4 lbs. ■ Speed/Intensity Levels: 3 ■ Rechargeable ■ Portable Handle
---
#7 Epitomie Fitness VIBRA Vibrating Foam Roller
Best vibrating foam roller with longest battery life!
This high-density foam roller by Epitomie Fitness VIBRA with its honeycomb grid that perfectly mimics the fingers of a massage therapist provides you with nothing less than a deep tissue massage to relax and soften your muscles.
This roller offers 4 variable speeds and 1 pulsating mode for low intensity to extreme intensity massages.
Key Features:
Size: 12.5" x 5.5" x 5.5" ■ Weight: 3 lbs. ■ Speed/Intensity Levels: 5 (4 speeds & 1 pulse) ■ USB Charger ■ Rechargeable ■ Battery life: up to 4 hours
---
#8 LifePro Surger For Deep Tissue Massage
The LifePro Surger was designed with both comfort and intensity in mind. This roller has 4 speeds with intensity levels starting at 32 HZ and up to 38HZ. In this way, you can adjust your intensity level from low to high as needed.
The LifePro also includes a custom timer so you can set your vibration time to 60, 90, or even 120 seconds.
Designed with premium soft material that is gentle on your skin and joints, this roller is comfortable even at high-intensity levels.
The roller comes with a 10,400 mAh rechargeable battery. Making it one of the most powerful on the market.
LifePro includes an extra carry bag, instant access to online workout videos, instructions and ideas from professional coaches, and a 100% no-questions-asked LIFETIME warranty.
Product Features:
Size: 11.5" x 5.5" x 5.5" ■ Weight: 4 lbs. ■ Speed/Intensity Levels: 4 ■ Rechargeable ■ Carry Bag
---
#9 Vulken
Vibrating Foam Roller – Super Lightweight Air Injected Shell
The Vulken vibrating foam roller is 17" long and comes with 4-speed settings. If you are looking for a roller that is fairly hard, this air injected plastic shell foam roller is probably the hardest roller on our list.
This longer yet lighter design is rechargeable and has 2-hour battery life. Users indicate charging time to be quick, and lights on the roller indicate battery charge, and also show the current speed setting.
What differentiates this roller from other rollers is the 17" long ultra-lightweight 2-pound design, yet also harder than most with air injected polypropylene plastic shell.
These vibrating foam rollers are programmed to automatically shut off after 10 minutes of operating time in order to conserve the battery charge if left on inadvertently.
Key Features:
Size: 17" x 6" x 6" ■ Weight: 2 lbs. ■ Speed/Intensity Levels: 4 ■ Rechargeable
---
#10 Zyllion Vibration Foam Roller
Powerful vibration, firm material, and 3 unique zones that mimic a massage therapist's hands.
What separates the Zyllion Roller from the other fitness massage rollers is the 3 texture zone design. One zone with wider ridges simulates palm pressure massage, and the medium ridges offer moderate finger pressure massage. While the third zone with narrow ridges simulates fingertip or thumb pressure massage for a deep-tissue massage experience.
The roller material is very dense making this roller much firmer and giving you a more powerful vibration experience. This roller comes with 4 vibration speeds to adjust to your specific massage needs.
The Zyllion vibrating fitness roller comes with 2 lithium-ion batteries (included), which when fully charged offers over 2.5 hours of battery life. A charger is included, and battery indicator lights help keep track of your battery charge.
Key Features:
Size: 12.5" x 6" x 6" ■ Weight: 2 lbs. ■ Speed/Intensity Levels: 4 ■ Rechargeable ■ 3 Texture Zones ■ 1x Drawstring Tote Bag
My #1 Pick in this Review
Monument Phenom

– Best In Class Ergonomic Design
I primarily chose the Phenom roller for its ergonomic design and functionality. No other roller in this review offers the benefits this roller has when it comes to back support.
Best In Class Ergonomics:
The Phenom was specifically designed to take your body's anatomy and biomechanics into account, making it the only roller that lets you comfortably roll out your sore back while supporting your spine.
Comfortably rolling up and down the center of your back to target both sides at the same time is not possible with other foam rollers. So if foam rolling your back is a major concern for you, then this roller is the ideal choice for you.
This 3 speed vibrating foam roller has gel molded knobs that provide for the perfect amount of cushion to vibrate deep into your muscle tissue without any major discomfort.
The speed frequencies have been set by the manufacturer at 35 / 50 / 80hz.
Charging time is only 2 hours, and the use-time for this roller is up to 3 hours. More than enough time to complete multiple massage sessions before recharging.
Note: The plugin port to recharge the roller is hidden under the carrying handle. Simply rotate the handle clockwise to expose the charging port.
The maximum weight capacity for this vibrating roller is 250 pounds.
Colors available: aquamarine, black, red.
If you need more help deciding which roller is best suited for your specific needs, you can always refer back to our features list above.
Use Them on Any Muscle Group
Vibrating foam rollers are effective for just about any muscle group. Use them on your legs to warm up and lengthen your muscle fibers before a workout. Or use it after a workout for better recovery and to reduce soreness. Moreover, you can use these rollers on your legs, calves, glutes, arms, shoulders, back and any other body part you can think of.
Experiencing lower back pain? Use the vibrating muscle roller in a chair, or on the floor or yoga mat. Much more effective than your typical non-vibrating rollers, these rollers will give you the intensity needed for a deep-tissue massage and in far less time.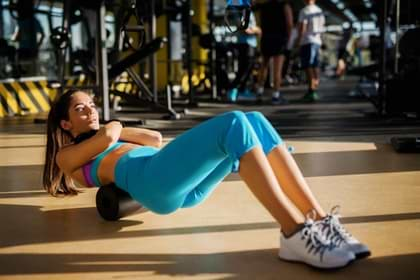 What is a Vibrating Foam Roller?
In short, a vibrating muscle roller can function as both a regular non-vibrating roller but also has the added capability of generating high vibrations with its built-in vibration device which can easily be switched on to turn your roller into a deep tissue massage foam roller. Therefore, this extra feature gives you many added benefits your typical foam roller cannot.
The vibrating roller is twice as fast and effective as your standard foam roller and thus can do the work in half the time!
Even if these rollers are more expensive than your standard roller, they are nonetheless still very affordable and well worth the extra investment.
Vibrating foam rollers will give you that extra deep tissue massage a regular foam roller will not. As a result, these extra vibrations can also shorten your massage time if you are in a hurry since it can perform the same work
in half the time.
Also, check out my top 3 collapsible foam rollers comparison guide.
Furthermore, another added benefit is that you can position the roller underneath you on the floor or behind you in a chair and target a specific muscle region without having to roll the foam roller or move your body. In short, just relax and enjoy the soothing deep tissue massage this deep tissue foam roller can provide you.
3 Top Features to Consider when Shopping for the Best Vibrating Roller
When shopping for the best vibrating foam roller, you want to make sure to choose the right one the first time around.
With that said, let's take a look at some of the more important features to consider when picking the best vibration roller for your particular needs.
Foam Density
Low-density foam rollers are great for beginners and those of you using them in a class setting such as yoga. These rollers are much softer and more comfortable and less painful to use than a high-density roller.
With that said, vibrating foam rollers are more ideal and much more effective with mid to high-density foam. This is what gives them the ability to massage deep into the muscle tissue and release knots and loosen muscles for faster recovery.
Foam Texture
The texture of a roller also has various benefits. Some rollers come with one texture, while others have multiple texture options on the same roller. The knobbed textures act as fingers for deep trigger point massage, while the medium-textured or ribbed surfaces are ideal for increasing blood circulation yet still effective at penetrating muscles for faster recovery and loosening knots.
Vibration Speeds & Adjustment Levels
Vibration speeds help give you more control over how deep and intense you want your massage. You can fine-tune your massage more accurately when offered more levels of intensity. However, the vibration speeds are just as important.
The highest vibrations can be found on the Hyperice Vyper 2.0 and the Restore by Gaiam a 5-speed adjustable roller including many extras.
Weight & Portability
For portability purposes, weight might be a factor to consider. If you are taking your roller to the gym or for travel, a lightweight vibrating foam roller would be a more ideal choice. The lightest rollers in this review are the super lightweight air injected shell by Vulken and the Zyllion which both weigh approximately 2 pounds.
Battery Life & Charging
In most cases, a 1 to 2-hour battery life is more than sufficient to complete a massage session. In fact, considering a rolling session typically takes from 10-20 minutes, you can expect these rollers to last the whole week. If you're looking for the longest-lasting battery, then check out the Epitomie Fitness VIBRA which claims up to 4 hours of battery life.
Depending on our routine and time schedule, charging time can be a factor to consider. After the initial charge, most of the rollers will recharge in less than 3 hours. One of our fastest charging models is the ProsourceFit ExL at 2 hours of charge time.
What are the Many Benefits of a Vibration Roller?
The vibrating foam roller is like your personal massage therapist. You can choose between high, medium, and low-intensity settings to apply just the right amount of intensity and pressure to your muscles where needed.
You can see them as your very own personal massage therapist. Only much cheaper!
The vibration of the roller aids in muscle recovery time helps with mobility and flexibility and in relieving muscle pain and joint pain. That said, vibrating fitness rollers are great to use before or after weight training, cardio exercise, marathons, running, swimming, and CrossFit.
Additionally, they also help for those long days sitting at the job or long drives in a car for lower back pain relief.
1. Pre-workout Warmup (improve mobility and flexibility)
These vibrating fitness rollers help to increase blood circulation while also loosening your muscles before an athletic event or workout. All this and the stretching of muscle fibers will help increase flexibility, mobility, and strength to help you perform better and prevent injury.
2. Post-workout Recovery (relieve tension, remove lactic acid)
After a hard workout or sports event, a foam roller can be very helpful in relieving muscle tension and preventing muscle soreness by removing lactic acid. As a result, this can reduce your recovery time and put you back in the game at full capacity and even help prevent injuries.
3. Deep Tissue Massage (pain relief and muscle recovery)
Deep tissue massage cannot be generated as effectively with non-vibrating rollers as with vibrating muscle rollers. Thus, when using the mid to highest setting you can penetrate deep inside the muscle tissue to stimulate muscle fibers for fast and effective pain relief and muscle recovery.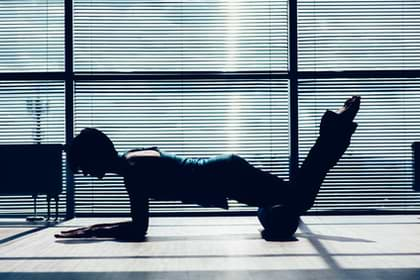 4. Quick Results Half the Time (increased stimulation)
Vibrating foam rollers generate twice the muscle activation and much deeper muscle tissue stimulation than any standard fitness roller can produce. As a result, this enables the user to accomplish more in less time, or cover twice the muscles in the same amount of time.
5. Pain Relief and Muscle Stimulation (deep-tissue massage)
These deep tissue massage foam rollers can help relieve muscle pain in your lower and upper back, quads, hamstrings, calves, glutes, and upper body muscles such as triceps, biceps, and forearms. Additionally, they are also great for foot relief or any other muscles or joints that may need attention.
Massage away discomfort by using low speed for sore muscles or chronic pain, mid-level speed for
muscle stimulation, and high speed to deliver deep tissue massage for more acute pain.
6. Loosen fascia (scar tissue breakup)
Fascia is bands of connective tissue beneath the skin that attaches, stabilizes, encloses, and separates muscles and internal organs. When under stress, fascia will become thicker with scar tissue which increases nerve pressure and leads to pain. Furthermore, scar tissue from injuries can also lead to less flexibility, reduced mobility, and a drop in strength.
These deep tissue massage foam rollers can help break up scar tissue and reverse these adverse effects.
7. Saves you money (cheaper than a therapist)
Seeing a massage therapist, even if only once per month, can be very costly, to say the least. One visit to a therapist can easily pay for a quality vibrating roller. In other words, you only pay for the roller once but can use it over and over again.
That said, if you haven't invested in a vibration fitness roller yet, now is the perfect time to consider doing so.
How to use these Rollers Correctly & Common Mistakes to Avoid
We have read about the many benefits of foam rolling and how much more effective the vibrating foam roller is than the standard fitness roller. However, it is also important to take into consideration the problems you could encounter, which could lead to more pain or injury, when not using the roller correctly.
Let me share with you my top 5 foam rolling tips to help you avoid any injuries or make your foam rolling exercises a success.
1. Do not Foam Roll the Lower Back on the Floor.
Wrong: The lower back and spine are very sensitive areas. Thus using a foam roller to roll on your lower back should not be performed on the floor. By lower back, we are referring to anything below the ribcage.
When rolling on the floor, it is harder to control your body weight and your position on the roller itself. Any wrong move could cause your spinal muscles to contract in order to protect the spine, achieving the opposite of what we have in mind.
Correct: There is, however, an alternative approach, which when executed properly can be safe and effective. One is to use a vibrating roller against your lower back in a chair rather than on a floor with your body weight on the roller. While in this position, and without rolling, simply set your roller to the lowest speed and let the vibrations gently massage your lower back. After a while, you can increase the vibration for a deeper massage.
A second alternative would be to use the Phenom Roller which is ergonomically designed to foam roll your back while supporting your spine. This design prevents the shell from directly pushing against the spine while rolling. A great choice if your main purpose is to massage your lower back.
2. Do not Roll too Fast
Wrong: When rolling too fast you are not giving your muscles the opportunity to relax. This prevents you from getting the full benefits of foam rolling.
Correct: Slowing down the movements allows the muscles not only to relax but also enables you to add more pressure. In this way, you can target those problem areas better by spending more time on those target areas. Also, remember to occasionally stop rolling. Let the pressure do its job, and the vibrations penetrate deep into the muscle tissue for the best results.
3. Do not only Roll in One Direction
Wrong: Only rolling in one direction.
Correct: Fascia connect to muscles from all directions, so try to hit areas from different angles where possible. This would be good for limbs, but not so much around the spinal area.
4. Do not only Roll Directly on the Problem Area
Wrong: Only rolling on the problem area.
Correct: In most cases, it is more beneficial to first roll all around the problem area to loosen up the fascia connected to that spot rather than just concentrate on one specific spot. Once you loosen up the fascia, then the problem area can relax. Using this technique is more effective and will give you quicker results.
Closing Remarks
Whether you're looking into vibrating foam rollers for the first time or looking to upgrade your current standard fitness roller, owning one of these rollers is well worth the investment. Vibrating rollers can do twice the work in half the time and can be used in areas standard rollers cannot.
Everyone at some time or another has suffered from muscle soreness, joint or back pain. Long hours sitting at a desk or in a car can lead to lower back pain, and stress can leave your shoulders and back tense and knotted up.
Athletes and fitness enthusiasts can also benefit tremendously by using vibrating rollers both pre-workout and post-workout. These benefits include loosening muscles and increasing circulation for better performance, but also to prevent post-workout soreness or even injuries.
In a survey with 685 sports and orthopedic physical therapy professionals, results showed high percentage marks when it comes to the benefits of roller massage.
With multiple vibrating speeds, these deep tissue massage foam rollers can reach areas much more effectively than your standard fitness massage roller. Use slow speeds to treat muscle soreness or chronic pain, or adjust the vibration speed deep-tissue therapy.
Once you've found the best vibrating foam roller for your specific needs, using it will be like having your own personal massage therapist in your home. At only a fraction of the cost!
Recommended Reading:
BFR Training (Big on the Muscles, Easy on the Joints)
Correct Rounded Shoulders and fix slouching with our 6 best posture corrector devices.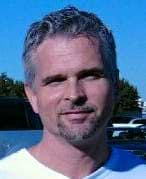 With over 30 years of experience in strength training and fitness, Mark LaRue is the founder of Fitness Mastered, a blog to help educate fitness enthusiasts of all fitness levels, ages, and gender. We write topics that range from weight training tips and exercise routines to home workout machine and fitness related product reviews, to name a few.