In today's review "5 Best Recumbent Bikes for Seniors" explore our top 5 indoor recumbent cycles we believe to be the best bang for your buck while also offering top-quality and best performance.
Table of Contents
The Perfect Cardio Machine for All Ages – Especially Seniors!
What is a Recumbent Exercise Bike?
Are Recumbent Exercise Bikes Effective?
Top 5 Recumbent Exercise Bikes for Seniors and All Ages
Which is the Best Recumbent Exercise Bike for You?
Benefits of Using a Recumbent Bike
Recumbent Exercise Bike Resistance Types
What to Look for in a Recumbent Cycle
How to Use Your Recumbent Bike for Best Results
Final Thoughts
Our Top 5 Recumbent Exercise Bikes Reviewed
The Perfect Cardio Machine for All Ages – Especially Seniors!
Recumbent exercise bikes have become very popular, and more and more gyms across the country are adding these cardio machines to their lineup. What differentiates this exercise bike from others is that the recumbent exercise bikes are much more comfortable and easier to use. Getting on and off of these cycles is much easier than with your basic upright exercise bike or spin bike.
These recumbent cycles are especially popular among senior citizens for those reasons alone. They are very easy to get on since they are positioned much lower to the floor. And not to forget the added benefit of providing extra lower back support with high backrests is a total game-changer. Add in the extra handles conveniently located on either side of the seat, and you've got all the support and comfort anyone could ask for, especially seniors.
So what is the best exercise bike for seniors? Hands down, the recumbent exercise bikes!
Easy to use and very comfortable. The perfect cardio machine for all ages and all sizes. Especially for seniors!
Recumbent exercise bikes are great cardio exercise machines for burning calories and losing weight, and are especially beneficial for cardiovascular health. Besides strengthening the heart, these indoor cycles will improve leg muscle strength while working your lower and upper legs, and improved blood circulation.
The technology on these recumbent bikes has come a long way, and if you're not the type to join a gym then check out our list of top 5 recumbent bikes below that can be used in your home. The list below will help you compare features and find which exercise bike better suits your specific needs.
What is a Recumbent Exercise Bike?
The recumbent exercise bike is basically a hybrid or modified version of the standard upright indoor exercise bike. Except that the seat is positioned much lower to the ground and the pedals are located upfront rather than below the seat. An additional feature on the recumbent bike is also the lower lumbar support on the back of the seat to help support your back.
Recumbent bikes are perfect for seniors – easy to get on and off and superior lower back support.
These features are especially beneficial for seniors or anyone requiring lower back support due to injury or for rehab purposes. The lower seat also makes it much easier to get on and off the bike which is a great feature for the elderly. Furthermore, a much larger seat than is typical for your standard upright exercise bike makes the recumbent bike much more comfortable for all ages and body types.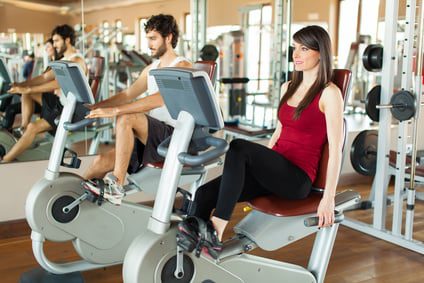 The recumbent bike may require a little more floor space than your average upright exercise bike, but will still easily fit into your average-sized home or apartment.
Are Recumbent Exercise Bikes Effective?
Other than the structural differences of the recumbent exercise bike versus the upright bike, the recumbent bikes are very effective cardio exercise machines and in most cases are much more comfortable and much sturdier exercise machines. The recumbent bikes will typically support a much higher weight support maximum than the uprights.
Lose 250 to 400 calories per 30-minute workout – day or night, rain or shine.
The recumbent bike is very effective at burning calories. And since you have this bike in your home, you will never miss a workout due to bad weather.
The average 150-pound individual will burn approximately 250 calories in a 30-minute workout session. and with added intensity may even increase up to 350 to 400 calories in 30 minutes.
Top 5 Recumbent Exercise Bikes for Seniors and All Ages
From a total of 40 recumbent exercise bikes reviewed, we chose 5 of the best-rated bikes based on quality, performance, technology, and reputation. It was important for us to include companies that have a good reputation and have been in the business of selling exercise equipment for a reasonable amount of time. These companies must also provide great customer service and offer easy access to replacement parts when needed.
Therefore, we have included two Exerpeutic recumbent bikes, a brand backed by Paradigm Health and Fitness Company which has been in the business for nearly 2 decades. We have also included two recumbent bikes made by Schwinn which has been in business for nearly a century. And last but not least we couldn't forget Nautilus, who has been in the business of making exercise equipment for over 30 years.
#1 Nautilus R616 Recumbent Exercise Bike

(Editor's #1 Pick)
The Nautilus R616 is our top pick for the best recumbent bike for seniors. It is packed with extra features and tracking technology that will keep you motivated to ride every day.
With the USB port or wireless Bluetooth, you can sync and export your workout data to the Nautilus Trainer 2 App, MyFitness App, or other popular apps.
And if that's not enough, take a virtual ride through the country or any setting you desire, either alone or alongside other users in real-time by syncing your tablet with free "RideSocial".
The Nautilus R616 has a solid structure and offers a smooth ride with a whopping 25 magnetic-based levels of resistance, 29 workout programs, 12 user profiles, 9 heart rate control, 4 custom, 2 fitness test, 1 recovery test, and 1 quick start.
If you're looking for top quality, solid construction, and maximum stability and comfort and high tech tracking and virtual reality ready at a very attractive price, then this is your machine!
All this on a DualTrack blue backlit LCD console, with media shelf, in-console speakers, an MP3 input port, USB media charger and adjustable fan for keeping cool.
This recumbent bike offers maximum stability and comfort with a well-cushioned seat and large vented backrest, adjustable seat, and handlebars.
Maximum weight capacity: 300 lbs
Weighs 97 lbs
Dimensions: 65.3 x 28.3 x 49.6 inches
#2 Exerpeutic 4000

(Editor's 2nd Pick for Seniors)
My 2nd Choice if the Exerpeutic 4000 is not available: The Harison recumbent bike for seniors.
The Exerpeutic 4000 is my 2nd pick for senior citizens or anyone looking for extra comfort in a recumbent bike. Unlike most recumbent bikes, this bike has an extra thick oversized Air Soft seat. Utilizing aerodynamic healthcare technology enables air to breathe through the seat fabric.
This bike provides you, even more, comfortability with its contoured mesh backrest and well-cushioned elbow rest pads. You will not find this on any other model. All of these extra comforts reduce back stress and provide overall comfort while you work out.
Editor's runner up for the best recumbent exercise bike for seniors. Excellent quality, great features, and most of all designed for extra comfort.
The Exerpeutic 4000 offers an impressive 24 levels of magnetic-based resistance controllable with the computer monitor, 12 preset workout programs, 4 user profiles. The large LCD monitor can track and display multiple category readings all on the same screen at once: time, distance, RPM, watts, and heart rate.
More features include an adjustable seat for 5" to 6.3" users, step-thru design, transport wheels, non-slip ribbed pedals, and foot straps, pulse sensors, cup holder, phone and tablet tray.
Maximum weight capacity: 325 lbs
Weighs 71 lbs
Dimensions: 58 x 30 x 41 inches
#3 Exerpeutic 900XL
We consider the Exerpeutic 900XL recumbent exercise bike to be our entry-level design, great for beginners and first-time users who want to spend less but still get a quality product.
The 900XL may not offer as many features as our other recumbent bikes, but it does deliver in quality and performance.
This easy step-thru design comes with 8 magnetic-based resistance levels adjustable with an easy turn knob. Its smooth torque cranking system provides for smooth consistent pedaling. The precision-balanced flywheel and V-belt drive system provide continuous and quiet operation. Thus, making it easy for you to listen to TV or your favorite tunes.
This bike comes with non-slip pedals and foot straps. It has a well-cushioned seat and backrest which can be adjustable to meet your height, up to 6.3 feet.
The single view LCD display can keep track of your workout time, distance, heart rate, scan, and calories burned.
Maximum weight capacity: 300 lbs
Weighs 63 lbs
Dimensions: 22 x 34 x 54 inches
#4 Schwinn A20 Recumbent Bike

(Most Inexpensive)
Our next recumbent bike and a step up in technology is the Schwinn A20. Another easy step-thru design to make getting on and off easy for all users. This model has 8 magnetic-based tension levels. But also has 7 preset exercise programs, 6 profiles, and 1 quick start.
The Schwinn A20 is built with a high speed, high inertia perimeter weighted flywheel for smooth and whisper-quiet operation.
For added comfort and usability, this model offers a padded seat and backrest, ergonomically placed heart rate sensors, transport wheels, a cup holder, and a media tray to hold your tablet.
The large and easy to read LCD console tracks, speed, time, RPM, distance, heart rate, results, and calories burned.
Additional features include a USB charging port, media player audio input, and built-in speakers. A great add-on to listen to your favorite music while working out. Although I wouldn't get too excited about the speaker quality. I'm sure using your favorite headphones would be a far better experience.
Maximum weight capacity: 270 lbs
Weighs 76 lbs
Dimensions: 50 x 27 x 64 inches
#5 Schwinn 230 Recumbent Indoor Cycle
The Schwinn 230 is one of our top models. It offers an abundance of extra features and more added technology, yet still at a very affordable price. This model comes with Goal Track capability to set and track your own individual goals. It has 20 magnetic-based resistance levels, 22 preset exercise programs, 9 profiles, 8 heart rate control, 2 custom, 2 fitness test, and 1 quick start.
If you require a sturdy recumbent bike built to serve and track multiple users, this is a great choice at an affordable price.
As with the other Schwinn bikes, this also has a high speed, high inertia drive system for easy startup and smooth and quiet operation.
This model offers an easy to slide seat adjustment, and vented seat and backrest design.
Another great feature is the 2 large DualTrack LCD screen displays which offer increased visibility to programs and Goal Track at the same time.
More added features include a media tray for your tablet or phone and audio input jack for your MP3 player. A console speaker system and USB port to keep your devices charged. Plus a 3-speed fan to keep you cool. You can also use the USB port to sync your results to "Schwinn Connect" and other Schwinn connected partners.
Maximum weight capacity: 300 lbs
Weighs 80 lbs
Dimensions: 64 x 28 x 50 inches
Which is the Best Recumbent Exercise Bike for You?
Finding the best recumbent bike suited for you will depend on your fitness level and fitness goals. Here are a few categories that may help you better decide which bike is best for you. Or you and your family.
If you're not necessarily into all the extra bells and whistles and just want a simple cardio workout then I would suggest looking into any of the first 2 recumbent bikes. These bikes are a great choice for beginners but still have enough power for intermediate fitness levels.
If your goal is to just hop on the machine and burn some calories, whether low intensity or high intensity, these 2 machines will do the job.
If however you consider yourself a power user or have multiple people using the same recumbent bike, then you may want to consider one of the last 2 bikes on our list. They have more features, are built to take some serious abuse, and will accommodate multi-user profiles and more.
I would consider all recumbent exercise bikes to be ideal for senior citizens. The walk-thru design and low seat make it extremely easy for seniors to get on and off of the bike. This is a very important feature and very beneficial as you get older.
Ideal for Seniors! Extra thick padding on seat and backrest. The only recumbent bike with padded armrests.
However, if I had to choose the best bike for seniors from our list I would definitely go for the #2 Exerpeutic 4000 Recumbent Bike. This bike has all the comfort and padding you need to make your workout a pleasant experience. It helps reduce or avoid any discomfort you may normally have using the other bikes.
Are you looking for a recumbent bike with all the bells and whistles and delivers on all levels; performance, quality, technology, and comfort? Then both the #5 Schwinn 230 Recumbent Bike and the #1 Nautilus R616 are the perfect match.
Even with all the extra features and quality construction, these are still very affordable bikes.
If you're like me and get bored after about 10 minutes of cardio, then these two bikes may help keep you motivated to keep pedaling and stay on the bike longer.
These bikes have 20 to 30 preset workout programs and over 20 levels of resistance. It comes with media racks to display your tablet. Audio input and speakers to input your MP3 players and listen to music. And a USB port to charge your phone or other media devices, and goal track capability, to name a few.
Furthermore, with the Nautilus R616 you can even sync with the free RideSocial and see the world on your LCD console as you ride alongside other users in real-time.
If you have multiple users that would like to keep track of their progress individually then the Schwinn 230 and the Nautilus offer from 9 to 12 profiles that can be saved for each person.
As a side note, if you are shorter than 5" or taller than 6.3" then I would advise checking the questions and answers portion after clicking the link for the bike you may be interested. You can either find the answer to your question or you could ask the question yourself. From what I have read, anyone in this range should not have any problems using these bikes.
It is also important to note that the maximum weight capacity for all the recumbent bikes listed in our review to be around 300 lbs. If you require a higher weight capacity, I would suggest contacting the seller.
Benefits of Using a Recumbent Bike
Let's take a closer look at how recumbent bikes can be beneficial to you as a home exercise machine and why you might consider adding one to your workout regimen.
1. Effective Cardio Machine
The indoor recumbent exercise bike is every bit as effective as an upright exercise bike or treadmill. Depending on your weight, workout intensity level and metabolism, you could burn anywhere from 400 to 500 calories or more in a given hour.
For example, a user weighing 150 pounds could burn up to 350 to 400 calories in a 30-minute workout session.
It is important to note that the recumbent bike is also very beneficial in strengthening your cardiovascular system and building a strong and healthy heart for overall health benefits.
2. Muscle Development & Blood Circulation
The recumbent exercise bike has adjustable resistance levels which make it possible to increase or decrease the intensity of the exercise and result in more or less muscle activation. By increasing the tension level you will force your leg muscles to work harder, resulting in increased muscle cell activation which can lead to stronger and firmer leg muscles.
Whether you increase the tension for more muscle activation or decrease the tension for a greater cardio effect, both will increase the blood circulation in our legs and overall body for that matter.
Good blood flow in your legs is especially important as you get older, making this machine a great choice for seniors.
3. Easily Adjustable Tension Levels – Programmable Displays
You can easily adjust the tension level on these bikes with a simple turn of a control knob or lever. Or on the more advanced models, with an electronic keypad or LCD screen.
Some recumbent bikes even come with programmable computer screens to tailor your own workout routine. In addition, many bikes also come with pulse readers (to show your heart rate), calories burned counter display, time exercised, and distance counter.
Each bike generates friction and resistance with various built-in resistance controls and mechanisms. However, most resistance levels regardless of type can be easily adjusted with a simple turn of a nob or lever adjustment.
4. Perfect Bike for Seniors (Safe Design, Added Back Support)
The construction and design of the recumbent exercise bike make this cardio machine a perfect choice for all ages and body types, especially seniors.
The low seat with backrest makes it easy to get on and off the bike and provide for added back support when workout out. Compared to the upright exercise bikes or treadmill machines, the recumbent exercise bike is much safer and thus injuries are close to none.
5. Low Noise Levels (Whisper Quiet and Smooth Operation)
With all the advancements in technology over the years, the noise levels for these indoor exercise bikes have dropped tremendously. The newer whisper-quiet flywheel construction and friction-free magnetic-based resistance controlled bikes provide a whisper-quiet experience.
So if you live in an apartment or work the late shift, or just have the urge to hop on your bike for a workout while everyone else is asleep, you can rest assured that no one will hear you.
6. Indoor Cycling – Rain or Shine
Besides a smooth and whisper-quiet ride, you can now ride your indoor recumbent exercise bike regardless of weather conditions or time of day.
Whether rain or snow, cold or hot, or just too late at night, there are no more excuses not to ride.
Just throw on something comfy, put on some headphones, or turn on your TV and start pedaling. It's that easy.
7. No Impact
Recumbent exercise bikes are no impact cardio exercise machines. This is great for users with knee issues or even back problems. And with the added backrest, this machine provides for even more back support.
8. Affordable
Recumbent exercise bikes come in many different designs and features. The high-end bikes can be very expensive, however, with so many bikes now being produced with better technology and magnetic-based resistance, prices have come down tremendously. Even for these bikes.
Perhaps we should take a quick look at the different types of resistance available and which are the better option.
Recumbent Exercise Bike Resistance Types
There are 4 types of resistance available when choosing a recumbent exercise bike. The last two resistance types below are considered old technology and are pretty much only seen on older models, or in some cases very cheap exercise bikes.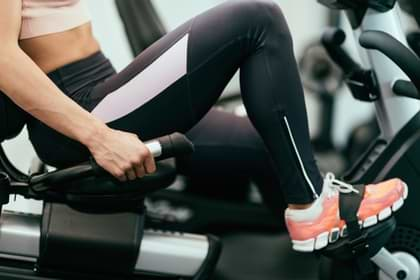 The newer technology, being the magnetic-based resistance has been around long enough for prices to be much lower than they were years ago when the technology was still new. For this reason, I have only included the magnetic-based bikes in our top 5 list of best recumbent exercise bikes.
Nevertheless, for informational purposes let's take a quick look at each technology and educate ourselves on the functionality of each and how they differ.
1. Magnetic-Based Resistance
Magnetic-based resistance is the most popular and the newest technology used today. This resistance is noise-free since there is no direct contact to create friction to produce various tension levels. This technology provides for less maintenance and wear and tear on the braking system and whisper-quiet operation.
Basically, two magnets are positioned on both sides of the flywheel. Much like the brakes on a bicycle. The closer these magnets are pushed toward the flywheel, the more friction is generated. Thus, the more difficult it becomes for you to operate the pedals.
Newest technology – whisper-quiet operation and very low maintenance.
Conversely, the more you move the magnets apart, or away from the flywheel the harder it becomes to pedal. You can control these tension levels by simply turning a knob or by pushing a button or selecting keys on an LCD or computer display.
2. Fan-Based Resistance
With fan-based exercise bikes, resistance is generated by the air friction of the fans. The greater the speed and force the more resistance is created when pedaling.
Recumbent exercise bikes typically are not designed with fan-based resistance. You use fan-based resistance mostly with cross trainer bikes and upright exercise bikes.
3. Direct-Contact/Brake-Based
Brake-based resistance is very similar to your ordinary bicycle braking system. Pads are positioned on either side of the flywheel or in some cases above the flywheel and have direct contact with the flywheel.
When you add pressure to the pads, much like you would apply your brakes on a bike, you are creating direct friction to generate resistance. So the more you push these pads against the flywheel, the harder it becomes to pedal.
4. Strap-Based
Strap-based resistance is the oldest technology of the four resistance types. You use straps or belt mechanisms on these exercise bikes to control the resistance. You generate resistance by tightening these belts or by direct pressure on the belt or strap.
The drawback to this technology is greater wear and tear and thus increased maintenance and replacement parts.
What to Look for in a Recumbent Cycle
If you are seriously considering investing in a recumbent exercise bike it is important that you buy a quality bike that will fit your fitness goals and expectations. We have listed a few important factors to take into account before making your purchase.
After all, making the right decision the first time will save you a lot have headaches later. There is nothing worse than being dissatisfied with a product and having to return it to the seller.
That said, let's take a look at our list.
1. Construction
Your recumbent bike must be sturdy enough to support your weight. The bikes on our list are constructed with heavy-duty and high durability steel with a maximum weight capacity of 300 pounds.
Easy to use seat or backrest adjustments are also important to meet your type. Whether short or tall, being able to reach the pedals is important for a successful workout.
2. Comfort and Usability
Since this exercise machine is performed in a seated position, it is important that you have a well-cushioned seat and backrest. Uncomfortable seating can cut your workout short and deter you from using your recumbent bike as much as you'd like.
Seats and backrests for the recumbent bikes in our list are mostly oversized and very well cushioned. Many are designed with high backrests and vented seats.
These recumbent bikes are also designed with an easy step-thru feature that makes getting on and off the bike an easy for anyone.
3. Performance
Resistance is probably the number one factor when it comes to measuring the performance level of these bikes. Being able to adjust the resistance levels is like riding a bike on various inclines. So the more resistance or tension levels you have available on your recumbent bike the more options you have to make your workout intensity feel like the real deal.
Our recumbent exercise bikes come with the best magnet-based resistance and range anywhere. From 8 resistance levels on some bikes, and up to 25 levels of resistance on other bikes.
Smooth torque cranking systems and precision balanced weighted flywheels provide for smooth consistent pedaling and whisper-quiet operation.
4. Technology
Technology has come a long way. Thus, depending on make and model you can go from a single LCD display reading to a dual console color monitor. And with multiple readings displayed at once. For the adventurous, some LCDs will even connect you with other users via Apps. These apps let you see the world as you virtually ride along with other users in real-time.
The basic readings on most recumbent exercise bike's LCD monitors are heart rate, speed, calories burned, and time. Some offer multiple preset workout programs, custom, multiple profiles, fitness test, and quick-start to name a few.
Some additional features you may see on these models are built-in fans, speakers, and media player audio inputs. But also USB for charging devices, and media trays to hold tablets without blocking your main LCD.
How to Use Your Recumbent Bike for Best Results
After you've decided which bike is best suited for you and your bike has been delivered and set up, you may be wondering…what next?
The first thing you should do is read all the instructions on how to use the bike. That would include how to adjust and save settings and read the LCD, and where to adjust the intensity levels and seat position. And most importantly read the included safety instructions.
Getting Started
Now you are ready to start your first workout session.
First set the seat to the correct position so your legs can reach the pedals comfortably. Next, set the resistance level to the lowest level. Pedal for a few minutes to get the feel of your bike.
Now it's time to test the various resistance levels and get familiar with how each intensity level feels so you'll know going forward.
When it comes to using a recumbent bike for cardio exercise, there are basically two ways to make progress over time. One is increasing the tension by changing the resistance levels. While the other is by increasing your workout time.
For seniors and beginners, I strongly suggest you use a lower tension and concentrate on gradually increasing your workout time. Begin with a 10-20 minute routine and gradually work your way up. Over time, you can start to drop your workout time and increase the resistance level.
Your display will show your heart rate, workout time, and speed. And it is especially motivating to watch how many calories you are burning while cycling.
As a beginner, and especially for seniors, make sure to consult with a medical professional before operating this cardio machine.
Also, be sure to check all the literature that comes with your new recumbent bike for workout instructions and safety precautions.
Final Thoughts
Recumbent exercise bikes are very effective workout machines for building a strong and healthy heart, increasing blood circulation, strengthening your legs and core muscles, and burning off extra calories.
Recumbent bikes are very popular among senior citizens. That is because the design makes it so easy to get on and off the bike. Nonetheless, it is also very popular with beginners to advanced level fitness enthusiasts and professional athletes as part of their cardio workout routines.
I hope my article "5 Best Recumbent Bikes for Seniors Who Exercise at Home Review" has been a helpful resource.
If you found this article useful, feel free to share us on social media or with a friend.
I wish you all the best and stay healthy.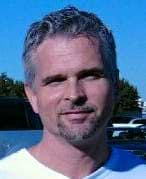 With over 30 years of experience in strength training and fitness, Mark LaRue is the founder of Fitness Mastered, a blog to help educate fitness enthusiasts of all fitness levels, ages, and gender. We write topics that range from weight training tips and exercise routines to home workout machine and fitness related product reviews, to name a few.