In the following review I will compare 6 of the best fitness suspension training straps available online. These suspension trainers are ideal for working out at home and will provide you with a full body workout without having to use any weights.
You will find various brands of fitness straps that are not only very functional and effective suspension trainers, but are also top quality and long lasting straps you can rely on for a successful workout experience.
Our two most highly rated and most dependable brands are the ever so popular TRX and with good reason, but coming in a close second I would also recommend The Human Trainer fitness straps.
TABLE OF CONTENTS
What Is the Best Suspension Training Strap?
Our 6 Best Fitness Suspension Training Straps for Full Body Workouts
25 Best Suspension Training Strap Exercises
14 Benefits of Using Suspension Training Straps
Suspension Training Straps vs Resistance Bands – The One Major Difference
Summing Things Up
Here is a quick overview of brands we have compared in this review:
The Human Trainer Suspension Straps
Lifeline Fitness Straps
TRX Pro3 Suspension Straps
Comcor Suspension Bands
Household by Seaag
Leofit Suspension Trainer Straps
What Is the Best Suspension Training Strap?
Suspension training straps are designed to use your body weight as resistance to perform literally hundreds of bodyweight exercises at home, outdoors, or on the go.
The best suspension training straps consist of a combination of durable and adjustable straps with handles and foot cradles. These straps should easily support your bodyweight, and the handles should not only offer a good solid grip but should also allow you to easily fit both feet with or without shoes.
Any good suspension band should also include multi anchoring solutions so you can workout just about anywhere. Fitness straps truly are the perfect travel companion on the go.
Suspension straps will help you lose weight, strengthen and tone muscles, improve your balance, enhance your flexibility, and are also great for stretching.
No other exercise machine or resistance bands offer the amount of flexibility and workout options from so many different angles than do fitness suspension straps.
Below are 6 of the best suspension training straps we could find available online. Compare the features for each and find which fitness strap is best for you.
Our 6 Best Fitness Suspension Training Straps for Full Body Workouts
I have chosen the following fitness suspension training straps based on quality, ratings, customer feedback, and any other outstanding features that might make it unique from other fitness straps on the market.
#1 The Human Trainer Suspension Bands
Editor's Choice for best suspension trainer!
Various add ons and accessories: Though not as popular as the TRX brand suspension training straps, the HT is also an industrial-strength suspension trainer with loads of features and various kits, add-ons, and accessories that TRX does not offer.
3 kits to choose from: A great choice for beginners to intermediate is the Essential Kit or Rotational Pulley Kit. You could buy one or the other and then gradually build up your kit with additional accessories, or just go all out and go straight for the Master Kit.
You can check out all 3 kits at The Human Trainer.
See just how versatile the HT Suspension Bands are in this short demonstration video!
The Human Trainer Suspension Gym
Key Features
2x main suspension straps & integrated door anchors
2 short-versatility anchors with integrated door anchors
2x integrated foot cradle handles
1 user manual
1x mesh carry bag
one DVD
---
#2 Lifeline Jungle Gym XT Suspension Trainer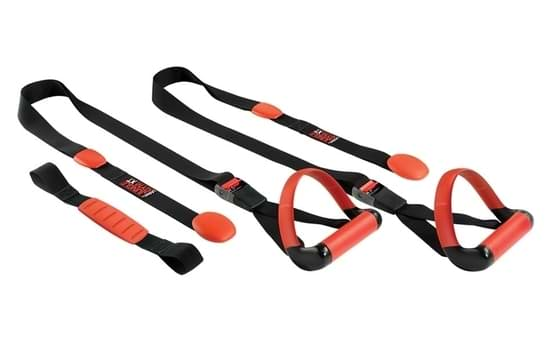 Best bang for your buck!
Great bargain: The Lifeline XT does not have all the extra features of the Human Trainer, but will support all workouts for fitness enthusiasts of all levels from beginner to advanced at only a fraction of the cost.
However, don't be fooled by the bargain price. These fitness straps are industrial strength with commercial-grade construction and materials.
Easy adjustable 8' suspension strap with optional 8' extension: Each 8 foot strap is easily adjustable to the length you desire for various workouts and comes with both hand grips and foot cradles. Additional 8 foot extension straps can be purchased to attach to tall ceiling beams or higher attachment bars.
Split anchor design: Suspension straps can be used in a traditional V-shaped configuration or separately in a vertical orientation to any width you desire such as used in many CrossFit exercises.
To learn more about the Lifeline XT watch the following demo video:
LifelineUSA Jungle Gym XT: A Product Introduction
Key Features
2x integrated easy-wipe handles & foot easy-in-fool cradles
2 carbon-fiber cam buckles for inline adjustments
2x door anchors with adjusters
1x wall poster
---
#3 TRX Pro Suspension Trainer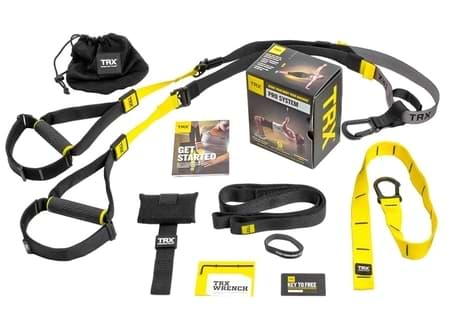 Our 2nd best suspension training straps!
The industry leader: If you're not familiar with TRX, they are currently the most sold and talked about brand on the market today. TRX is basically synonymous with suspension training straps and has made itself a household name in the fitness industry.
At home or on the go: TRX not only offers a top quality product, but also gives you all the necessary tools for a successful bull-body workout leaving your home. Of course, with the easy portability of these bands you can take them outdoors or on the go just about anywhere.
So, why did I choose TRX to be second best suspension exercise straps? Well, besides being the most reputable company in the industry and one that stands behind their product in every way, the quality, features, and support are very impressive.
Huge online community: Not only do you get a great product, but also a huge online following and community where you can get help and share your progress with real people and world-class coaches. Last time I checked, TRX was offering 3 months free to their TRX APP.
Find out more about the TRX suspension exercise straps below.
Key Features:
Integrated handles & foot cradles
Indoor & Outdoor anchors
Free 3 month App and Guide
Training Poster
Mesh Travel Bag
---
#4 ComCor Suspension Straps
Similar to Lifeline, the ComCor suspension trainer has a single point and a double point anchor system. This adds more exercise variations but also helps prevent arm chafing when performing certain exercises such as pushups or dips.
The Comcor fitness straps have a larger range of adjustments and can easily attach to a door, or be used outside on a tree limb, utility pole, support beams, and more.
Key Features
2x suspension training straps
2 foam grips with foot cradles
2x door anchors
1x attachment strap
Strong 4" Carabiners & super strong cam buckles
1 storage bag
---
#5 SEAAQ Suspension Straps
The SEAAQ suspension exercise straps are a single point attachable kit that will withstand a weight up to 660 lbs and can be adjusted from 47" up to 71' for tailored exercise routines.
The included connection belt and door rope anchor make it easy to workout indoors but also attach the fitness straps to many other structures outdoors.
Key Features
1x single attachment suspension straps with handles & foot cradle
Adjustable from approx. 47" to 71"
Maximum load 660lbs
1x extension strap
1 door stop rope anchor
1x connection belt
1 Travel bag
one instruction manual
---
#6 Leofit Fitness Straps
These suspension training straps by Leofit are made of durable polyester that can withstand a maximum weight capacity of 660lbs.
Unlike our previous kits, this suspension training kit only offers a single point attachment and a door anchor. Though this may not be a deal-breaker, it is important to be aware of.
Key Features
One set of training straps with single carabiner attachment (adjustable: 45" to 65")
1x Xtender strap (35")
1 door rope/anchor (12")
1x suspension anchor (35")
1 mesh carry bag
---
25 Best Suspension Training Strap Exercises
If you're looking for a great workout routine using suspension exercise straps, here are 25 exercises for upper body, lower body and core muscles for a full body workout.
This demo is broken down into 5 lower body, 5 upper body push, 5 upper body pull, 5 core, and 5 cardio exercises.
THE 25 BEST TRX EXERCISES!
14 Benefits of Using Suspension Training Straps
Strengthen and tone muscles
Improve cardiovascular health
Cardio exercise for weight loss
Full body workout
Improve flexibility with stretching exercises
Full body workout
Functional training
Unilateral training
Low impact exercise
Improves balance & coordination
Literally hundreds of positions and angles to train from
Can be used anywhere, indoors and outdoors
Extremely portable and easy to store
Suitable for all fitness levels and age groups
Suspension Training Straps vs Resistance Bands – The One Major Difference
One last thing and a very important fact to know about the suspension straps vs resistance bands.
There is nothing worse than purchasing a product and thinking it will do something it will not. So before I leave you today let me at least explain the one major difference you should be aware of before making your buying decision.
Suspension straps are not designed to flex and provide resistance. These fitness straps are typically made of industrial-strength material designed to support your body weight for exercising and stretching.
Suspension trainers are ideal functional training devices that literally provide you with hundreds of ways to suspend and position yourself at various angles for limitless exercises.
Resistance bands, on the other hand, are flexible bands that are not used for suspension exercises and come in various resistance levels from 5 lbs up to 200 lbs or more when stacked.
These bands provide various tension levels to modify the amount of resistance required for a specific exercise. They are typically used to directly target certain muscle groups, but can also be incorporated for compound exercises.
Simply put, resistance bands stretch to generate various resistance levels, and suspension straps do not stretch and use only your body weight as resistance.
Summing Things Up
With all the benefits suspension training straps have to offer, it is clear why these training kits have become so popular. There are really very few alternatives available that will offer you all the exercise variations and flexibility these straps can offer in such a small package.
I have compared some of the best fitness suspension training straps I could find available online. Now it is up to you to decide which is the best deal for you, so you too can experience all the advantages of suspension training.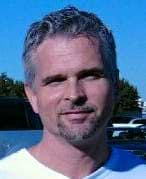 With over 30 years of experience in strength training and fitness, Mark LaRue is the founder of Fitness Mastered, a blog to help educate fitness enthusiasts of all fitness levels, ages, and gender. We write topics that range from weight training tips and exercise routines to home workout machine and fitness related product reviews, to name a few.