In today's review, I will examine 6 of the best door gym resistance band door anchor systems for exercising at home you can buy online. You can compare product features as well as resistance levels, functionality, workout options, and more.
Without a doubt, one of the most versatile pieces of exercise equipment on the market today is the door anchored resistance band workout system which provides an easy way to exercise from your own home while also providing you with a full-body workout.
These door exercise resistance bands are a must-have for anyone lacking the space for a workout machine in your home or apartment but still give you all the same benefits at only a fraction of the cost.
You can work out your upper body, your core muscles, and your lower body to tone your muscles while at the same time burn off some unwanted fat.
So without further ado, let's move on to our best door resistance bands review and buyer's guide.
Table of Contents
The Advantages of Door Attachable Resistance Bands
Door Resistance Bands Safety Precautions
Important Features to Consider in a Doorway Resistance Band & Door Anchor System
Which Door Exercise Bands Are Right For You?
Final Thoughts
The Advantages of Door Attachable Resistance Bands
Most full-body workout machines can cost upwards of a thousand dollars and weigh hundreds of pounds. Assembly of these machines is a task in itself and usually requires a professional to do the job.
Furthermore, unless you have a dedicated exercise room, it may be difficult to find a location in your home with enough space to accommodate such a machine.
On the other hand, space is not an issue with the doorway resistance band anchor system. Assembly is as easy as finding a door and with some easy-to-install door attachments, you will be up and running in no time flat.
The Bodylastics and the AllvodesBands require no assembly at all and are extremely portable. This means you can use them at home but also take them on the go to attach to any door in a matter of seconds with the resistance band door anchor for a quick full-body door workout.
Our 6 Best Door Gym Resistance Bands with Door Achor Attachments
#1 AllvodesBands

(Editor's Choice)

– With Door Anchor
#2 Body By Jake

(Runner Up!)

– With Door Attachments
#3 The Bodylastics – With Door Anchor System
#4 Weider X-Factor Door Gym – With Door Attachments
#5 Gold's Gym Home Gym – Door Attachments
#6 ProForm CrossCut Door Gym – Door Attachment
Best Doorway Resistance Bands for Home, Dorm, and Office
Resistance bands have come a long way in the fitness community and are widely accepted as a very effective method of training. So much so that you will find a large variety of resistance bands available in almost every fitness studio across the country.
At the same time doorway resistance bands, also referred to as resistance cords or resistance tubes, are becoming more and more popular as a full-body home workout training system.
With its versatility and great functionality, effectiveness, ease of use, and affordability, one can see how the resistance band door gym has become so popular for home, dorm, and office use.
Editor's 6 Best Doorway Resistance Band Door Anchor Systems Review
Hopefully, the following review will help you make a more informed decision and help you find the best door gym resistance band full-body workout system right for your fitness goals. We have chosen what we believe to be the best door workout bands based on quality and effectiveness, as well as functionality, versatility, affordability, and more.
#1 AllvodesBands Resistance Bands with Door Anchor
(Editor's Choice)
Best Bang for your Buck – Resistance Bands with Door Attachment!
Mounts in seconds! Ideal for Home & Travel.
I have chosen the AllvodesBands resistance bands as one of my favorites based on quality, affordability, and ease of use.
Attaches instantly to most doors (over the door, under, and sides).
The great advantage of having the door anchor is that you can instantly attach your resistance bands to just about any door and any position. Position the door anchor over the door, under the door, or any position up or down the sides of the door to better fit your workout routine.
150 lbs & 250 lbs of Stackable Resistance Available
With a total of 150 lbs of stackable resistance (also 250 lbs Available), you can do more than 150 different exercises to work every muscle group quickly and effectively. Bands come in the following color-coded sizes:
Yellow: 10lbs
Red: 50lbs
Blue: 20lbs
Green: 30lbs
Black: 40lbs
Turn your bands into the perfect door home gym!
These bands can be used independently or stacked, and with the resistance band door attachment, they can be mixed and matched to get the perfect full-body workout.
What you get:
5x tube resistance bands
2x single handles
1x double handle
1x door anchor for door workouts
2x ankle straps
1x carry bag
I also recommend Clench Fitness Bands – they use extremely durable heavy bands with extremely versatile handles. They attach to doors, trees, posts – just about anything. And exercise options are limitless. Check them out here!
---
#2 Body By Jake Tower 200 Door Gym

(Runner Up)
Runner Up – Resistance Bands with Door Attachment.
The Body by Jake Tower 200 door gym is slightly different in design from both prior door workout bands. This design attaches to the top and bottom positions of your door with a support frame made of steel for extra stability and structural integrity.
The frame is equipped with padding that prevents it from scratching or damaging your doors.
The top framework also has built-in adjustments to raise or lower the handle position to accommodate your height or workout of choice and can be used to tighten or loosen the slack or even the resistance in the bands.
The Body by Jake Tower 200 easily slides onto almost any home, dorm, or office door for a quick and effective full-body workout.
The included 6 multi-tension power cords provide a total of 200 pounds of resistance to accommodate most fitness levels. This means 50 lbs of resistance per handle for a 4-handle system, where two handles are positioned at the top and two ankle straps at the bottom of the door.
There is a color-coded system to distinguish between the three different resistance cord tension levels to help set your workout intensity. You can use up to 3 pulleys per handle and if needed you can purchase stronger cords separately.
This device comes with a framework, two ankle straps, color-coded elastic fabric bungee resistance cords, and a workout chart with isolation exercises you can follow to get started immediately.
Tips and Suggestions for the Tower 200
Even though the steel frame comes pre-padded, I would suggest adding additional padding to prevent scratches with prolonged use.
Assembly is easy, but the equipment is rather bulky for easy transport or taking on trips. So if you plan on frequently moving this device to other locations, you may want to check other options.
Add-ons: For more exercise options and intensity, you can purchase the Tower 200 straight bar or add the Tower 200 40-pound power cord to up your game.
If you are looking for the best door gym that has more options, features, and especially offers replacement cords and extra accessories, I would suggest the Tower 200.
---
#3 The Bodylastics Military Ready Warrior Door Exercise Bands with Door Anchors
If Bodylastics is sold out, then AllvodesBands is an excellent alternative.
The Bodylastics is somewhat different than the other doorway resistance bands in that it offers more versatility, more exercise options, its own patented anti-snap safety feature, and two separate weight classes to choose from.
The ONLY anti-snap design that protects you in 3 ways.
What makes this set so versatile is that you can use it with or without the door anchor. The included band barrier is made to protect the resistance tube so you can safely stand on the bands. Without damaging them. This will allow you to perform extra freestyle exercises.
In other words, you are not restricted to only using a door for your exercise routines. Thus adding many more exercise variations to your workout routine.
Bodylastics offers a Max XT Edition which is a 15-piece set and 156 lbs of stackable resistance. But also a 22-piece Strong Warrior XT Edition with stackable 262 lbs of resistance.
The Max XT comes with 6 clip-on anti-snap and stackable resistance tubes ( 3 lb, 5 lb, 8 lb, 13 lb, 19 lb, and 30 lb).
The Strong Warrior XT Edition comes with 8 door exercise bands ( 3 lb, 5 lb, 8 lb, 13 lb, 19, 23 lb, 30 lb).
Each band has a clip on each end to clip one end to the door anchor and the other end with a handgrip or ankle strap. Or you can perform exercises using both hands simultaneously. To do this, simply thread the tube through the door anchor and attach the handgrips to each clip.
2 Door Gym Options Available
The 15-piece Max XT Edition comes with 6 continuous dipped anti-snap bands, 2 handles, 2 ankle straps, 1 door anchor, 1 small Anywhere Anchor, 1 band barrier, 1 carrying bag, printed instructions with 34 exercises, and a lifetime warranty.
The 22-piece Strong Warrior XT comes with 8 continuous anti-snap bands, 4 heavy-duty handles, 4 heavy-duty ankle straps, 2 heavy-duty door anchors, 1 band barrier, 1 heavy-duty small Anywhere Anchor, printed instructions with exercise routines, one digital camouflage duffle bag, and a lifetime warranty.
An important safety feature most other brands do not offer is that each band comes with anti-snap DGS Technology (Distance Governor Safety Technology).
This patented snap guard technology prevents the user from stretching the band beyond the point of damaging the elastic.
Basically, a strong inner line has been added to each resistance tube that will stop you from stretching each band beyond its breaking point. Thus, preventing damage to the cord over time. And if the band should break for whatever reason this technology will prevent the band from snapping back and injuring the user.
Tips and Suggestions
You must use door anchors on the hinge side of any door. If you do use it on the opening side of the door make sure to lock the door to prevent the door from opening or being opened.
If you do not have the option to lock the door, I would suggest using the side of the door that swings away from you. In other words, if you can pull the door open from the side you are working out on, then you are on the wrong side of the door.
#4 Weider X-Factor Doorway Resistance Bands
The X-Factor Door Gym total body workout system is the ultimate resistance band exercise equipment. These door workout bands easily attach to each corner of almost any standard door for an unobstructed range of motion and endless workout possibilities. This simple yet very effective device will leave no muscle untouched.
Its unique design offers variable resistance options from light resistance for toning to heavy resistance muscle-building workouts. The three rubber resistance tubes are 15, 30, and 60 pounds for both top and bottom and can be stacked on each side for a total resistance of 105 lbs. This offers more than enough resistance for even the hardcore fitness enthusiast. In other words, if for example, you were using a straight bar attachment the total resistance would equate to over 200 pounds.
Includes exercise chart with over 50 upper & lower body sculpting exercises, 6 strong rubber tubes up to 210lbs resistance, 2 ankle straps & 2 handgrips, 4 connection clips, 3 workout DVDs, and 8-week nutrition guide. The bar is sold separately.
The Weider X-Factor door gym includes an exercise chart with over 50 body sculpting exercises to follow, 3 workout DVDs, and an 8-week nutrition guide. Definitely, great additions to get you started immediately and help you reach your fitness goals quickly and effectively. This device also comes with 6 rubber resistance tubes, 2 hand grips, 2 ankle straps, and 4 connection clips, one for each corner.
Door Gym Tips and Suggestions
Make sure you have some space between your door and the door frame for easier installation.
If there is limited room on the bottom, rather than hooking the anchors directly under the designated corner, try sliding each bracket from the open end into position.
The Weider X-Factor is built with quality parts, has a limited lifetime manufacturer's warranty, and is very affordably-priced.
#5 Gold's Gym Home Gym Total Body Door Resistance Bands
The Gold's Gym Total Body Door Gym is another inexpensive and very affordable way to get a complete workout at home without compromising living space. Though this machine runs only about half the price tag of the Weider X-Factor door workout bands, it does come with more limitations. So depending on your fitness goals this may or may not be an adequate piece of equipment for your needs.
Rather than a four-bracket system that attaches to each door corner, these door resistance bands attach to the center, top, and bottom, part of the door. This feature may benefit those who have doors that lack enough space at the corners, between the door and the frame.
This system comes with 4 resistance bungees, 2 padded handles, 2 ankle straps, padded door brackets, a workout DVD, and an exercise chart. You can adjust the resistance by combining these door exercise bands or stepping further away from the door.
The Gold's Gym resistance band door gym is a total body workout system that is quick and easy to install and can be easily moved to a new location without much effort.
#6 ProForm CrossCut Door Exercise Bands
This doorway resistance band system comes with four resistance tubes positioned with the "X" design with corner attachments. Each corner, upper and lower, will connect to resistance tubes with pulleys used with connection clips to attach to either hand grips or ankle straps. You can attach clips to multiple pulleys, or cords, to increase resistance.
The ProForm Crosscut is another low-cost door gym that provides countless exercise opportunities while also saving valuable space. The Crosscut is quick and easy to install and comes with two handles, two ankle straps, 4 clips to attach to the pulley system, 2 DVDs, and a large exercise chart.
It is important to note with only four resistance cords, two for each pulley system, and a total of 250 lbs of dynamic resistance, this machine may not offer enough resistance variations and opportunities to accommodate all fitness levels.
Door Resistance Bands Safety Precautions
One of the top concerns most users have is how safe it is to use these door exercise bands and if they snap easily. This is, of course, a valid concern since resistance bands can snap under certain conditions, although only in rare cases.
Resistance bands are commonly made of either rubber or latex rubber, an elastic fabric similar to bungee cords or braided elastic, or a combination of both. The strongest and safest bands are the tube resistance bands made of braided elastic fabric similar to a bungee cord. Latex rubber bands are more easily damaged and have a higher risk of cracking or snapping under excessive pressure. I would also recommend you avoid latex rubber resistance bands if you have an allergic reaction to latex.
It is important to note that latex rubber tube resistance bands are still much stronger and safer than flat latex bands, but are still not as strong and durable as other elastic braided bands and thus can be more easily damaged.
All of our door workout bands in this review are tube resistance bands. The Gold's Gym Door Gym and Tower 200 are made with bungee cords. And even though the Bodylastic Resistance Bands are rubber on the outside, they offer an anti-snap technology that prevents the tube from snapping. The inner core of each tube has a strong elastic fabric which stops the user from overstretching the tube and also prevents the tube from snapping.
Door Resistance Bands Safety Tips and Suggestions
The following tips and suggestions will help make using your door resistance bands safer while also helping keep you from damaging your bands and making them last longer.
Avoid using a knife or box cutters when unpacking any new door gym. Any small nick or cut into the bands will weaken the bands and can cause them to snap.
Thoroughly check all door exercise bands for any damage after unpacking and before using them for your workout. Never use a band that is cracked, nicked, cut, frayed, shows discoloration, or otherwise shows any damage.
If you are using door anchors make sure the anchor material is not frayed or worn. After prolonged use door anchors can break. Replacement door anchors can be easily found on Amazon and are very affordable.
Probably the number one mistake made by users is overstretching the resistance cords. Overstretching will not only weaken the band's intensity over time but can also cause the bands to snap. The Bodylastics has a built-in patented anti-snap guard technology to prevent this.
Always check for warning labels and manufacturer safety instructions. Read the user guide for additional tips on how to use the equipment properly and safely.
Important Features to Consider in a Doorway Resistance Band & Door Anchor System
Band Resistance Levels
Doorway resistance bands have varying degrees of resistance. The total pounds of resistance is determined by the number of resistance bands and the resistance pounds for each band. Adjusting your pounds of resistance is as easy as swapping over to another resistance band or stacking your door exercise bands to increase the pounds of resistance.
Consider resistance bands that will meet your level of workout intensity and workload. Also, leave yourself room for progress. As you become stronger, you will require the flexibility to add more resistance to your exercise routines. Thus, making sure your door gym includes enough resistance or at a minimum can be upgraded by adding or replacing bands is an important feature to consider.
Replacing and Upgrading Door Exercise Bands
Always make sure, especially with higher-end doorway resistance bands, that the manufacturer offers replacement bands. This is not only important for upgrading to stronger bands when needed but more importantly to replace any bands should they lose resistance or wear out or even break over the years. If you are a power user this is definitely something to consider.
Door Gym Attachments
Depending on which door resistance bands you are using, there are two door attachment options. There is a strong fabric door anchor that will easily fit any door type and is small enough to take along on a business trip, vacation, to your hotel room, office, or dorm. Within seconds, you can securely place this door anchor between the door and the door frame for a full-body workout.
The second type of attachment is with metal door brackets. Even though you can move these door gyms to other doors, it is better you use them in one location only. These brackets attach to either each corner of a door or to the middle section of the top and bottom part of your door. Before considering these attachments, it is important that your door has ample space between the door and the frame to install these brackets. Most doors offer enough space for these attachments without any issues.
Which Door Exercise Bands Are Right For You?
Obviously, there is no one-size-fits-all when it comes to these door gym resistance band anchor systems. It ultimately boils down to your strength and fitness goals. If you are looking for something simple, with light to medium resistance for body toning, then maybe one of the less expensive models such as the 150 and 250 lbs AllvodesBands resistance bands with door anchor, the Gold's Gym Door System, the ProForm Crosscut Door Gym, or the Bodylastics 15 Piece may be the right fit for you.
If however you are more of a power user and would like more workout options, more resistance levels for both lightweights and heavyweights, more extras, and more features, then you may want to look at the Weider X-Factor Door Gym, the Body by Jake Tower 200, or the Bodylastics 22 Piece door anchor system.
Final Thoughts
Door exercise bands have been proven to be very effective resistance band full-body workout systems. With its simple design, you can easily attach these resistance bands with metal brackets to a door. Or use door anchors to transform most doors into a full-body workout system.
If you are looking for a home gym that is low cost, lightweight, easy to install, takes up zero space in your home, offers a huge array of exercise options, and is very effective at toning your body, then the door gym resistance band anchor system is by far the ideal piece of equipment to own.
We believe our top 6 door exercise bands to be of high quality and very effective door exercise bands for all fitness enthusiasts. Hopefully, this article has helped you better understand the benefits of each door gym, the safety precautions to be aware of, and the differences and options you have to best fit your fitness level and fitness goals.
You may also be interested in glute resistance bands to build curvy glutes.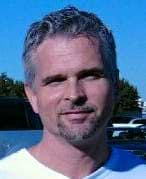 With over 30 years of experience in strength training and fitness, Mark LaRue is the founder of Fitness Mastered, a blog to help educate fitness enthusiasts of all fitness levels, ages, and gender. We write topics that range from weight training tips and exercise routines to home workout machine and fitness related product reviews, to name a few.