In today's post, we have decided to review what we believe to be the 13 best adjustable kettlebells and adjustable kettlebell handles for you to use at home. Our review aims to help you quickly find the ideal adjustable kettlebell or kettlebell handle by comparing various features that make each so unique.
A better alternative to owning multiple kettlebells would be to own an adjustable kettlebell to save you space and money!
There are many benefits to owning an adjustable kettlebell. Kettlebells have become very popular and have even replaced the dumbbell for many different exercises.
Most fitness centers will have multiple kettlebell weights lined up on a rack, ranging from 5lbs up to as much as 50lbs or more. However, for many of us who work out from home, owning that many kettlebells would not only be expensive but would also take up quite a lot of space.
That's where our adjustable kettlebells come to the rescue. One adjustable kettlebell can replace up to 5 or more kettlebells. Therefore, two adjustable kettlebells would replace up to 10 or more kettlebells. You get the picture.
In this review, you will find kettlebells such as the lighter weighted 5-12lb Empower, the medium ranged 10-40 lbs Titan Fitness, and up to the heavy-duty 5-100lb Kettlebud adjustable kettlebell handle. I have also just recently found some kettlebell handles that can support over 500 lbs.
These adjustable kettlebells and handles are much more convenient than your traditional kettlebell and will save you not only money but without a doubt much floor space as well.
TABLE OF CONTENTS
What are Adjustable Kettlebells & Kettlebell Handles?
More Recently Found Adjustable Kettlebell Handles
Features to Consider when Shopping for the Best Adjustable Kettlebell
What are the Benefits of Adjustable Kettlebells?
Frequently Asked Questions
Closing Remarks
What are Adjustable Kettlebells & Kettlebell Handles?
From beginners to advanced fitness enthusiasts and bodybuilders, adjustable kettlebell weights are the perfect addition to your workout routine and home gym. Kettlebells rank up there with dumbbells and are among the most versatile weights one can use for any full-body workout routine.
Kettlebells can be used for upper body exercises to strengthen, tone, and build muscles in your arms, shoulders, back, and chest. Additionally, they can be used to strengthen your core muscles such as abdominals and lower back. Furthermore, if you're looking to build bigger glutes, or strengthen your leg muscles, kettlebells can be used for that as well.
Adjustable kettlebells are extremely versatile and there really is no limit to how many various exercises you can perform using them.
Adjustable kettlebells come in various sizes and weight increments. Most start at 5lbs and can be adjusted up to 40lbs. This gives you great flexibility to adjust your weights to fit a wide variety of exercises. Similar to weight machines, you can add or remove weight as you need.
Adjustable kettlebell handles can be used to create your own weight increments so you can tailor your workout intensity to the exact amount of weight you require. Use weight plates you already own or buy the weight increments that suite your specific fitness level.
Quick Product & Feature Comparison
The following is a quick feature comparison of all adjustable kettlebell weights in our top 13 list below. All kettlebells use solid interchangeable weights except for the Hyperwear SoftBell which uses soft neoprene bags filled with steel shot similar to sand.
Titan Fitness


Best Adjustable Kettlebell Overall

Natural Feel & Look; 10-40 lbs; 7-in-1; easy adjustable.
Kettlebell Kings


Best Competition Style Kettlebell

Competition Style; 26-70 lbs; solid shell; feels natural.
PowerBlock 2nd Gen


Best Quick Adjustable Kettlebell

18-35 lbs; 4-in-1; solid steel; magnetic quick lock.
Apex


Best Heavy-Duty Kettlebell

20 lbs (up to 60 lbs possible); 5Plus-in-1; flexible uses 1″ plates.
Empower


Best kettlebell for women

5-12 lbs; 3-in-1; best adjustable kettlebell for women.
Stamina X


Best for Natural Look

16-36 lbs; 6-in-1; smooth outer shell.
Hyperwear SoftBell


Best Soft Weight Kettlebell

7-30 lbs; 3-in-1; soft weights; safe of body & floors.
KettleBud Kettlebell Handle


Best Heavy-Duty Kettlebell Handle

Heavy-duty 5-100 lbs; uses 1″ & Olympic sized plates.
Rocketlok


Best Design & Look – Runner Up

2 sizes (14-20lbs & 24-36lbs); natural look and feel.
Plus 4 Newly-Found Adjustable Kettlebell Handles
13 Best Adjustable Kettlebells & Kettlebell Handles Reviewed
A more convenient and better alternative to owning multiple kettlebells is owning an adjustable kettlebell!
The following is my list of top 13 adjustable kettlebell weights that I have extensively researched and consider to be the best adjustable kettlebells for your money. I would recommend these kettlebells to anyone and feel that they are all great quality weights for a great price.
#1 Titan Fitness 10-40 lbs. Adjustable Kettlebell *7-in-1
Also available in 5-20 lbs. adjustable kettlebell and 26-70 lbs. adjustable kettlebell.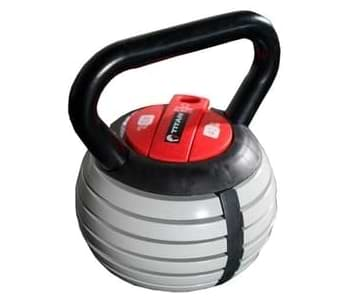 Editor's Choice for Best Adjustable Kettlebell Overall!
The Titan Fitness can be adjusted to 10lbs for beginners and up to 40lbs for more advanced users. It comes with 6 drop cast iron plates that can be quickly and easily removed and added as needed. Plates are then quickly and securely locked in place with a heavy-duty plastic clamp.
The Titan adjustable kettlebell has a 1.5" wide black powder-coated iron cast handle for a better grip and better workout flexibility.
Easily tailor your workout to your specific needs with this 10 to 40-pound adjustable kettlebell. The handle without weights is approximately 8.5 pounds. The two smaller plates on the top and bottom of the kettlebell each weigh about 4.6 pounds each. While the 4 larger plates weigh about 5.5 pounds each.
Titan Fitness is known for its quality products, very responsive customer service, and excellent warranty policy.
I would also highly recommend using a kettlebell wrist guard for anyone using this adjustable kettlebell. This will make overhead exercises more comfortable, especially after removing some of the weights from this kettlebell.
---
#2 Kettlebell Kings (26-70 lbs)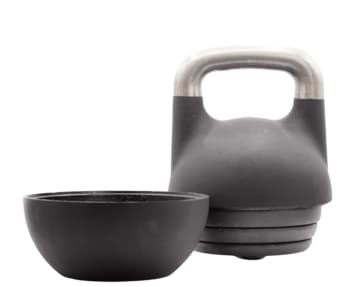 The best competition style adjustable kettlebell.
The adjustable kettlebell by Kettlebell Kings offers you a design that more closely resembles your traditional kettlebell in every way. Its steel outer shell encasing the iron weight plates and a 35mm handle makes it hard to distinguish it from the real deal.
This kettlebell is like having an entire kettlebell set ranging from 12 kg to 32 kg (except for 13 & 31 kg). And if you'd like me to do the math for you, that equates to 19 kettlebells!
Just imagine how much it would cost you to buy 19 kettlebells, not to mention how much space you would need to store them.
Key Features
35mm handle
Weight increments: 12-32kg (except 13 & 31kg); 26-70 lbs
12 kg steel outer shell (26 lbs)
7 cast iron plates: 2,2,2,3,3,4 and 4 kg
No movement or rattle
Plates & base secure tightly
Currently $60 cheaper at Titan Fitness – Plus free shipping!
Here is a great unbiased review by Kim Fox if you are considering this kettlebell.
Kettlebell King Adjustable Competition Kettlebell Review by Kim Fox
---
#3 PowerBlock 2nd Generation 18-35lb *4-in-1
Best Adjustable Kettlebell for Quick Adjustment & Ergonomics.
The PowerBlock 35lb adjustable kettlebell is a newer version of the PowerBlock KettleBlock and replaces 4 kettlebells in the space of 1. The PowerBlock is much smaller than the original version which was very bulky with hard edges and shaped like a block.
This newer version is more rounded off and handles more like your traditional kettlebell. This much more ergonomic design has the feel and comfort of your ordinary solid iron kettlebell.
Quickest adjustable kettlebell with magnetic weight selector pin; great design and all solid steel parts; 4-in-1 (18, 22, 26, 35lbs).
This model is made of solid steel and with smooth edges, you can quickly adjust with a steel selection pin. In a matter of only seconds, you can remove and add the selection pin to your desired weight. Consequently securing the weight in place with its magnetic locking system.
This 4-in-1 kettlebell offers weight increments of 18, 22, 26, and 35lbs.
This kettlebell is definitely one of the quickest adjustable kettlebells I could find. It has a very smooth and comfortable contoured design and is constructed from solid steel to make it last for many years to come.
---
#4 Apex Adjustable Kettlebell 20lbs (up to 60lbs.) *5Plus-in-1
Best Heavy-Duty Adjustable Kettlebell.
The Apex adjustable kettlebell starts at 20lbs and can be adjusted up to a total of 60lbs by replacing the removable spacer disks with standard 1" (not Olympic) size 2.5lb, 5lb, or 10lb plates (not included).
The handle and body part of this kettlebell weighs 15lbs and the bottom plate 5lbs for a total of 20lbs (that is without replacing the spacer disks).
If you're looking to buy cheap used standard 1" size weight plates, I would suggest a yard sale or even search through one of the "Buy and Sell" Apps such as "5miles" or "OfferUp". Otherwise, you could try Amazon, Walmart or any local sporting goods store.
When not replacing the spacers with weights, they act to secure the other weights in place. This prevents the weights from sliding or moving around during your exercise routine.
Besides being highly flexible and adjustable, the Apex adjustable kettlebell is also known for its heavy-duty construction. Made from solid cast-iron and reinforced with powder coating, this kettlebell is built to last for many years.
---
#5 Empower Kettlebell for Women 5lb, 8lb, 12lb, *3-in-1
Best adjustable kettlebell for women or lightweight cardio workout routines!
The Empower 3-in-1 adjustable kettlebell is specifically designed for women. This kettlebell with its soft-touch plastic shell and wide grip handle makes it super comfortable and easy to use.
This kettlebell offers a patented click-and-twist design that makes it effortless to adjust the weight from 5lb to 8lb to 12lbs in a matter of seconds.
All plates combined equal 12lbs. With a simple click-and-twist, you can remove the lower plate to turn this kettlebell into an 8lb kettlebell. Remove another plate and you are left with 8lbs.
You could buy 3 kettlebells, or you could buy the Empower 3-in-1 adjustable kettlebell. The Empower will not only save you space at only 6" L x 6" W x 10" H but also save you a few bucks.
Many customers like them so much they buy a second one.
It also includes free workout guides and a "Swing Yourself Fit" total body workout DVD.
---
#6 Stamina X Adjustable Kettlebell Versa-Bell 36 lbs. *6-in-1
The Stamina X Versa-Bell has the look and the feel of a traditional kettlebell with a smooth exterior and sturdy cast iron handle grip wide enough for one or two-handed workouts. The round base is also flat and sturdy enough to support your body weight for doing pushups.
With the Stamina X Versa-Bell, there is no need to buy a whole set of kettlebells. This adjustable kettlebell is 6 kettlebells in one. So not only will you be saving money but also a lot of storage space.
The outer shell of the Versa-Bell weighs 16lbs with an additional 5 weight plates each weighing 4lbs each that fit inside. A simple locking pin makes it quick and easy to adjust the kettlebell weight from 16lbs, to 20lbs, 24lbs, 28lbs, 32lbs, and 36lbs.
A square base pad is included to protect your floor for when you remove or add weights. Which you can also use when storing away the kettlebell when not in use.
Some users have encountered a slight clinking sound at certain weight increments, but nothing loud enough to make this a deal-breaker.
---
#7 Hyperwear SoftBell 7lbs to 30lbs (separate sets) *3-in-1
Best adjustable kettlebell with soft weights!
What separates the Hyperwear SoftBell from other adjustable kettlebells are the soft weight plates rather than your typical hard exterior or metal plates. The SoftBell is safer to use than most hard plastic or metal kettlebells. They are quiet when you drop them, and will not damage your floor.
The kettlebell handle and body are made of fiberglass-reinforced solid plastic and the kettlebell weights are made from neoprene filled with sand or steel shot.
The SoftBell comes in 7lbs, 10lbs, 15lbs, 20lbs, 25lbs, and 30lbs sets. The price varies depending on which weight set you choose. Each set comes with 3 weight plates to total the weight ordered. These plates are stackable. You can use all three plates, two plates, or only one plate for a lighter workout.
If you are interested in the SoftBell I would strongly suggest the 25lb option which will give you far more weight options than any other.
For example, a 30lb SoftBell comes with three 10lb soft plates, a 25lb SoftBell comes with two 10lb and one 5lb soft plates, a 15lb SoftBell comes with two 7.5lb soft plates, and so on.
The only drawback I see currently is that you cannot order specific soft weight plates separately. So my suggestion would be to opt for the 30lb set which gives you the option to adjust from 10, 20 or 30lbs. Or for even more flexibility and weight options, I would strongly suggest the 25lb set for the option to adjust from 5lb, 10lb, 15lb, 20lb, and 25lbs.
---
#8 Kettlebud Adjustable Kettlebell Handle (5-100lbs. *6Plus-in-1)
Best adjustable kettlebell handle for heavy duty weight training!
The Kettlebud is an extremely durable and highly adjustable kettlebell handle that can support up to a whopping 100 pounds of weight. Use your existing weight plates or buy any size weights you prefer.
The Kettlebud offers two handle sizes for both 1″ standard plates and Olympic size plates. Use plates from 2.5lbs all the way up to 45lbs plates (weight plates not included).
If you are a power user, bodybuilder, or into CrossFit this is the perfect kettlebell for you.
This kettlebell handle and body are made of durable military-grade 356 cast aluminum.
The dual 3/8" wire-lock hardened steel quick-release pins with 2000lbs shear strength will safely hold plates securely in place.
---
#9 Rocketlok (14-20lb *3-in-1 and 24-36lb *4-in-1)
Runner Up – 2nd Best Adjustable Kettlebell
Two Sizes: Rocketlok 14-24lb and the Rocketlok 24-36lb.
I consider the Rocketlok Adjustable Kettlebell to be the highest quality kettlebell in our review. With high quality, superior balance, and precision fit cylinder weights, there is practically no noise and the center of gravity is maintained at all weight levels which is highly important.
The Rocketlok has a cast steel body with the traditional kettlebell shape, size, and feel without being oversized like most other adjustable kettlebells.
The Rocketlok has high customer ratings and is by far the highest quality adjustable kettlebell we could find. No other comes as close to looking and feeling just like any other traditional steel kettlebell.
The weighted interior cylinders are milled from solid steel which fits snuggly inside the kettlebell body. These are held securely in place by a molded polyurethane cap with an easy-slide locking mechanism.
The Rocketlok comes in two sizes. The first is the Large Rocketlok which is adjustable in increments of 24, 28, 32, and 36 lbs. The second is the Small Rocketlok which comes in increments of 14, 17, and 20 lbs.
More Recently Found Adjustable Kettlebell Handles
#10 Titan Plate Loadable Kettlebell Swing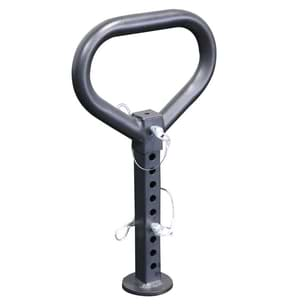 The Titan Fitness adjustable kettlebell handle is designed with a 1.3″ diameter handle for a natural feeling kettlebell grip. Simply remove the handle and load the pin with Olympic sized weight plates up to a maximum of 500 lbs.
Key Features
1.3″ diameter kettlebell handle
Uses Olympic size plate
9 Adjustable positions
500-pound capacity
Weights not included
---
#11 Yes4All Adjustable Kettlebell Handle
The Yes4All fits both 1″ and 2″ weight plates and features a high-density non-slip ABS handle. This adjustable kettlebell can handle up to 100 lbs of weight which can be tightly secured in place with a screw-in clamp for worry-free workouts.
Key Features
loads both 1″ & 2″ plates
handles up to 100 lbs
non-slip rubber covered handle
weights not included
---
#12 NewMe Fitness Kettlebell Handle
The NewMe Fitness kettlebell handle is available in both Standard 1″ and Olympic 2″. So if you already have weight plates at home, you can save money by choosing the handle to match your weight plates.
The design is made from heavy-duty metal that will support a 660 lb weight capacity, and with its threaded design will secure them tightly in place.
Key Features
Choose from 1″ or 2″ handles
threaded collar for tight fit
660 lb maximum weight capacity
weight not included
---
#13 TreadLife Fitness Threaded Handle
The TreadLife Fitness kettlebell handle is designed with a solid steel 1″ threaded shaft with easily adjustable star collars. This kettlebell handle uses Standard 1″ weight plates
Key Features
Easily adjustable star collars
Uses Standard 1″ sized plates
Weights not included
Features to Consider when Shopping for the Best Adjustable Kettlebell
The following are some tips and recommendations to help you decide which adjustable kettlebell is right for your specific workout needs. I have also included some suggestions to hopefully help guide you in the right direction.
Weight Options and Increments
It is very important to know your weight range for the exercises you normally would perform when using traditional kettlebells. Look for a weight that starts with the minimum weight you would typically use during a workout session. In other words, don't choose one that starts at 10 or 20 pounds when you need 5 pounds.
Maximum weight is not necessarily that important, but you should pay attention to how the weight increments. If you use 5, 10, 15, and 20 pounds to perform various exercises, and your kettlebell's only weight options are 10, 20, and 30, then you are missing the 5lb option and have more than likely spent extra money on the 30lb option that you cannot even use.
Your kettlebell should be at least a 3-in-1 and should meet your specific weight range and increments.
Kettlebell Comfort, Size, Shape and Weight Options
Each adjustable kettlebell is unique in style and shape. If you are a hardcore bodybuilder or CrossFit enthusiast you may be looking for something that is super sturdy and heavy. Rather than putting too much interest in comfort or shape. If this is you, I would strongly suggest the Kettlebud 5-100lbs. gear which can take any standard 1" weight plate you can throw at it.
If you perform a lot of overhead exercises, you might look at a softer or smoother outer shell. Possibly something in the low to middleweight range and not too bulky. There is a small version of the Rocketlok which offers a 3-in-1 adjustable kettlebell with 14, 17, and 20lb increments. But also, a larger version with 24, 28, 32, and 36lb increments.
That said, the Rocketlok is a high-quality kettlebell that has the look and feel of your traditional kettlebells.
If you enjoy working out barefoot or in your socks, the soft kettlebell is the ideal choice for you. Check out my article on soft kettlebell vs hardstyle to learn more and find my #1 Pick and best choice award.
Kettlebell Weight Adjustability
How easy is it to adjust your kettlebell from one weight to the next? The last thing you need is a kettlebell that is cumbersome to adjust and takes too much time. If you switch weights frequently during your workout session, you will want to find a kettlebell that you can quickly adjust from one weight to the next.
Each kettlebell above has its own unique way for you to adjust the weights. Some take longer than others. None of the kettlebells above should take any longer than 15 to 20 seconds (except for the Kettlebud). But if you are looking for the easiest and fastest adjustable kettlebell I would recommend the 4-in-1 PowerBlock which offers weight increments of 18, 22, 26, and 35lbs. This kettlebell is all steel including the lock pin which you can easily slide in or out to drop or add weights in about 2 seconds flat.
What are the Benefits of Adjustable Kettlebells?
Besides being one of the most versatile weights you could own, let's also look at some more benefits adjustable kettlebell weights have to offer.
Storage Convenience
If you have a small home or apartment and lack the space to store 7 or 8 conventional kettlebells, then an adjustable kettlebell is the perfect space-saving alternative. These can be stored just about anywhere without a problem. Store them in a cabinet, a closet, in a corner, behind a couch, or under your bed. It definitely beats having 8 kettlebells cluttering up your floor space.
Adjustability
One of the major benefits of adjustable kettlebell weights is how fast and easy it is to turn one kettlebell into a 5, 10, 25, 40, and even up to a 100lb kettlebell. Each has its own unique design and method of adjusting the weight increments. And in most cases, it is a quick and easy process that takes no longer than just a few seconds.
Travel
If you are on the go a lot and in and out of hotels, an adjustable kettlebell can offer you an easy way to get a full-blown total body workout without lugging around 5 or 6 kettlebells. With that said, put one in your car on the backseat floor or in your trunk and its ready to use anywhere you travel. Take it with you to your hotel room and never miss another workout ever again. It is also great to take along on road trips or on a vacation.
Less Total Weight & More Affordable
When you purchase an adjustable kettlebell you are for the most part paying for convenience, flexibility, and weight. But also not to forget the technology used to create that particular model and design. So for example, you could go out and buy 4 traditional kettlebells at 10, 15, 20, and 25 lb. totaling 70 pounds. Or, on the other hand, you could buy one 25lb. adjustable kettlebell with the added benefit of not having 70lbs of kettlebells lying around your home.
Frequently Asked Questions
The following is a quick Q&A to some of the most common questions asked about adjustable kettlebell weights. Hopefully, these will help answer some questions or concerns you may have regarding these kettlebells.
Can I use adjustable kettlebells for overhead workouts?
In most cases, I would say…yes. Although, it may be more difficult or uncomfortable for some users depending on the size and shape of the kettlebell. Adjustable kettlebells tend to be somewhat larger than your traditional kettlebells. And some may even be shaped differently, making them more difficult to manage.
If you are performing a lot of overhead exercises on a regular basis, I would suggest the more traditional looking models such as the Stamina X, the Empower, or my favorite, the Rocketlok adjustable kettlebell.
Will adjustable kettlebells hurt my wrists or arms?
In some kettlebell models, removing weights from the kettlebell body can leave open spaces between weights. This can expose your skin to weight plate edges that may feel uncomfortable on your arms. Especially when performing overhead exercises.
Again, this is only with some models. A quick and very effective remedy for this problem is to use kettlebell wrist guards.


Are adjustable kettlebells safe?
Yes. Adjustable kettlebells are safe if used properly. Always read safety instructions when purchasing any new adjustable kettlebell. It is especially important that you learn the mechanics of your kettlebell and how to properly remove, and add weights. And most importantly, know how to lock the weights securely in place. Therefore, follow instructions properly and you should have no worries.
Closing Remarks
I'd like to thank you for choosing "13 Best Adjustable Kettlebells & Adjustable Kettlebell Handles Reviewed" as your one-stop guide to finding some of the best adjustable kettlebells found online.
Each kettlebell has its own unique design and characteristics. These make them either more or less appealing depending on your individual needs. How you use your kettlebell and how much weight you need will strongly determine which type of kettlebell is right for you. You might also question how easily adjustable and versatile the kettlebell will be for your specific workouts. Or whether or not it will be comfortable and safe to use.
I strongly feel that our list contains the best adjustable kettlebells online. We have tried our best to answer most of your concerns in our review in order to help you make a more informed decision and hopefully save you time in the process.
I believe adjustable kettlebells are an excellent alternative to your traditional kettlebells. They are a great way to save space and conveniently take along when you travel.
Another great product to take along when traveling is water-filled dumbbells. Check out our top 4 dumbbells reviewed and found online.
Just one adjustable kettlebell can replace up to 6 or more kettlebells totaling over 100 pounds. That in itself is reason enough to consider adding one to your workout equipment.
I would like to thank you again for reading our adjustable kettlebell review and wish you much luck in all your health and fitness endeavors.
Suggested Reading: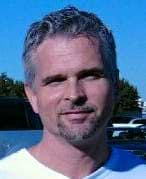 With over 30 years of experience in strength training and fitness, Mark LaRue is the founder of Fitness Mastered, a blog to help educate fitness enthusiasts of all fitness levels, ages, and gender. We write topics that range from weight training tips and exercise routines to home workout machine and fitness related product reviews, to name a few.