"Mastering fitness one step at a time.
A fitness blog to help educate fitness enthusiasts of all fitness levels, ages, and gender."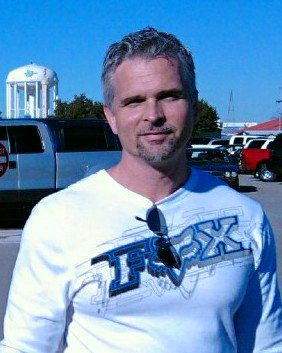 Hi! I am Mark LaRue, founder of FitnessMastered.com, a blog I have created to help educate fitness conscientious individuals like yourself in topics related to fitness. My posts cover topics such as weight lifting, cardio and strength training, product reviews, and other related fitness articles.
I have made fitness a part of my life for the last 30 years. I have a college degree from the University of Maryland and completed the CPR and AED training, and ongoing studies in the NASM. With over 30 years of experience, I would consider myself a reliable source for most things fitness related. I have worked out in many fitness centers and literally used hundreds of different exercises machines and home exercise equipment over the years.
I have worked out in gyms at various military installations in Europe and commercial gyms in the US. While in Munich Germany I had the fortunate opportunity to use the gym opened back in 1983 by Albert Busek, mentor of Arnold Schwarzenegger and who I personally met. Arnold was at the grand opening of the Busek-Sport-Center and gave the opening speech.
I will never forget the size of that gym, the endless amount of weights and workout machines, and not to forget all the extra amenities. A truly impressive for the 80s! I will also never forget my workout at this gym nor do I believe I will ever again find the cable triceps machine I used there that gave me the most incredible triceps pump of my life.
MORE THAN JUST A REVIEW
What separates my reviews from the competition is that I do not only provide you with a list of top products that I have personally researched myself, but also include additional information that may be helpful to you. Much of this information includes, but is not limited to the following:
a more in-depth product description
benefits of using the product
tips on how to use a product
the different types available
various product features
safety tips
product FAQ
suggested exercises
Editor's Choice & Top Picks
and more
MY GUARANTEE TO YOU
I guarantee that all product reviews on this site are personally written and researched by me, and not outsourced to any writing agencies or content mills. Typically it will take approximately 2 weeks to fully research and write an article or review I feel comfortable with. I do take pride in my work and strive to bring you the best information I can provide, which is a combination of the following:
my personal experience and expertise
in-depth research
customer feedback
advise and tips from professionals as needed
contacting the company or manufacturer as needed
CONTACT ME
If you have any questions or would like to share your experience with a product feel free to send me an email via my contact link. Or just leave a comment on any of my articles and will reply back.
Sincerely,
Mark LaRue